GET Stock

Quotes


A 'Heartbroken' Voter Bumps Into Hillary Clinton on a Hike In The Woods
It was the first time Clinton was seen in public since she conceded the election to Trump on Wednesday.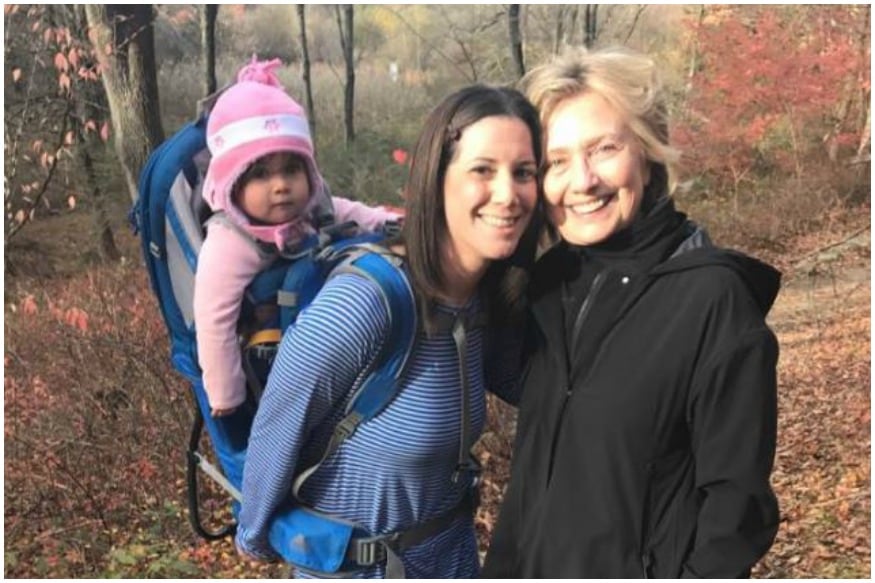 (Photo: Facebook/Margot Gerster)
As protests raged on the streets of America over the victory of real estate baron Donald Trump in the US Presidential Elections 2016, his rival was far away from all that.
On Thursday, a day after Trump's win in one of the nastiest races ever, Hillary Clinton was spotted on a hike with her husband Bill and their dogs in Chappaqua, New York.
While thousands of Clinton's supporters were registering their disgust and anger at the outcome of the results, Clinton took some time off to breathe the fresh air in the woods.
A disappointed voter, Margot Gerster, who too was on a hike in the woods with her daughter, chanced upon the Democratic presidential nominee.
Gerster, a huge fan of Clinton, posed for a photograph which she later shared on her Facebook page along with a long post which read, "I've been feeling so heartbroken since yesterday's election and decided what better way to relax than take my girls hiking. So I decided to take them to one of favorite places in Chappaqua. We were the only ones there and it was so beautiful and relaxing."
"As we were leaving, I heard a bit of rustling coming towards me and as I stepped into the clearing there she was, Hillary Clinton and Bill with their dogs doing exactly the same thing as I was. I got to hug her and talk to her and tell her that one of my most proudest moments as a mother was taking Phoebe with me to vote for her. She hugged me and thanked me and we exchanged some sweet pleasantries and then I let them continue their walk. Now, I'm not one for signs but I think i'll definitely take this one. So proud. #iamstillwithher #lovetrumpshate #keepfighting #lightfollowsdarkness (sic)."
CNN reported quoting Gerster, that it was former president Bill Clinton who clicked the picture of the two ladies. It was for the first time Hillary was seen in public since she conceded the election to Trump.
Also Watch
Read full article