A 'Hidden' Feature on iPhone to Move the Cursor is Blowing Everyone's Mind
The iPhone 'hack' has intrigued many Apple users.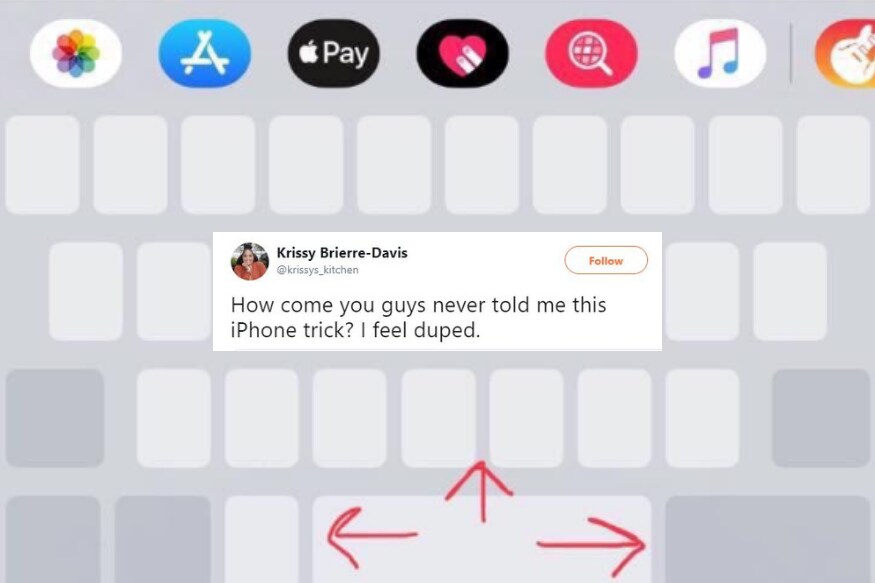 Image credits: @krissys_kitchen / Twitter
Tech companies are constantly pushing out new gestures and swipes in their operating systems to improve the user experience and keep the devices relevant.
While the developers at the Apple and Android ensure that every feature they push out in their new software update is heard loud and clear, sometimes it's the customer who unearths a quirk that they were clueless about in the past.
Such was the case with a Twitter user, who goes by the handle @krissys_kitchen when she tweeted out a 'trick' on the iPhones which left several users baffled.
"If you click and hold the spacebar, you can move the cursor instead of trying to drag the cursor itself with your fat thumb lol," she wrote. "How come you guys never told me this iPhone trick? I feel duped."
How come you guys never told me this iPhone trick? I feel duped. pic.twitter.com/2RfRhI4Y1X

— Krissy Brierre-Davis (@krissys_kitchen) November 18, 2018
The 'hidden' feature literally gave Twitter users new life who couldn't thank her enough for sharing it with them on the platform.
this just changed my entire life https://t.co/eyQ37r6by4

— rat king (@MikeIsaac) November 19, 2018
— tom vladeck ▽➫ (@tvladeck) November 19, 2018
I was today years old when I learned this!

— CEE! (@_candiiM) November 19, 2018
Bless you and your children for generations

— 王 (@KingKocain3) November 19, 2018
How many people typed 2-3 lines of gibberish to test this?

✋🏼

— Chris Zaker (@filtermanZaker) November 19, 2018
Literally the No. 1 thing I dislike about cellphones, now solved.

— Sean Stangland (@SeanStanglandDH) November 19, 2018
While Krissy may have made life easier for many iOS users, it's worth pointing out that this 'hidden' feature has been around on 3D touch iPhones (iPhone 6S, iPhone 7, iPhone 8, iPhone X, iPhone Xs) for more than three years. With iPhone 6S, Apple introduced a feature which let the users long press anywhere on the keyboard to turn the phone into a trackpad that you could use as a cursor to select or highlight text - something you could do only on a laptop previously.
How to activate it?
1) Press firmly on the keyboard.
2) Once the keys disappear, swipe on the keyboard and position the cursor.
3) Press deeper to select/highlight text.
One reason that could explain why so many users have discovered the keyboard hack now could be the iOS 12 software update that replicates the 3D Touch-based cursor positioning and text selection on the iPhones that lack the 3D touch including the latest iPhone XR. To activate the 3D touch on a non-3D Apple device, simply tap and hold the Spacebar key to activate trackpad mode.
Yes!! Most important 3D Touch feature when it came out; Works anywhere on the Apple keyboard (not just space)!!

— Andrew Nebus (@AndrewNebus) November 18, 2018
It doesn't have to be the space bar. Press and hold any Part of the keyboard and you can drag the cursor. And if you don't have a haptic keyboard, like on an iPad that's not the latest, use two fingers at once for the same effect.

— RobOz (@roboso) November 19, 2018
The spacebar trick is new in iOS 12, I believe, but 3D touching (pressing harder than normal) anywhere on iPhone's keyboard or using two fingers on iPad's keyboard has worked for several years now.

— Matthew Leidholm (@MattLeidholm) November 19, 2018
Unless this is from iPhone XR, all iPhones (post iPhone 6S sans iPhone SE) showcase this behaviour on entire keyboard. Just that the action isn't click and hold but a deep press for hover and a deeper press for text selection.

— 17 people (@SuperRetina) November 19, 2018
The trackpad mode was first introduced on iOS 9 for iPads way back at WWDC 2015.
Read full article