Let's get it straight. It sucks to lend your cigarette lighter or matchbox to anyone. Even more so when the person you gave it to, never returns it.
So, when someone borrowed a matchbox from Sushil Kumar, an assistant engineer in the electricity urban test division of Moradabad, he wasn't going to take it lightly.
Upset over not being able to find his matchbox, Kumar wrote a letter to his colleague, Mohit Pant, on February 1.
The subject line read: "For not returning the matchbox borrowed on 23 January 2018."
Kumar wrote, "on January 23, 2018 (Tuesday), around 8:40 pm, you had borrowed a matchbox, which was used to light mosquito repellent coils in office. It had nearly 19 matchsticks. But sadly, even after a week, the matchbox has not been returned, causing inconvenience to the staff, especially in the evenings."
"Hence, you are directed to kindly ensure that the matchbox is returned within three days of the receipt of this letter. Also, it should be ensured no dispute arises in the department and mutual faith is restored among co-workers. In case of failure to carry out the order, you will solely be responsible for any official action," the letter further added.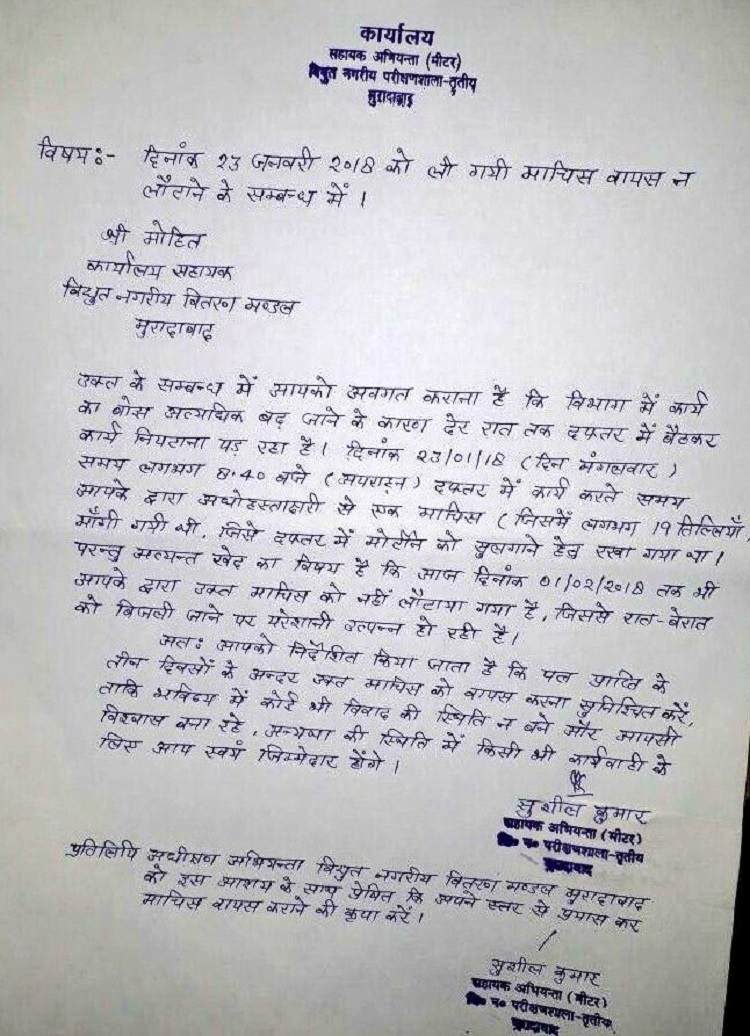 The letter was then completed with a signature and an official stamp.
Rahul Srivastav, ASP with the UP Police, later took to microblogging site Twitter and posted the letter. He wrote, "Kindly inform if the matchbox is not returned. We will launch an investigation into it."

Needless to say, the hilarious letter uploaded by Srivastav went viral with more than 1000 retweets.
It was only revealed later by Sushil Kumar himself that he was unaware that his letter had gone viral on social media, and the only intention behind penning it was to explain the format of writing the official letter to his junior (Pant) who had recently joined the department.
"An untrained computer operator who recently joined our department had asked me to provide format for an official letter marked to our seniors. I was about to write a sample letter on some other issue when there was a sudden power cut. As I needed a matchbox to light the candle, it reminded me that my colleague Mohit Pant hadn't returned it to me. I wrote the sample letter on this, but didn't dispatch it. However, somebody from our office clicked a picture of the letter and posted it on social media," Kumar told TOI.
TOI further reported that Pant (the "borrower") wasn't amused. "I learnt about it on Friday evening when my colleagues started calling me up. I later received a copy of the letter on WhatsApp and contacted Kumar sir who explained to me the whole thing," he told TOI.