GET Stock

Quotes


Food, Water, Footwear And Flowers: The Historic #KisanLongMarch Showed That Humanity Isn't Dead
'Those who feed you need you.'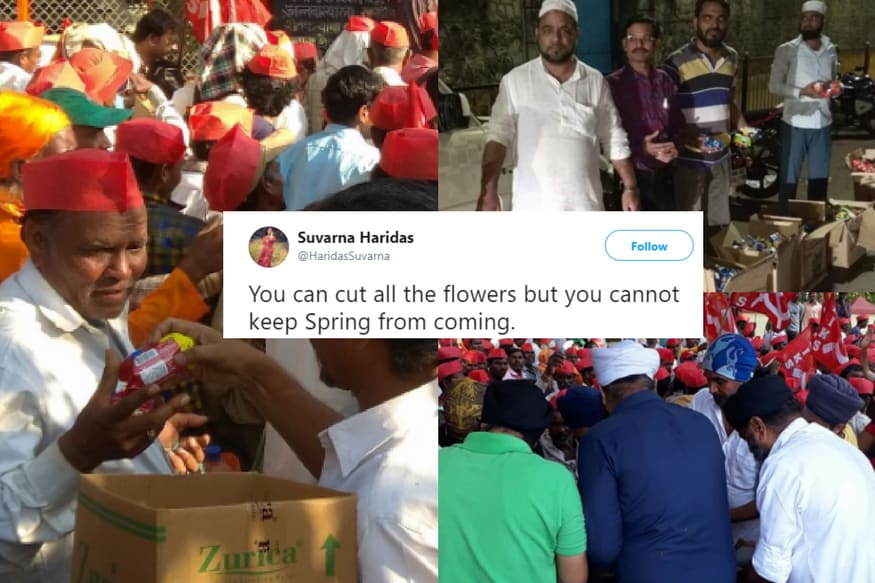 Photo credits: Left: @KisanSabha / Twitter, Right (top): @SudeepSudhakrn / Twitter, Right (below): @KisanSabha / Twitter
Thousands of protesting farmers have set up camps in Mumbai's Azad Maidan, demanding  complete loan waivers and the implementation of the MS Swaminathan Committee's recommendations.
The Long March has now turned into an indefinite sit-in Dharna in front of the Manthralaya and will continue till all the demands are met with.
The protesting farmers, led by the Communist Party of India (Marxist)-affiliated Akhil Bharatiya Kisan Sabha reached Mumbai on Sunday after walking a distance of 180 km from Nashik.
The rally which includes men, women and children have gathered to press the government on the agrarian distress.



#KisanLongMarch enters Mumbai!
They heed to our hunger cry.
We ignore their outcry! #आक्रोश_बळीराजाचा #KisanLongMarch pic.twitter.com/8FBixQJjUn


— CPI (M) (@cpimspeak) March 11, 2018
As
farmers shared their heartwrenching stories with News 18
, here's how Mumbai joined hands to support only one cause. Humanity.
#KisanLongMarch gets a warm welcome from Mumbai citizens. pic.twitter.com/7RJ819WKTl — AIKS (@KisanSabha) March 11, 2018
#KisanLongMarch gets a warm welcome from Mumbai's Sikhs. The Sikh community in Mumbai serves water and distributes food to farmers participating in the march! pic.twitter.com/IgzaTjtv2c

— Harjinder Singh Kukreja (@SinghLions) March 11, 2018



It's 4.30 am. When #KisanLongMarch reached Byculla junction, a large group of Muslim brothers distributed water, dates and biscuits to the marching https://t.co/AjIbNdij2I was an extraordinary act of solidarity, which the peasants reciprocated with loud slogans of Lal Salam. pic.twitter.com/teIOnA76iq


— Sudeep Sudhakaran (@SudeepSudhakrn) March 11, 2018
Sikh community in Mumbai distributes food to farmers participating in the march. #KisanLongMarch pic.twitter.com/AqAGoluCu9 — AIKS (@KisanSabha) March 11, 2018



Mumbaikars showering the #KisanLongMarch with flowers from a walkway near Mulund. pic.twitter.com/YaURtZ5oNq


— AIKS (@KisanSabha) March 11, 2018
The Thane Matadata Jagran Manch provided nearly 500kg of food grains to the farmers who camped for the night at BMC octroi ground,
reported TOI
. "We had been in touch with the protestors since the rally started from Nashik on Tuesday. The organizers had refused to accept donation, but we were determined to help them as we are aware how they struggle to ensure food on our plate," said Unmesh Bagawe to
TOI
.
According to the same report, putting social media to good use, a concerned group mobilised footwear for the farmers after reading about their blistered and cracked feet, that eventually became a symbol for the farmers' Long March. "We were shocked to see the farmers walk barefoot on the highway. Some of us removed our footwear and offered it to the women, while others decided to donate shoes the following day," said Nita Karnik, a resident of Flower Valley who volunteered to deliver 100 pairs of shoes.
According to Talekar, the Mumbai roti-bank, of which the dabbawalas are an integral part, deploys GPS-tracked vans to collect excess food from eateries, hotels, public functions, and households, so that it can be distributed to the poor and hungry people. Meanwhile, city residents were also seen offering 'Vada-pav' (a popular street snack), other food items and water to farmers last night.
As for the farmers, they returned the favour with a gesture that is now being lauded by many on social media. Starting Sunday night, the farmers marched all night to Azad Maidan so that students appearing for school exams were not inconvenienced.
If it is indeed true that the farmer's march was quiet so people could sleep and students appearing for exams the next morning wouldn't be disturbed, then it is such a lovely way to do it.

— Harsha Bhogle (@bhogleharsha) March 12, 2018
Original plan of the #KisanLongMarch was to camp in Sion tonight and march to Vidhan Sabha tomorrow morning. But there are 10th board exams starting tomorrow and the Farmers are worried about inconveniencing the students. So, they are going to march tonight itself to Azad Maidan. pic.twitter.com/DCgEvadvpu — Noushad C (@IamDinkoist) March 11, 2018



50,000 farmers walked 180kms, asking for the rightful compensation for their crop. On their last stretch they walked all night making sure they didn't disturb the SSC board examinations. #Compassion #respect #Salute #JaiKisan - 🙏🏽🙏🏽 pic.twitter.com/epa0a90A6u


— Riteish Deshmukh (@Riteishd) March 12, 2018
Mumbai, they have walked across the night to spare you inconvenience. The least you could do is stand in solidarity #KisanLongMarch pic.twitter.com/tD8GTCCmOD — Aparna (@chhuti_is) March 12, 2018
To make sure their march doesn't go in vain, social media shared powerful visuals from the historic march.
The feet that traversed 200 kilometres from Nashik to Mumbai! Nothing can fail them! #KisanLongMarch reaches Mumbai city. #आक्रोश_बळीराजाचा pic.twitter.com/YrWdg3G8tn


#KisanLongMarch is https://t.co/1n5H4Peq6F's 3 am. The March has stopped for rest at the Dadar flyover. We have 5 more km to cover to reach Azad Maidan. pic.twitter.com/2j0LqUS8Qs

— Sudeep Sudhakaran (@SudeepSudhakrn) March 11, 2018






Video of #KisanLongMarch #FarmersMarch taken from one of the towers at Parel at around 3.30 am, showing numbers several times the 7000 claimed by @ANI_news. @sanjayuvacha @CarDroidusMax @MumbaiMirror @CNNnews18 pic.twitter.com/6npxqMYRt2 — Rosemary P (@One4Remembrance) March 12, 2018






Original plan of the #KisanLongMarch was to camp in Sion tonight and march to Vidhan Sabha tomorrow morning. But there are 10th board exams starting tomorrow and the Farmers are worried about inconveniencing the students. So, they are going to march tonight itself to Azad Maidan. pic.twitter.com/DCgEvadvpu


— Noushad C (@IamDinkoist) March 11, 2018
Few more glimpses from the #KisanLongMarch at Somaiya Grounds, Mumbai. #FarmersMarch pic.twitter.com/6ABAKB5mN4 — Shrirang Swarge (@shrirangswarge) March 11, 2018



Farmers marching into Mumbai. To ensure that the BJP govt does not deceive them again. They should get their rightful due. #KisanLongMarch pic.twitter.com/YKVEDNvZ1g


— Sitaram Yechury (@SitaramYechury) March 11, 2018



This is breathtaking. #KisanLongMarch has all it takes to shake the financial capital of India.


Mehnat kare kisan mahajan
Bante hai dhanwan pic.twitter.com/INeX5xSvjI

— Aparna (@chhuti_is) March 11, 2018
Stunning photograph by Vijayanand Gupta of @htTweets showing about 35,000 farmers marching through the night in Bombay towards Azad Maidan. This is the kind of image that really lights up the city. #KisanLongMarch #nightmarch #Mumbai #photojournalism pic.twitter.com/cgC5uqx0Ep — Paroma Mukherjee (@ParomaMukherjee) March 12, 2018
Walk from 8 in the morning till 6 in the evening. Sleep like this in the night. Repeat for six days and nights #KisanLongMarch pic.twitter.com/LAolvPnSfG — Nidhi Jamwal (@JamwalNidhi) March 11, 2018



You can cut all the flowers but you cannot keep Spring from coming.
Neruda#KisanLongMarch pic.twitter.com/UU8ZidnvBL


— Suvarna Haridas (@HaridasSuvarna) March 11, 2018
Just few Pic's!! Hello #Mumbai we should support our farmers #KisanLongMarch pic.twitter.com/ceSEjbxaLW — Funtoosh The Lenin® (@FuntooshAlz) March 11, 2018



Farmers walking https://t.co/4Svz6j0jyf that Mumbai sleeps and our kids write their exams in the morning #JungJaari @cjpindia@KisanSabha #KisanLongMarch pic.twitter.com/IeRVy7ChC9


— Teesta Setalvad (@TeestaSetalvad) March 12, 2018
Read full article
Countdown To
Elections Results
To Assembly Elections 2018 Results