A Music Festival Banned Cis-Men from Entering and Men on Twitter Aren't Taking it Well
No-cis men allowed!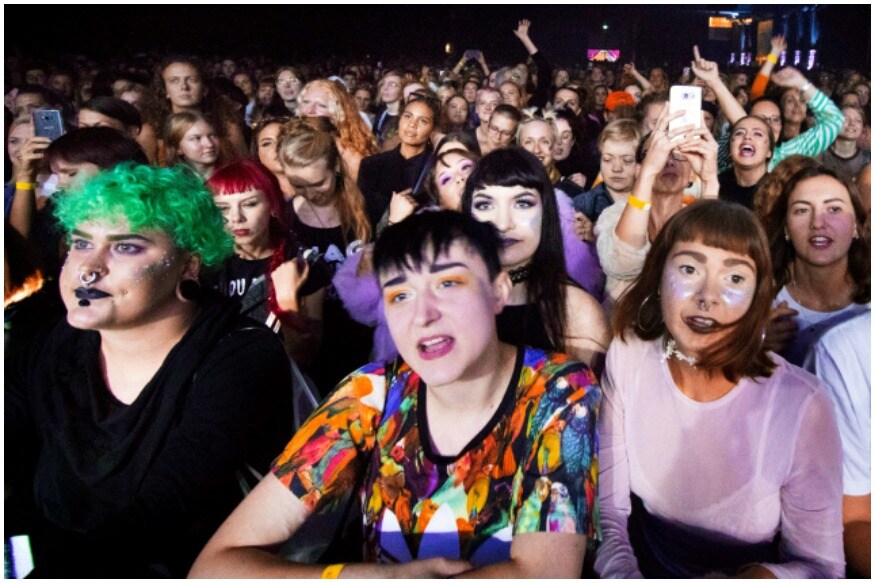 Source: AFP/Getty
This weekend, the world saw something it had never seen before - a cis-man free music festival!
Yes, you read that right. Called the 'Statement Music Festival', the event was held in Gothenberg, Sweden, the three-day concert from Friday to Sunday was intended specifically for women and queer persons.
A cis-gendered person is the exact opposite of a transgender - i.e a person whose sexual identity is not at odds with the one assigned to them at birth due to their gender or sex.
The idea for the concert came to Emma Knyckare, Swedish comedian and radio host, who was tired of the growing incidences of sexual violence against women in the Swedish music concerts. A large number of such instances came to light last year during 'Bravalla', one of the biggest music festivals of Sweden.
Taking to Twitter, the comedian asked, "What do you think about us putting together a very cool festival where only non-men are welcome and that we host until ALL men have learned how to behave themselves?"
Vad tror ni om att vi styr ihop en asfet festival dit bara icke män är välkomna som vi kör tills ALLA män har lärt sig hur en beter sig?

— Emma Knyckare (@Knyckare) July 2, 2017
The positive responses she got urged her to go about setting up the -first-of-its-kind festival in which only women, transpersons and persons belonging to non-binary gender identities were allowed to enter. There were no restriction or questions being asked to enthusiasts at the concert entrance. so how did the concert ensure that no cis-man entered the venue? Knyckare told the BBC that the organizers had worked out a special 'access system' to ensure than no cis-men entered the concert. 
Music concerts are contentious when it comes to women's safety as most concerts have inadequate security arrangements for preventing sexual assault and misbehavior. The vast number of people that attend these concerts also makes it difficult to pin-point the perpetrators later. In Sweden, the problem is acute. Bravalla had to cancelled in 2018 after reports of 23 sexual assaults and four rapes during the festival's four-day stint last year. Most women as well as the LGBTQI community, especially those who have faced unwanted sexual advances from cis-men in concerts, were overjoyed at the prospect of having a 'safe-space' for women and non-cis persons where they could just go to hang out, relax with their friends and enjoy an evening of music.
According to the New York Times, at least 4,500 people attended the concert on Saturday. Even the musicians and technicians performing and the security staff were all women. This is not the first time though that men have been kept out of a music festival.
The erstwhile Michigan Womyn's Music Festival or 'Mitchfest' was held every year from 1976 to 2015 and was a women's only, feminist concert. However, 'Mitchfest' came into a lot of criticism for not allowing the entry of queer or transpersons in the concert, something that the Statement Music Festival took care to avoid. However, many men and some women were upset at the concert not including men. Critics accused the concert of sexist segregation and called it a step-back for diversity.
Women only concert in Sweden. Result of rapes & sexual assaults by..."Not Swedish Men" at last year's concert. The very multicultural, tolerant & diverse Sweden now segregates by sex as a result. Diversity going backwards. https://t.co/pwfQB5sJ8g — Steve King (@SteveKingIA) September 1, 2018
Many also made it a communal issue, accusing Sweden's immigration sysytem for increased assaults on women:
.#Sweden's all female concert is to go ahead this weekend, a self imposed sharia by the #Swedish women on themselves. Mission accomplished by the brainless invaders who through the centuries have raped their will onto other nations! Way to go #feminists #BBCNews #bbcworld

— Layla T (@kohenoor) September 1, 2018
Sweden is holding a women only music concert because Muslim men have sexually molested them in the past . Why ban all men , why not just ban Muslim men — Dave Redford (@Belcherowe) September 1, 2018
However, most women cheered the idea and were very excited at the prospect of having 'safe spaces' in public:
They're having a man free concert because of the harassment that's rife in Sweden, aren't they? Seems fair enough to me.

— Official Isle of Man (@isleofman69) September 2, 2018
Rights activists such as Taslima Nasrin also lauded the festival:
Sweden hosts a man-free concert to protest rape and sexual assaults at music fests. Only female bands performed, only female journos were allowed. Men will not be allowed until they learn how to behave. Revolutionary decision for human rights. — taslima nasreen (@taslimanasreen) September 2, 2018
Statement festival in Gothenburg, Sweden kicked off: only women, transgender, and non-binary are on the stage, in the audience, and as security#sweden #gothenburg #statementfestival pic.twitter.com/JsFS53iL3D

— Victoria Zhuhan (@uziaka) August 31, 2018
Do you think more such concerts are needed, especially in India?
Get the best of News18 delivered to your inbox - subscribe to News18 Daybreak. Follow News18.com on Twitter, Instagram, Facebook, TikTok and on YouTube, and stay in the know with what's happening in the world around you – in real time.
Subscribe to Moneycontrol Pro and gain access to curated markets data, trading recommendations, equity analysis, investment ideas, insights from market gurus and much more. Get Moneycontrol PRO for 1 year at price of 3 months. Use code FREEDOM.
Read full article