A Pakistani Woman Came Up With a Board Game for Arranged Marriages to Keep Aunties Away
Fed up with getting rishtas from aunties, a Pakistani woman came up with a board game for arranged marriages.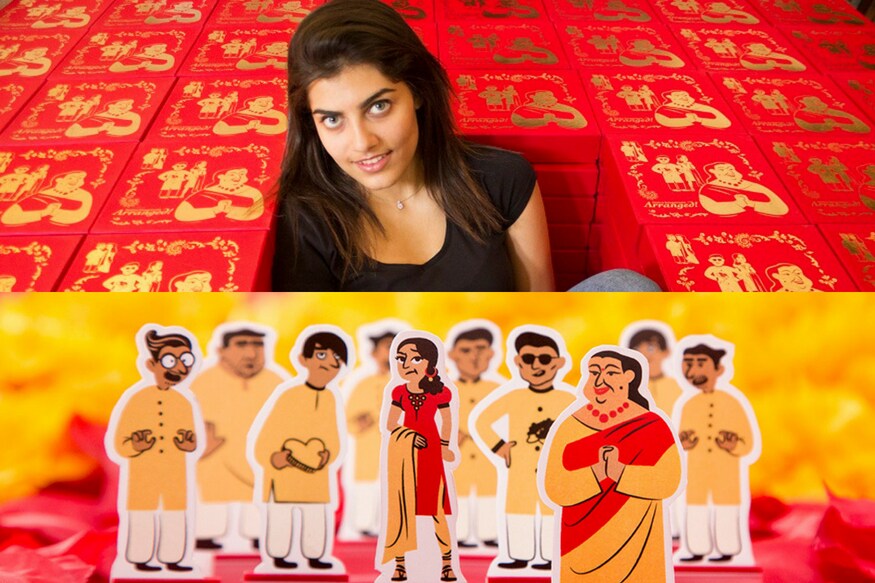 (Image: Nashra Balagamwala)
When Naina (Preity Zinta) falls in love with Aman (Shahrukh Khan) in the 2003 tear-jerker Kal Ho Naa Ho, Laajo ji, Naina's grandmother, accompanied by a rishta aunty, hurriedly interpose themselves into the next scene and screech in unison, "Pyaar ho gaya hai? Pyaar-vyaar kuch ni hota. Shaadi hogi toh ARRANGED (You've fallen in love? There's no such thing as love. Your marriage will be ARRANGED)."
The movie, incontestably ahead of its time, played on the 'rational' sentiment of the South-Asian community's passion, if not obsession, for arranged marriages.
While in-vogue millennials flaunt their Tinder, their forerunners continue to parade the legendary matrimonial advertisements with magisterial pride, shoving those "need a fair, beautiful, tall, Brahmin, educated, rich girl for equally fair, handsome, tall, educated, rich boy" advertorials in the faces of their grown children in the name of "Beta, you don't know anything. Only we can decide the perfect match for you."
Arranged marriages in South-Asian countries have victoriously sustained themselves through generations of traditions which made even mentioning love marriages or inter-caste marriages taboo. And today, despite changing times and attitudes toward marriage and even hushed expectations of same-sex marriages taking place in the near future, traditional arranged marriages continue undeterred.
The tradition has established the foundation for conformist beliefs like 'fair and beautiful bride' or 'tall and rich groom', which in the name of "Beta, these are societal expectations, not us", flourish unrestrained.
Rooted in a patriarchal understanding of gender roles,  arranged marriages often end up coercing women into adhering to the tradition. Many often accept their fate with resignation, not wanting to engage in repeated fights against toxic traditions.
Attempting to take a jab at the dark and parochial practice in a lighthearted setting, Nashra Balagamwala was inspired to create a board game aptly called 'Arranged!'.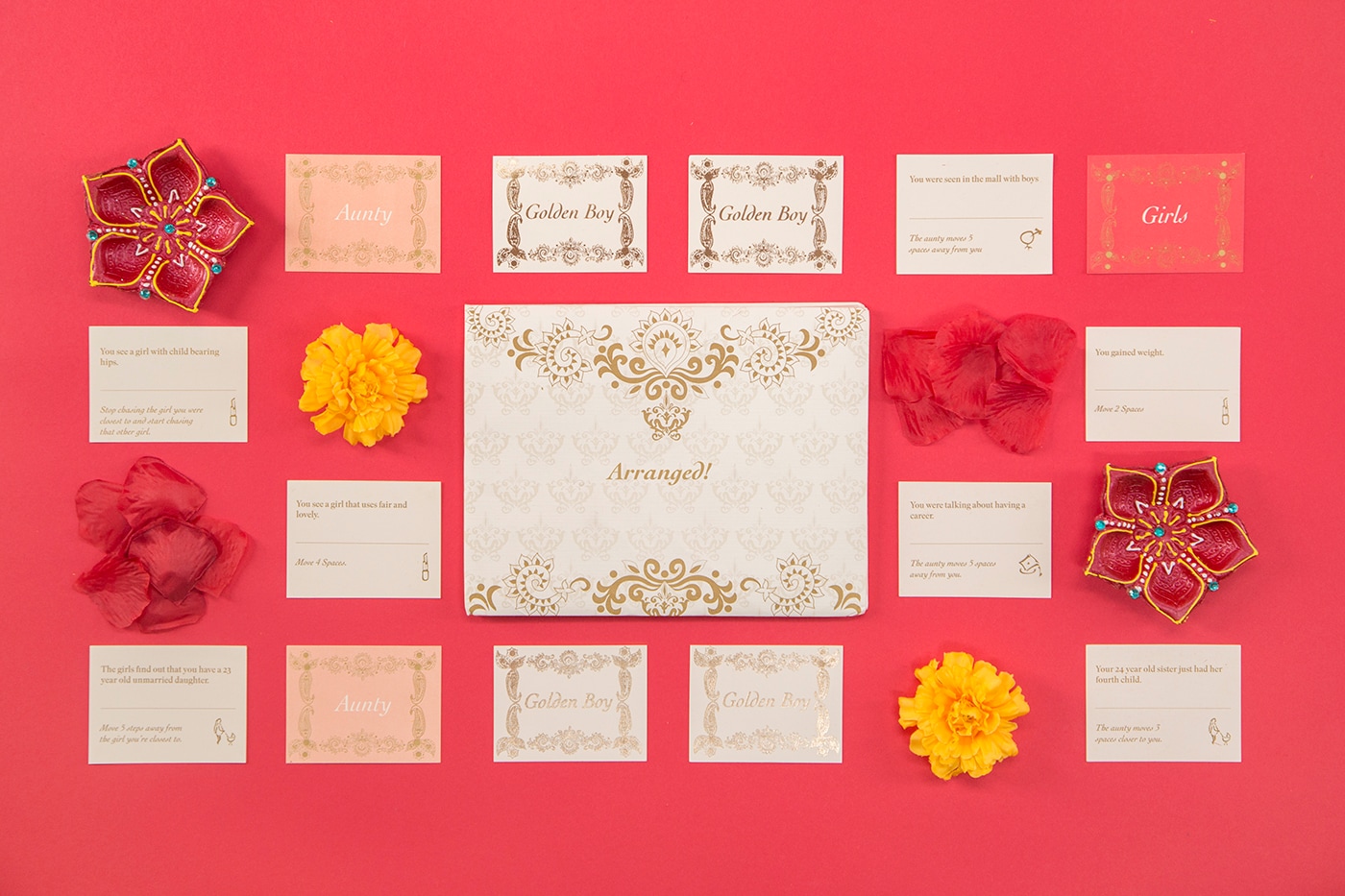 Originally from Pakistan, Nashra's work stems from her personal experience, frequently transforming controversial and sensitive cultural topics into unique games, designs and experiences.
The first time Nashra was asked to look at a suitor and told to act presentable was on her sister's wedding day. "People kept coming up to me and saying 'you're next'. I was only 18 at the time."
Nashra was raised in Karachi, Pakistan, and moved to the U.S. six years ago to attend the Rhode Island School of Design. There she started working with board game giant, Hasbro, Inc. and in 2016, she moved to New York to work as a freelance designer.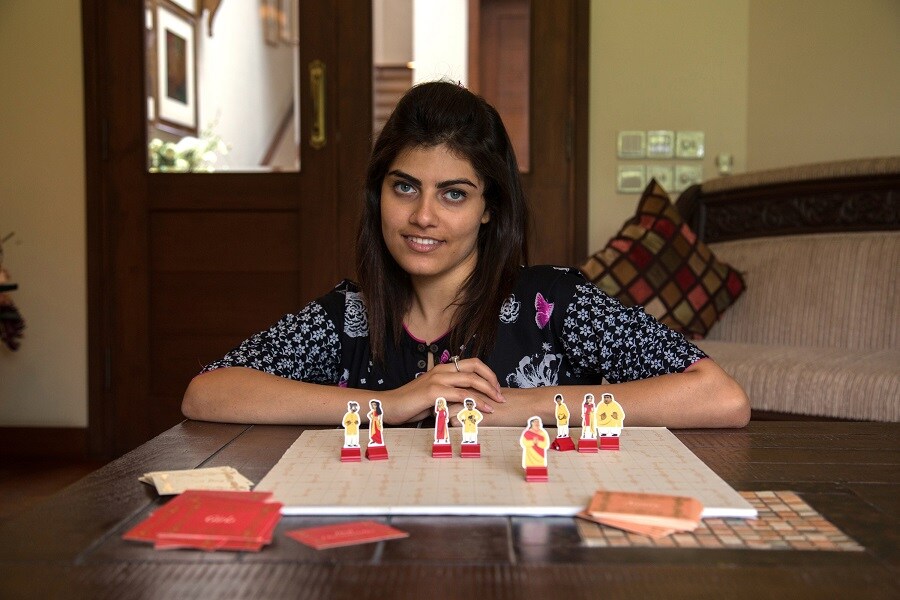 The inspiration behind Arranged! was her own struggle to avoid getting into an arranged marriage "as well as my friends' horrifying stories of crazy mother-in-laws, sasuraal problems, and societal expectations."
But Nashra reiterates that she is not against arranged marriages. "In a society where men and women aren't really allowed to be friends, sometimes an arranged marriage is the only way to find a partner. It becomes a problem when it's accompanied by unrealistic expectations turning 'arranged' into 'forced'."
But Nashra, who moved to the U.S., shudders at the improbable prospect of returning home. She is plenty confident that she would have been married off had she not moved. While arranged marriages in Pakistan are also more 'Islamically approved', Nashra would not want to force herself into it. "The idea of marrying a stranger is just really scary to me."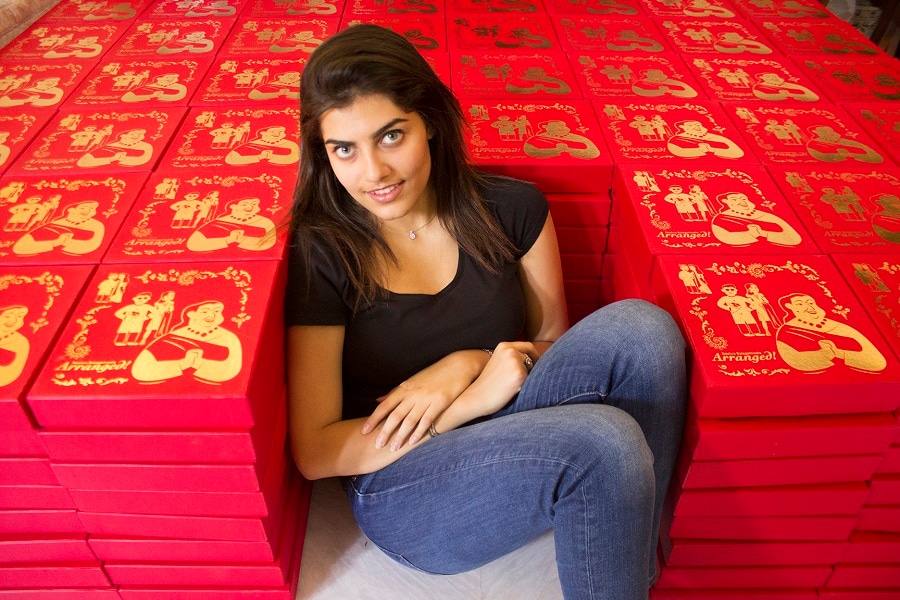 To avoid getting into an arranged marriage, Nashra even wore fake engagement rings, got a tan, and cut her hair short. "I spend three months choosing what bag I'm going to purchase, I can't imagine spending only a month or two choosing who I'm going to live with for the rest of my life."
Taking cue from her own experience and adding "issues and ideas that I'd never been able to discuss back at home, I masked the seriousness of this topic by turning it into a light-hearted game dedicated towards running away from the 'Rishta Aunty' – the matchmaker that most girls meet in order to be paired with a man."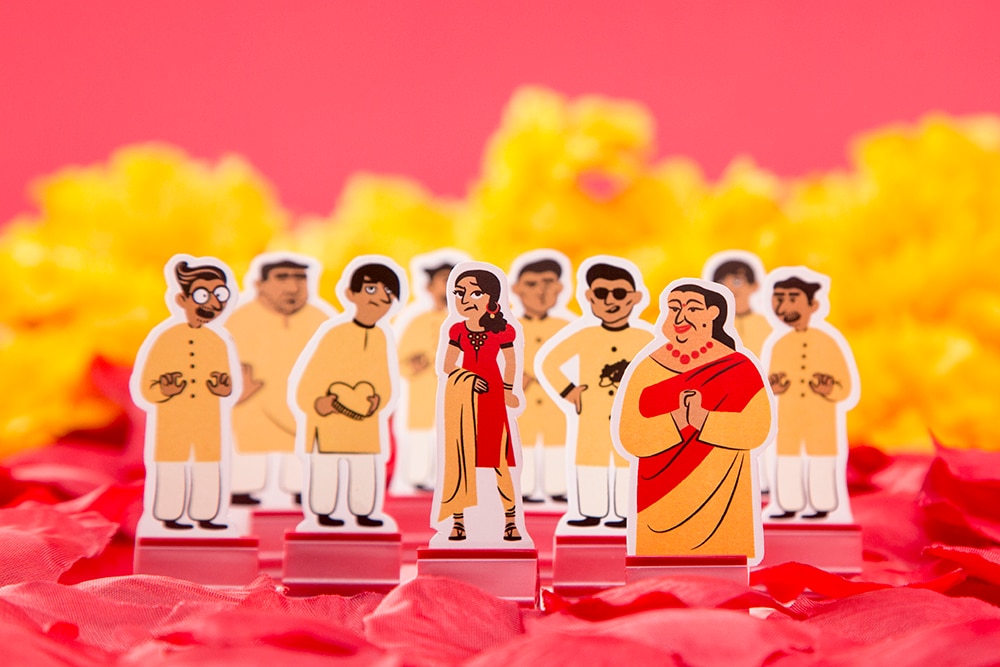 The game-play involves the rishta aunty chasing three unmarried women. She does so by drawing cards like "You see a girl with child bearing hips, move four spaces closer to her" or "You see a girl who uses fair and lovely, move three spaces closer to her" or "You see a girl whose parents have been collecting her dowry for 10 years, move six spaces closer to her".
Meanwhile, the three unmarried girls draw scandalous cards that help them move away from the aunty like "You use tampons before marriage, move five spaces away from the aunty". Other cards include "You photoshop alcohol in your pictures to trick the aunty, move four spaces away from the aunty" or "You want to pursue a career, move two spaces away from the aunty".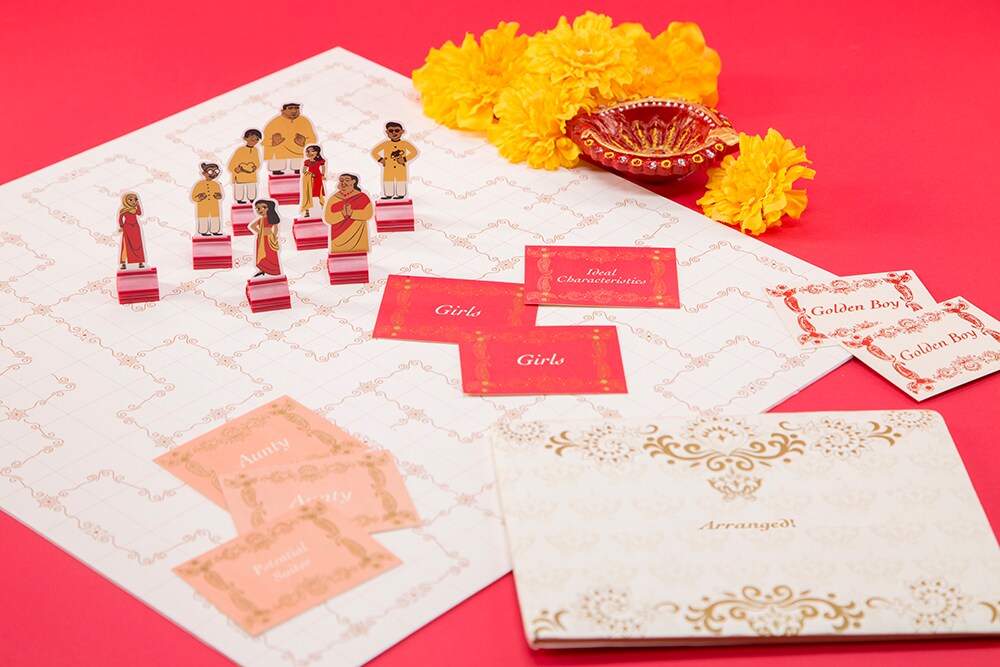 At some point during the game, the rishta aunty comes across the 'Golden Boy' -- the green-eyed, light skinned, CEO of a business with a foreign passport. THIS is when the dynamics of Arranged! switch and it turns into a rat race to get married to the dreamy Mr. Right.
The girls then start to make their way towards the rishta aunty by flaunting their talents, such as the fact that they pray five times a day, or only have female friends.
But only one girl makes it in time to marry this 'Golden Boy', and the other girls are hitched off to mama's boys or womanisers.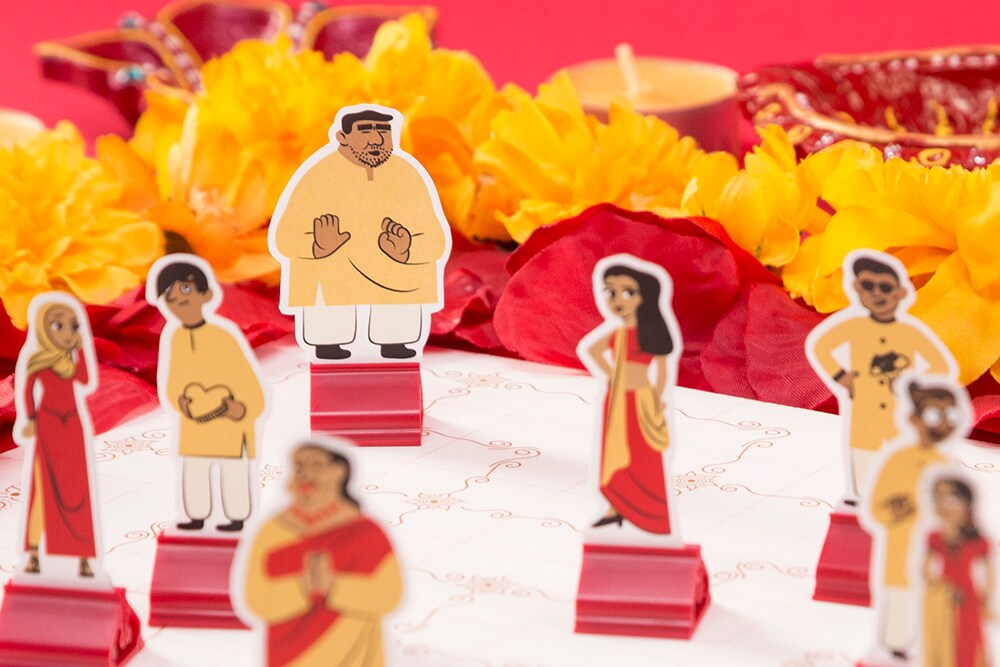 Nashra says, "The most important point of the game is that you can't escape" – the game cannot end until everyone is married. This jarring reality reflects how powerless many women in these positions are.
The multiplayer game can be played by men, too. "When men play this game, they play out the role of an unmarried girl, and learn first-hand the struggles that their daughters and sisters have gone through during the process of an arranged marriage."
For Nashra, the most demanding task while creating Arranged! was "staying true to South-Asian culture/traditions but at the same time making it possible for a western audience to understand and learn from the game."
While her own family was rather entertained by the idea of Arranged!, they came to know about her struggles only after Nashra released the game.
To get Arranged! into production, Nashra even started a Kickstarter campaign with a starting goal of $6,000, but ended up with pledges worth nearly $22,000.
Nashra is, of course, floored by the positive reactions she has been getting for the game. She has been interviewed by major news publications and gotten the opportunity to speak at many conventions.
But living in an age where people are fanatic followers of online games like PUBG, Arranged! stand outs "because when people are in the same setting and experiencing the same emotions together, they're more likely to talk about and discuss the topic, rather than if they were to experience it on their own via an online game."
In the pre-climax scene of Kal Ho Naa Ho, Lajjo ji's wish was fulfilled and Naina did have an arranged, but not forced, marriage. All was well. Except well, Aman died. But moving on.
Get the best of News18 delivered to your inbox - subscribe to News18 Daybreak. Follow News18.com on Twitter, Instagram, Facebook, Telegram, TikTok and on YouTube, and stay in the know with what's happening in the world around you – in real time.
Read full article