This year, COVID-19 forced a much-anticipated Jewish festival to be an unusually muted affair in Mumbai. Purim, otherwise marked by lively feasts and costume parties, was observed only with small prayer ceremonies in the city's synagogues on Thursday and Friday. The festival — which celebrates Queen Esther– she saved fellow Jews from genocide in the Persian empire — is especially sacred to a community that has often faced violent persecution throughout history.
The rise of far-right movements across Europe, former US president Donald Trump's rhetoric and even the COVID-19 pandemic have fueled the rise of anti-semitic conspiracy theories in recent months. However, Mumbai's Jews report no ethnoreligious discrimination; some even say that the tolerance shown to them stems from the deep embrace between Jewish and Marathi cultures that goes back 2,000 years.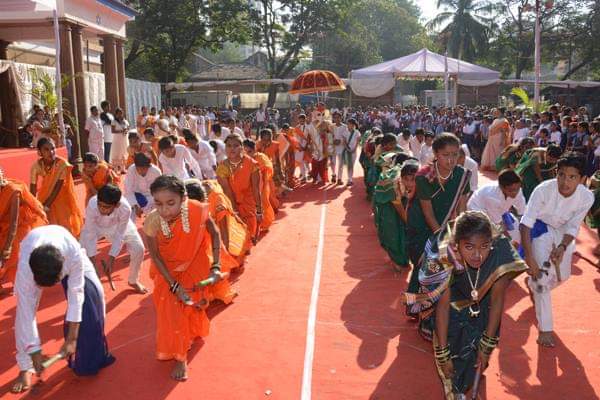 Jewish immigration to India started accidentally. "Around 175 BCE, when the Second Temple was destroyed in Jerusalem, some Jews boarded boats and tried to flee towards Australia," explains Ezra Moses, former honorary secretary and managing trustee of Shaar Hashamaim (Gate of Heaven) Synagogue in Thane. "But two boats were shipwrecked near Alibaug and only seven couples survived."
At its peak, India's Jewish residents numbered anywhere between 65,000 and 1,00,000. Today, there are only about 5,000 people left with 3,000 concentrated in Thane itself. Born and raised in Nagpur, Ezra, 65, eventually relocated to Thane in 1978. "We were the last remaining Jewish family in Nagpur, so we moved to be closer to our community," he says. Ronen Daniel, 32, who sometimes leads prayers at Shaar Hashamaim Synagogue and conducts lectures on the Torah, says that while the Indian Jewish network is compact, it has maintained a strong kinship over the years.
"During Indian independence, many Jews moved to Israel, England, Australia and the U.S. There are only 50 Baghdadi Jews left in India. The 3,000 at Thane are Bene Israeli," explains Rabbi Israel Kozlovsky, co-director of Chabad of India, an organisation dedicated to meeting the spiritual needs of Jewish people all over the world. Baghdadi Jews immigrated to India from Baghdad, Iraq, around three centuries ago and were heavily involved in business and trade in Mumbai, Pune, and Kolkata. Most have now settled in Shanghai, Hong Kong and Singapore, becoming the pioneering Jewish community of east Asia, he adds.
Despite their low numbers, Mumbai's Jews have made an indelible mark on the city's cultural landscape and vice versa. "Jews adopted many Maharashtrian customs like wearing green bangles and sarees in weddings. Even our surnames come from the names of the villages we settled in," says Joycee Nowgaonkar, 43, a social work volunteer at Succath Shelomo Synagogue. Ancient kirtans (religious songs) like 'Esther Ranichi Katha' sung during Purim are one of the most special examples of Jewish-Maharashtrian fusion. "All kirtans are not translated from Hebrew. Some are written originally in Marathi," says Joycee.
While Jewish people have seamlessly blended into Indian society, one quirky tradition performed during Purim can make them more conspicuous than usual. Rabbi Kozlovsky says that reading or hearing the Megillat Esther (biblical scriptures telling the story of Queen Esther), drinking wine and eating meat in a feast, giving charity, and increasing the bonds of Jewish brotherhood by sending each other food are the four special commandments used to celebrate Purim around the world. However, a fifth commandment has been adopted over time — costume parties.
"Queen Esther concealed her identity as a Jew and married Persian King Ahasuerus," Joycee says. "Esther then eventually stopped Haman's plan to kill all Jews in the kingdom by throwing a feast." So, Jews, especially young children, dress up in costumes of superheroes and other characters to pay homage to Queen Esther. "The event is like a fancy dress competition. Like Halloween but without the horror," Joycee says.
The blending of a sacred Jewish holiday with a contemporary, pan-Indian concept like "fancy dress" is emblematic of the deep bond between Jewish and Marathi cultures. Similarly, kosher stores that sell mutton and chicken casually dot Indian streets, people regularly use mikvehs (bath areas) in synagogues for purity rituals related to weddings or menstruation, and men who wear kippahs (dome-like caps) nonchalantly walk through crowds, says Ronen. Another such cultural intersection is South Mumbai's Masjid railway station which gets its name from Masjid Bunder, the city's oldest synagogue consecrated in 1796.
The Sassoon family that arrived on Mumbai's shores in 1832 has had a similar and almost singular influence on Maharashtrian architecture, says Rabbi Kozlovsky. The family has contributed to the establishment of the David Sassoon Library, Knesset Eliyahoo Synagogue, and Institute of Science, Mumbai, in Fort, Ohel David (Lal Diwal) Synagogue and Sassoon General Hospital in Pune, and Gateway of India in Colaba, among other famous landmarks around the state. By the 1920s, the Sassoons had even become Mumbai's largest mill owners and one of its wealthiest and most respected industrialist families.
Another well-known Jewish brood was the Kadoorie family that traded immensely with India. In the 1870s, Elly Kadoorie donated generously to an Israelite school in Mazgaon, which was renamed in his honor, recalls Ezra, a trustee of the school. The 145-year-old Sir Elly Kadoorie School is not only one of three Indian schools run by Jewish people but also the only one to teach its students through Marathi medium. Founded by Haim Kehimkar, the school even employed notable Bene Israeli educator Rebecca Reuben as its first woman principal. In 1905, Reuben, who studied history and Hebrew, became the first woman ever to top the Bombay University matriculation exam rankings.
Jewish women were particularly iconic, documentary director Danny Ben-Moshe says. "Jewish actress Ruby Meyers — whose stage name was Sulochana — was the queen of the silver screen. She broke the taboo on female acting… It's not a coincidence that the first person to do that was Jewish. The community is very progressive and outward-looking," he notes. Danny's film 'Shalom Bollywood: The Untold Story of Indian Cinema' charts the deep roots of Jews in this Mumbai industry — a fact he says not many film historians, studios or experts were even aware of.
"One of the reasons for this is that Jewish celebrities picked stage names that were more Indian-sounding to appeal to a mass audience. The community itself was not very large so people were not very familiar with them in general," explains Danny. From Esther Victoria Abraham — better known by her stage-name Pramila — a model who won the first Miss India pageant in 1947 to her son Haider Ali who wrote Jodhaa Akbar, Mumbai's celluloid history has been forever stamped by the underrated contributions of Jewish people.
Despite the glamour and wealth that graced some members of the minority, Jews in this country have not faced discrimination like other Jewish diasporas have abroad. "We Indian Jews have the dullest history in the world and we're very proud of it!" Joycee says jokingly. Although symbols of Jewish faith have been targets in the recent past, Indian Jews don't believe these incidents stem from anti-semitic sentiment. Even the siege of Nariman House during the 26/11 terror attacks and bomb blast near the Israeli embassy in Delhi in January earlier this year are not viewed as anti-semitic tragedies in the eyes of the community. "We know that Jews are still targeted, but anti-semitism is not an Indian-born hatred," says Rabbi Kozlovsky. "The only way to overcome darkness like terrorism is by adding light to the world."
While Mumbai's Jews haven't battled ethnoreligious violence, the community in India still faces a unique problem — trespassing in cemeteries. "Mikveh, kosher meat, a synagogue and a cemetery are the essentials for a Jewish life," says Ezra, explaining the significance of a cemetery to Jewish culture. However, as the Jewish community dwindles in strength, its cemeteries are being intruded upon. Referring to the Jaripatka area in Nagpur, Ezra laments, "There are no Jews to take care of the cemetery there. So it's been encroached." Other Jewish cemeteries in Alibaug and Raigad have met similar fates, he says.
Maharashtra, recognising Jews as a religious minority in 2016, has made discussions with state authorities on issues such as upkeep and expansion of burial land somewhat easier. However, the maintenance and protection of Jewish cemeteries is still a point of concern for the community that not only wants to preserve its ancient history but also respect its dead. Ezra stays in touch with his old friends from Nagpur who are willing to inspect the graves from time to time and ensure they stay intact, but he wishes there was a more organised and long-term solution to the problem.
The scale of Purim celebrations this year seems like metaphors for the Jewish community itself — small but significant. That such a tiny group of people in a country of billions have steered the course of Indian history is extraordinary. That not many know about the era-defining influence of India's Jewish community is even more so.
Rabbi Kozlovsky says one of his favourite traditional snacks to eat during the festival of Purim is kreplach: a piece of dough with a hidden centre filling. "It's like discovering a miracle when you eat it. You have to dig into it to see the full picture," he says.
Read all the Latest News, Breaking News and Coronavirus News here