Municipal Corporations

9/10

TRS

8

INC

0

BJP

1

AIMIM

0

OTH

0
MUNICIPALITIES

114/120

TRS

96

INC

9

BJP

3

AIMIM

2

OTH

4
Refresh Data
A Struggling Actress Tells you Exactly What is Problematic About Suhana Khan on Vogue cover
It's a sad reality for most struggling actresses to come to terms with, that when Suhana Khan walks into the Vogue office, no one will tell her, 'You don't fit requirements.'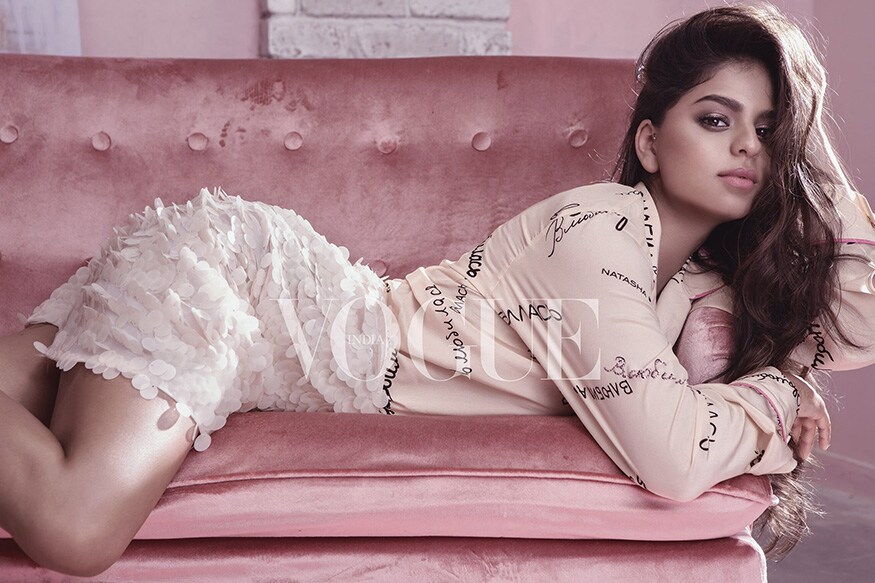 Suhana Khan posing for Vogue magazine's August issue.
It was just like any other day when Bhumika woke up and began scrolling down her Instagram feed. "One of the photos in my feed was Suhana Khan's picture. But, it is so common for star kids photos to pop-up on Instagram that I didn't think much of it at first," she says.
Bhumika, who is a struggling actress, with a DD1 show and a few digital advertisements to her credit said as she continued scrolling through her feed, more photos of Khan kept showing up. "At this point, I began wondering if she had been launched or something. Maybe she has a movie coming up," Bhumika remembers telling herself. But when she read the caption of one of the photos where Suhana was called 'the future star' on Vogue cover, she thought it was really "unfair".
What followed was a string of tweets from Bhumika Chheda, which have since then gone viral. From the number of shares and hearts those tweets have gathered, it is easy to infer that her sentiments are shared by many. In her tweets, Bhumika first introduces herself as a struggling actress and then goes on to point out why she is 'annoyed' to see Khan on the cover of Vogue.
I am a struggling TV actor and I'll tell you why people and other fellow struggling actors including me are annoyed because Suhana Khan is on the Vogue India cover. But before that, let me tell you my credibility. I have worked in a few episodics, 3 digital ads and a DD1 show.

— Bhumika Chheda (@IamBhumikaC) August 1, 2018
A normal struggling actor spends his/her/families (if new) money to travel EVERYDAY (almost) to various studios to ask for work. What happens when you are not dressed appropriately as per audition requirements? They ask us to come again another day. — Bhumika Chheda (@IamBhumikaC) August 1, 2018
What happens when you don't fit the bill (requirement) according to the casting director? They say words like either "rejected, you don't fit". Thankfully many casting directors these days are kind enough to convey their opinion politely. Or else, it is rude, its tough to deal.

— Bhumika Chheda (@IamBhumikaC) August 1, 2018
In her tweets, Bhumika said that as a struggling actress who has to stand in line for auditions, sometimes for more than four to five hours, rejection is something she has to come to terms with every day. She said that it is an everyday thing to hear sentences like, "Rejected. You don't fit the bill" and sometimes they are not told kindly. Most of her days are spent traveling to various studios, looking for work. She knows she is only one person in the sea of strugglers who are trying to make it in Bollywood. Therefore, the competition is hard and the only way she can survive and move forward is with sheer willpower and self-motivation. In contrast, star kids' lives seem to come with preset Instagram filters, with their exotic holidays, a posse of famous friends, schooling in world's best institution and film deals automatically falling into their laps. But, Bhumika isn't complaining.
Bhumika has come to terms with the reality of nepotism prevailing in Bollywood and doesn't make a big deal out of it. "I am not talking about nepotism, or I am not talking about why star kids are launched. All of that is there, it is going to happen, it has been prevalent since ages," she said.
"But, my question is, it could have been anybody else? They just had to choose a person who could have shown us a little piece of their own work. All that person needed was to have something to her merit to feature on one of the best selling magazines in the country." said the actress.
"There have been so many sportswomen who have won medals for India, and not just in the field of sport, but in other fields too, women have excelled, why not put them on the cover?" asked the actress. " I understand they might need a popular face to sell the magazine but then why not choose someone from Bollywood itself? Someone who deserves to be on the cover," she said.
Bollywood has many actresses, who despite having worked really hard for years may not have had a Vogue cover, which must be a magazine on their wishlist; why not consider them? asks the actresses. Bhumika, however, says that she doesn't have anything against Khan. "If she (Suhana Khan) had done a film, even if that film would have come to her because of who her father is, and then featured on Vogue I could have still understood," she said.
But unfortunately, as she had mentioned in her tweet, Bhumika knows that film or no film when Suhana Khan walks into the Vogue office, no one will tell her 'You don't fit requirements.'
Get the best of News18 delivered to your inbox - subscribe to News18 Daybreak. Follow News18.com on Twitter, Instagram, Facebook, Telegram, TikTok and on YouTube, and stay in the know with what's happening in the world around you – in real time.
| Edited by: Simantini Dey
Read full article