A Woman who got Engaged to her Favourite Chandelier Just Got a Tattoo of it Too!
Love at first light.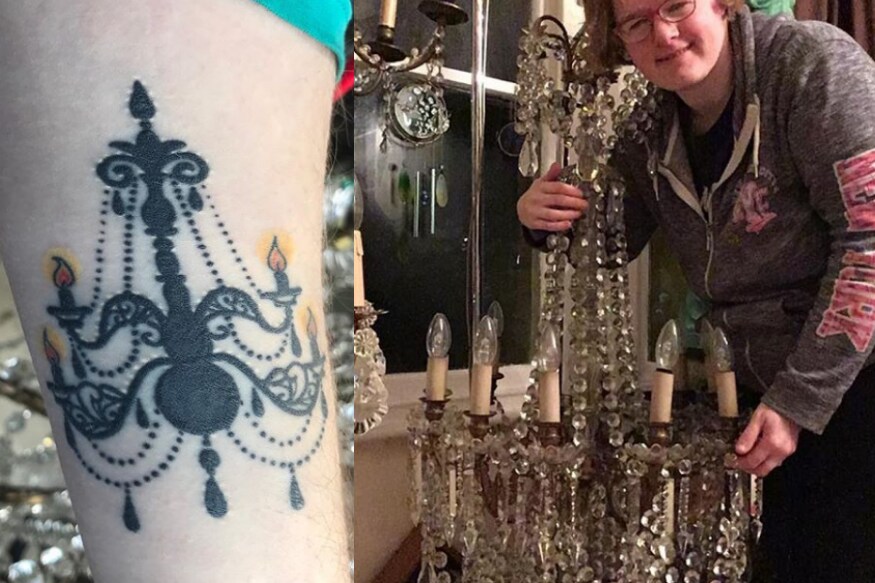 Love at first light.
For a 34-year old woman from Leeds, love knows no gender, religion, skin color, age - and whether the object of affection is inanimate or not.
Last year, Amanda Liberty got engaged to a German chandelier. Yes, the one that light that hangs decoratively from ceilings and walls.
Dubbed 'Lumiere,' by Liberty, the Chandelier is a 91-years-old artifact which she bought off e-Bay and spent over $500 on shipping.
"I knew I needed to find a way to make her mine," she revealed to The New York Post in an interview.
However, Liberty's choice of partner, while may seem odd - isn't something new to her. As an Objectum Sexual, a psychological condition where someone is sexually attracted to inanimate objects, all sorts of bits and bobs have caught her eye, before she settled on Lumiere.
Liberty also fell in love with the Statue of Liberty — who she affectionately calls "Libby" — and has traveled to the US six times to gaze longingly at the 305-foot tall monument. In 2010 she even changed her surname by deed poll to "Liberty" to show her commitment to the 142-year-old statue.
After the long-distance got a bit harder, she settled for her chandelier. And a year later after getting engaged, Liberty decided to get inked.
In an Instagram post, she shares a picture of the tattoo.
View this post on Instagram
Amanda is even planning a commitment ceremony soon, with Lumiere.
And while this may seem a little bizarre to some of us, maybe 'Lumiere' does 'light up her life like nobody else.'
Get the best of News18 delivered to your inbox - subscribe to News18 Daybreak. Follow News18.com on Twitter, Instagram, Facebook, Telegram, TikTok and on YouTube, and stay in the know with what's happening in the world around you – in real time.
Read full article