GET Stock

Quotes


Activists, Participants Clash at Spanish Bull-Lancing Festival
Dozens of activists chanted 'we will not stop until abolition' as they waved hands painted red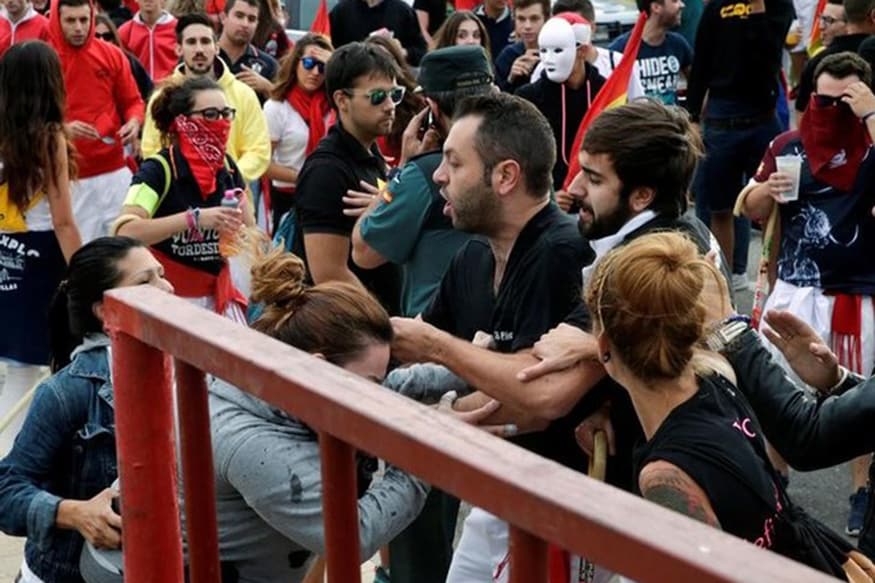 Revellers scuffle with animal rights activists next to a Spanish Civil Guard officer before the start of the Toro de la Pena, formerly known as Toro de la Vega (Bull of the Plain) festival, in Tordesillas, Spain, September 13, 2016. REUTERS/Andrea Comas
Animal rights activists clashed with locals holding an annual bull-lancing festival in central Spain on Tuesday at which participants were for the first time in centuries banned from killing a bull after chasing it on horseback.
The "Toro de la Vega" (Bull of the Plain) festival, in the small town of Tordesillas, dates back to 1534 and traditionally involves hunters on horses and on foot hounding a bull from the streets into a pine forest until it is brought down with spears and lances.
Regional authorities said in May that the festival could no longer culminate with the hunters slaying the bull.
Animal rights groups claimed the ruling as a victory in a country still known for its tradition of blood sports and descended on the town in central Spain for its first edition since the change.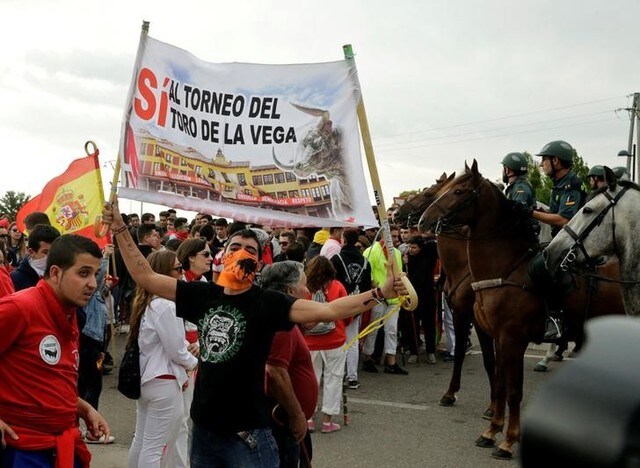 Revellers hold a banner in support of the Toro de la Vega next to Spanish Civil Guard officers before the start of the Toro de la Pena, formerly known as Toro de la Vega (Bull of the Plain) festival, in Tordesillas, Spain, September 13, 2016
Small scuffles broke out at the heavily-policed event between supporters and opponents of the festival in the run-up to the hunt - renamed Toro de la Peña, or Bull of the Rock - where the bull was chased with sticks before being led away.
It will later be put down, in keeping with local laws. Most prize bulls in Spain are not eaten.
Dozens of activists chanted "we will not stop until abolition" as they waved hands painted red.
Traditionalists protested at the ruling and called for the festival, which draws hundreds of participants and several thousand of spectators, to be returned to its original format.
"The Toro de la Vega should continue and whoever doesn't like it, just don't come here," said festival supporter Lara Avila. "They don't have to suffer by coming here and ruining our party."
Spain's long-held traditions involving the slaying of specially bred bulls - at local festivals or in rings where professional toreros confront the animal - still have a loyal following.
Attendance was up slightly in the past two years after a dip, with just under 10 percent of the population going to watch such festivals, official data shows.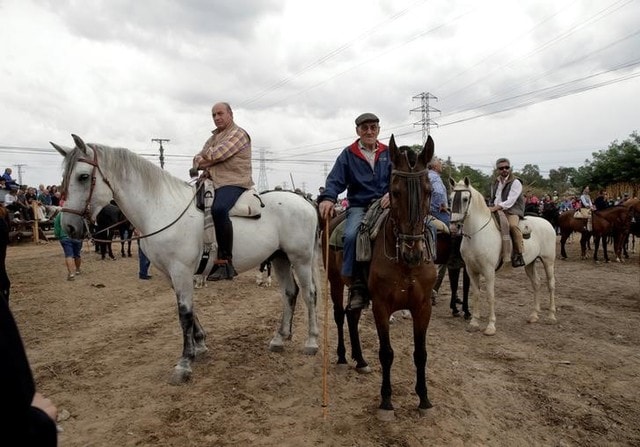 Revellers on horses wait for the start of the Toro de la Pena, formerly known as Toro de la Vega (Bull of the Plain) festival, in Tordesillas, Spain, September 13, 2016.
But these rituals are also facing rising opposition from an increasingly vocal animal rights movement, while some local authorities have cracked down on the practice by withdrawing subsidies or introducing regional bans.
"I have no words. It is an atrocity," said one animal rights activist at Tordesillas, Sonia Vallense. "They have not been stopped. They are going to kill (the bull) in one way or another."
Also Watch
Read full article