Adult Actor Johnny Sins Just Tried Biryani With Naan and the Internet is Done For the Day
Johnny Sins may just have upset the biryani lovers.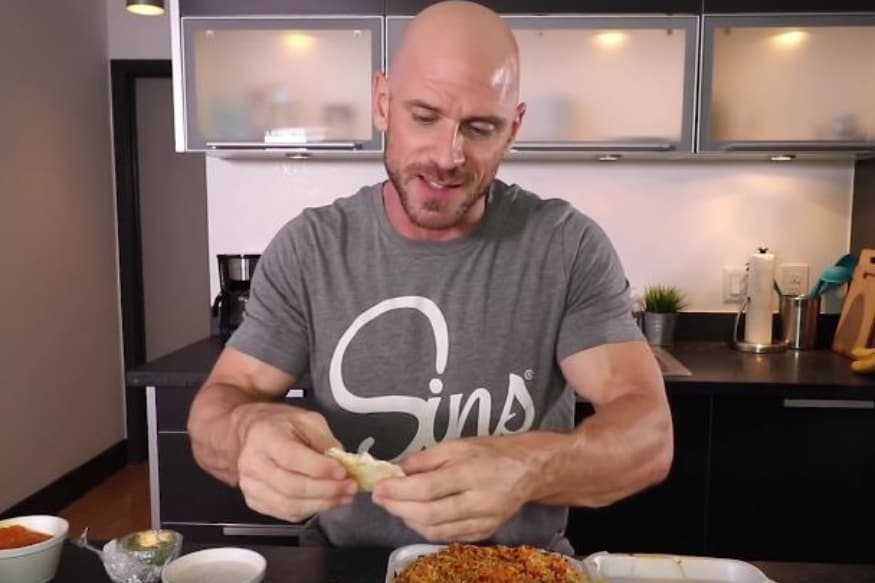 Image credits: SinsTV / YouTube
Johnny Sins, an adult actor, is quite an Internet celebrity.
Astronaut, doctor, plumber, cop, firefighter, pizza delivery guy, soldier, teacher. Yes, that guy. Apart from being a popular face in the adult film industry, Sins is a regular on YouTube. Believe it or not, his YouTube channel -- SinsTV (a daily vlog channel) has more than 700K subscribers.
And for reasons best known to desi janta, a major chunk of his subscribers are from India. Showing his gratitude to his subs, Sins recently took to YouTube and tried some Indian food.
Before trying out the food, Sins talks about the T-Series Vs Pewdiepie subscriber war and says that unlike Swedish YouTuber Pewdiepie, who occasionally makes fun of Indians, he's going to "embrace his subscribers."
From samosa to pakore to aaloo gobi and tikki, Sins munched on a bunch of Indian snacks before trying the much-anticipated chicken biryani.
So far so good, eh? Nope.
"I read one of the traditional ways to eat it (biryani) is with the bread," Sins says before eating chicken biryani with a garlic naan. Yep.
The biryani lovers got the whiff of Sins' video and later united on Twitter to call out the abomination.
I just watched Johnny Sins eating biryani with Nan Done for the day

— M.Z (@Aamkhalo) September 15, 2018
That's called the #Legend ,,,,Ustad Johnny #Sins Eating Biyani with Naan https://t.co/5DMXAYbKIz

— Muhammad Sikander (@SuNnY_BaBa24) September 14, 2018
Johnny Sins ruining Biryani for u. Eating chicken biryani with naan who invited him pic.twitter.com/QPRXPVg7Xx

— Farooq Afridi (@FaryAfridi1) September 13, 2018
my cousin, who is married with 2 kids and probably doesn't even know what porn is, just shared a video of johnny sins eating biryani with naan. the secondhand embarrassment is eating me alive

— petty (@sanwlisalonii) September 13, 2018
johnny sins eating biryani with roti hmmm pic.twitter.com/vRX06qQDr4

— Unclejokes_ (@k3wlbwoyy) September 11, 2018
johnny sins eating biryani with naan

— zaib (@zaibs420) September 13, 2018
Learn Desi tradional way of eating Biryani from Jhonny Sins. https://t.co/ltAvuFmHyb

— Shahzad Riaz - شہزاد (@shahzad985) September 15, 2018
Sins trying the unusual combo has been viewed 600K times on a Facebook page.
"Noooooo who said that the traditional way to eat Biryani is to eat it with Naan???? No no no... Biryani can be eaten with Raita only, not Naan plz. That combo ain't good at all. No match," wrote one user on Facebook.
"The traditional way is NOT to eat nan with rice! That's an insult to the Biryani! Someone teach this man!" wrote another upset user.
For those who aren't easily triggered, you can watch Sins' entire video here:
Get the best of News18 delivered to your inbox - subscribe to News18 Daybreak. Follow News18.com on Twitter, Instagram, Facebook, Telegram, TikTok and on YouTube, and stay in the know with what's happening in the world around you – in real time.
Read full article