Air Hostess Breastfeeds Passenger's Crying Baby After Mum Runs Out of Formula Milk
'I thought to myself, there's only one thing I could offer and that's my own milk. And so I offered,' the Filipino air hostess wrote in now viral social media post.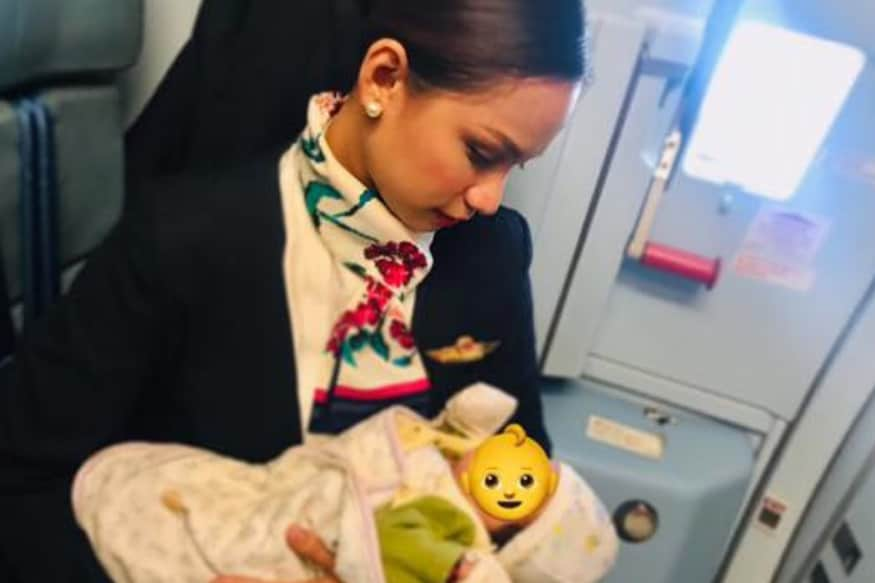 Image credits: Patrisha Organo / Facebook
A Filipino flight attendant donned her mom-cape aboard a flight and is winning hearts all over for her act.
It was a routine take-off for 24-year-old Patrisha Organo, one of the cabin crew members onboard a Philippine Airlines flight until she heard an infant crying and decided to go beyond her call of duty.
On approaching the anxious baby, Organo realised that the mum had run out of formula milk. Organo, who is a mother of a nine-month-old baby, knew the troubles of motherhood and offered to help.
"Everything went smoothly until after takeoff, I heard an infant's cry, a cry that will make you want to do anything to help. I approached the mother and asked if everything's okay, I tried to tell her to feed her hungry child. Teary-eyed, she told me that she ran out of formula milk. Passengers started looking and staring at the tiny, fragile crying infant," Organo wrote in a now-viral Facebook post.
This is when her maternal instinct kicked in. "I thought to myself, there's only one thing I could offer and that's my own milk. And so I offered."
The mum-baby duo was then assisted by the Line Administrator to the galley where Organo breastfed the baby until it fell asleep.
"The baby started rooting, she was so hungry. I saw the relief on her mother's eyes. I continued to feed the baby until she fell asleep. I escorted her back to her seat," she added.
Speaking to the Mirror, Organo explained why she decided to step in.
"I could only imagine the chaos of those feelings, but as a mother myself I knew the stress she would've been going through. The helplessness you feel when you cannot feed your hungry child is horrible, so I had to step in. As soon as I could help the baby and the mother I felt so happy - I cannot put into words how fulfilled I felt," she told.
As for the mum, she thanked the flight attendant for coming to her rescue.
Her Facebook post titled 'I breastfed a stranger's baby inflight' has gone viral on the platform since and it has been 'liked' over 150K times.
You can check Organo's post here:
Get the best of News18 delivered to your inbox - subscribe to News18 Daybreak. Follow News18.com on Twitter, Instagram, Facebook, Telegram, TikTok and on YouTube, and stay in the know with what's happening in the world around you – in real time.
Read full article