Amazon's 'Sanskari Alexa' Bleeped Out C***d From Asha Bhosle's 'Abhi Na Jao'
You read that right.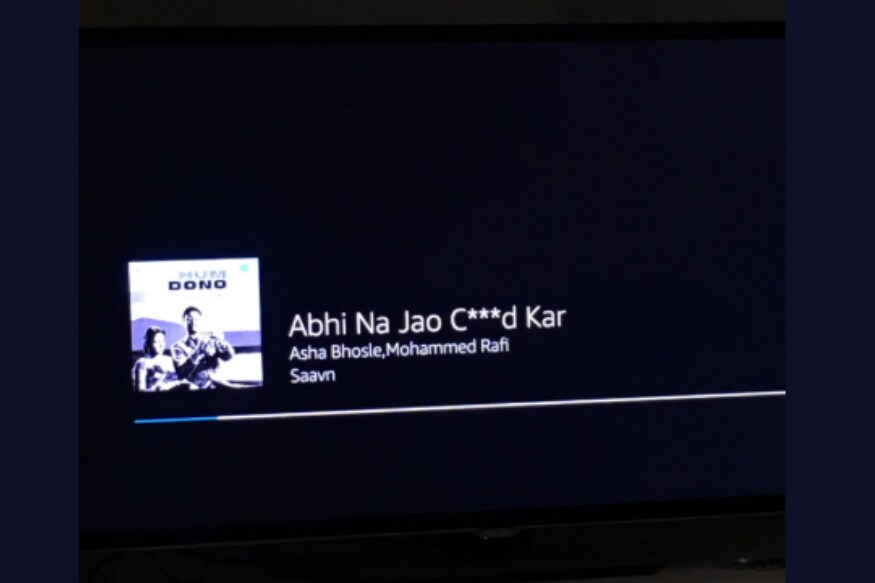 Image credits: @vividBharati / Twitter
Bleeped cusses, blurred bras, shortened lovemaking scenes. Despite being rated appropriate for 18+ audiences, Indians have to settle for a lot less than they desire for - a full-fledged, unchopped version of content to binge on a lazy weekend.
While CBFC's (Central Board of Film Certification) attempt to "purify" movies have often irked moviegoers, Amazon's Prime Video streaming service has been grabbing its viewers' attention for reasons other than the shows' artistic allowances.
Recently, Pankaj Tripathi's Mirzapur, a web series on Prime Video, became a hot topic of discussion on Reddit. Why? Because episodes 3, 4, 5, 7 in the show were rated 18+ while 1, 2, 6, 8 and 9 were 16+.
Strange, right? Stick around for more.
Rohit Bharati, who goes by the handle @vividBharati, was streaming Bollywood classics on Saavn app on Amazon when a word from the song's title he had searched for appeared to be censored.
The original song: Abhi Na Jao Chhod Kar
Amazon's version: Abhi Na Jao C***d Kar
Wtf @Saavn?!!! pic.twitter.com/mY4x7GYLqo

— Rohit Bharati (@vividBharati) November 27, 2018
Unfortunately, the word that Amazon decided to omit wasn't even a cuss. 'Chhod' translates to 'leave.' While the machine thought the word it was censoring translated to f**k.
To make things even more ridiculous, Amazon's Alexa also decided to omit 'chhod' while spelling it out before playing the classic.
I thought it was only text, they beep the audio too ‍♂️ pic.twitter.com/tZbtt3AOAI

— Rohit Bharati (@vividBharati) November 27, 2018
Somehow, it wasn't an isolated case and any song with the keyword 'chhod' paid the consequences.
So yeah, all the 'chhod' songs are like this. I wonder which other Hindi words are censored pic.twitter.com/MC1Mu7xQRK

— Rohit Bharati (@vividBharati) November 27, 2018
In fact, songs with 'saala' are on Amazon's radar too.
Found a new word guys! pic.twitter.com/CvK5OPaMqJ

— Rohit Bharati (@vividBharati) November 28, 2018
Some Twitter users affirmed Bharati's discovery.
I'M LOSING MY SHIT HAHAHAH pic.twitter.com/c8BLrdpteM

— Manoj Mehta (@notmanoj) November 27, 2018
I tried here! Same.. pic.twitter.com/lO4HjPhtFk

— Sawan (@sawan0108) November 27, 2018
Others had a good laugh.
Lol wtf did I just see pic.twitter.com/zZUl4hXP29

— Anshu Sharma (@anshu93sharma) November 27, 2018
November 27, 2018
Get the best of News18 delivered to your inbox - subscribe to News18 Daybreak. Follow News18.com on Twitter, Instagram, Facebook, Telegram, TikTok and on YouTube, and stay in the know with what's happening in the world around you – in real time.
Read full article