An African-Caribbean Storyteller is Reinventing 'Vikram Betal' to Get Indians off Netflix
'Every country has a cultural wealth of stories, folk tales and epics that can be adapted for oral retelling. The trick is to bring out the aspects that appeal to contemporary audiences,' says travelling storyteller Godfrey TUUP Duncan.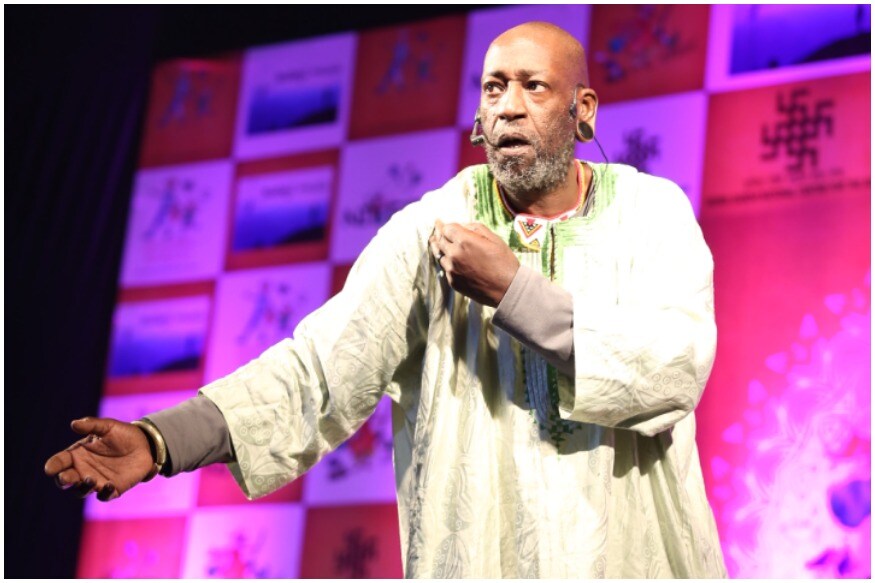 Godfrey TUUP Duncan performing in the second edition of the Kathakar storytelling festival in New Delhi
Instant streaming has revolutionized the way humans tell and consume stories. Modern technology makes it possible for storytellers to create realistic dimensions of a story and approach complex premises and characters with ease, thanks to the boom in photographic, videographic and editing know-how. However, this has greatly overshadowed its ancestor that still continues to be a vivid and rich form of art - oral storytelling.
In most cultures, the tradition of oral storytelling predates visual and printed forms of telling stories. And while modern technology has greatly diminished oral storytelling traditions, some such as Godfrey Duncan are trying to keep the genre alive by mixing it up and experimenting with new themes.
"The fact is that people love to listen to stories. And I love telling them. A story has the power to talk to you at a personal level, to be remembered and even affect change. Stories make up traditions and cultures," Duncan told News18.
Godfrey TUUP Duncan is a travelling storyteller from London, even though he traces his roots back to the Caribbean. For 35 years, Duncan has been collecting tales from different parts of the world, adapting them to modern narratives and telling them to a variety of international audiences. He was recently in New Delhi to be part of the 'Kathakaar', an international storytelling festival, aimed at preserving the art and also on creating new audiences for the same. While in India, Duncan performed for two days and one of his performances was a modern adaptation of the classic Indian tale of King Vikram and Betal. 
"Every country has a cultural wealth of stories, folk tales and epics that can be adapted for oral retelling. The trick is to bring out the aspects that appeal to contemporary audiences. Television content offers them violence, sex, politics, power grabs," Duncan said. "If you look carefully, the story of Vikram and Betal has all of that. It is not just a spooky story for children but a dark tale of power, betrayal and war, sex and incest, very much a story for adults," he added.
Duncan studied Vikram and Betal along with several other classical texts, folk tales and stories from several parts of the country as part of his theater education in the UK. Reading these tales as an adult, he realized there was so much more to these stories than just lurid fantasy. The stories, he says he chooses, have a universal and transcendental appeal. The storyteller-musician also felt that these stories sometimes contained values and even subversive insights that could be useful to certain sections of the people who hitherto face oppression.
"Foremost, telling stories is a medium of communication. When I was performing in Iran, I held a workshop with some local women in Tehran. I told them a story of a girl's journey from girl to womanhood. The women later told me that the stories had a subversive undercurrent that women could be strong and independent," Duncan said. He felt that under oppressive regimes where women were often not considered equal to men or didn't have equal rights and opportunities, storytelling could be a medium of quiet revolt. According to the women - teachers, activists and educators -who had attended the workshop, the men were often unaware of these subversive stories. On the surface appeared to be just 'feminine tales' told by women to other women.
Born to Guyanese parents in London, Duncan often referred to himself as a child of the world. The multicultural influence of his South american roots, mixed with Caribbean, African and even Indian influences (owing to high densities of Indians in Guyana and other African nations), as well his time at the prestigious West London Storytelling Unit taught him to look for resonances between cultures. When Duncan tells a story, he does not just tell them but fashions a performance. He uses dance, dramatic elements, costumes, props and music to enhance the story. The performer, who started his career as a Guyanese dub poet, has performed all over the world and is a favorite at international art and storytelling festivals. He said that through his art, he was also serving the larger purpose of making cultures more accessible and familiar.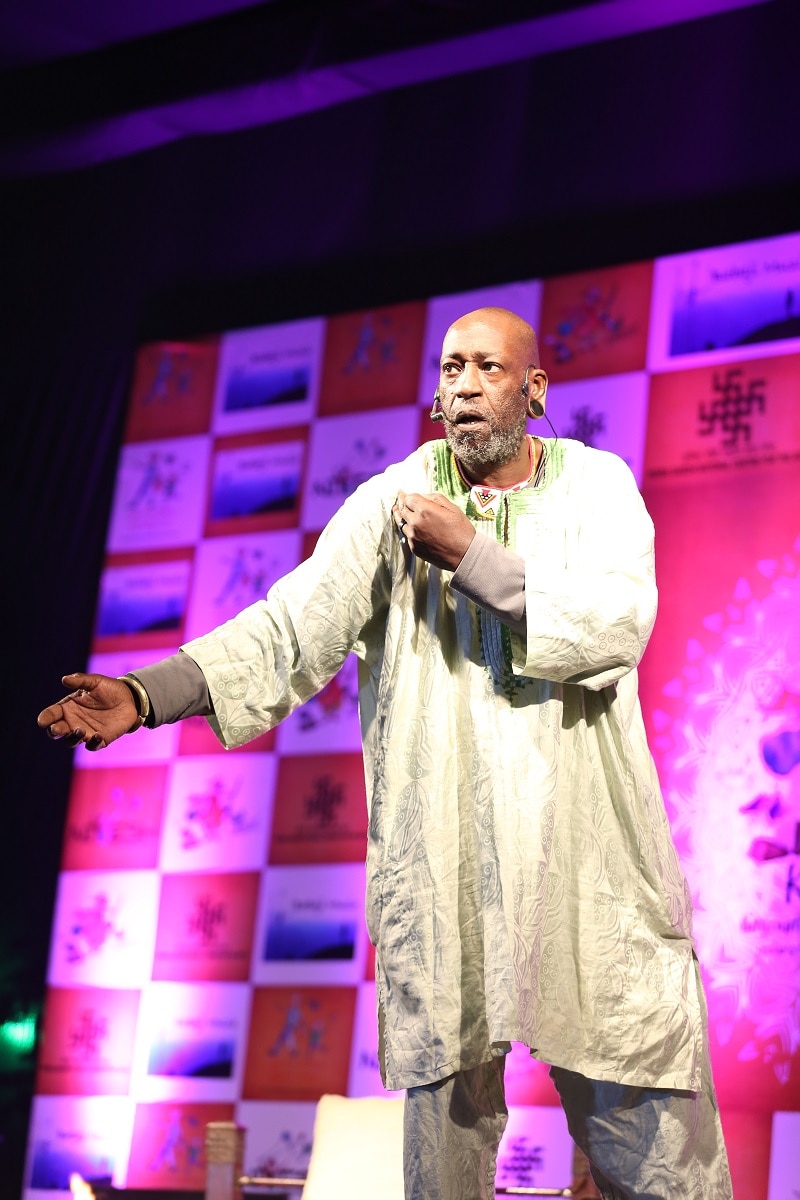 According to Duncan, much of the hate that we see in the world is because we do not appreciate cultural differences or even know what customs, rituals and daily life in different parts o the world is like. More and more people are unaware of their own roots. By telling these stories, he said he wanted to make bring a global aspect to local culture.
However, the artist warned against the trend of cultural appropriation that has been in vogue in the entertainment and fashion world. He felt that while it was great that people were taking an interest in foreign cultures, fetishing certain aspects such for exploitative and profiteering purposes could backfire.
"You will see a lot of people wearing ripped jeans. People don't get that it's just glamorizing poverty. Or when a white model wears an afro hairstyle in a magazine. Why don't they hire women of colour who have real afros? These are questions that need to be addressed," Duncan concluded.
Get the best of News18 delivered to your inbox - subscribe to News18 Daybreak. Follow News18.com on Twitter, Instagram, Facebook, TikTok and on YouTube, and stay in the know with what's happening in the world around you – in real time.
Subscribe to Moneycontrol Pro and gain access to curated markets data, trading recommendations, equity analysis, investment ideas, insights from market gurus and much more. Get Moneycontrol PRO for 1 year at price of 3 months. Use code FREEDOM.
Read full article