An Artist Compiled 'Sexperiences' of Indian Women and is Turning them Into Art
'My work hangs with Picasso and Edvard Munch' said Indu Harikumar, who rose to fame after her #100IndianTinderTales.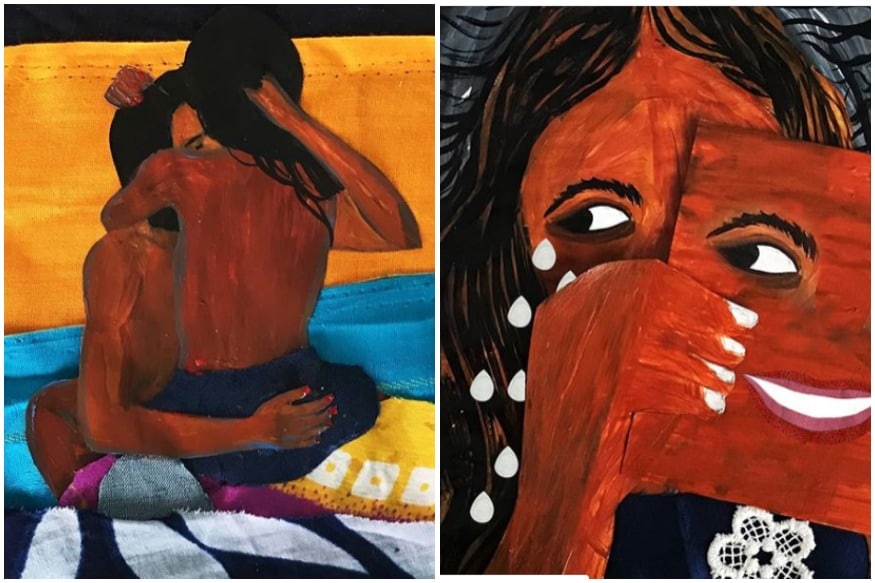 'My work hangs with Picasso and Edvard Munch' said Indu Harikumar, who rose to fame after her #100IndianTinderTales.
Remember the artist who created #100IndianTinderTales in 2016? After the successful illustrated series which attracted widespread audiences and adoration, artist Indu Harikumar is back with a new project that has the potential to go even more viral than her last one.
The artist, who stufied art residency program in Vienna, is now working on a new series called #TheIndianSexperience. Much like her previous Tinder project, this one also involves the stories of Indian women and their encounters with, and understanding of, sex and sexuality.
"I realise that in India, sex is a repressed, often taboo subject, especially for women. But women often have a lot to say about sex," Indu said. The 37-year-old artist runs a page on Instagram called 'Induviduality', which is also the name of her Facebook page. These are the primary platforms for her to collect and document the accounts of various women and ultimately to display her art.
Though Indu has not managed to illustrate all the experiences that have been shared with her yet, she has already begun the work.
To gather these sexperiences, Indu asks questions on her social media accounts and seeks out the best responses from the ones that she receives.
"It is one thing to write your own story. You are in control. But when the story belongs to someone else, an artist has to be honest and must follow certain codes. You can't meddle with another person's story and thus the tellers need to trust you," Indu said, adding that her job was only to illustrate the incident the best way she could. The idea is not to reproduce a journalistic sketch of the incident but rather the emotions that it evokes.
"Some of the experiences that women recounted were disturbing and needed sensitive handling. In such situations, I sometimes feel at a loss of what to say to them and therefore I try to let my art do the talking," Indu said, recalling the tale of a young girl's first experience of sexual abuse.
View this post on Instagram
Trigger warning: #CSA Day 5 of #TheIndianSexperience as an #inktober2018 project. Contributor: Anon . . "I was sexually abused as a child and that's how I got to know about sex. I don't remember my age then or the year precisely,  must have been in first or second standard. I just knew it was some sort of an adult thing. He made me watch porn  and stuff. It was painful and I would refuse, but he used to make up stories and talk me into it. My parents never got to know about it because I've always been a quiet child and didn't share much of whatever happened throughout the day. The guy told me to keep it a secret, I was pretty good at it. My mum once asked me if someone touched me in my private area, she told me I could confide in her but I said nothing about it. He realised what he was doing was wrong and stopped after sometime, probably because I was starting to understand that it was wrong. My  past didn't worry me much growing up, I had buried everything and ignored if such a thought even crossed my mind. But in the ninth standard,  I was reading, 'The story of my life' by Helen Keller. In the book, she says that fact and fancy looked alike while talking about her  childhood. This made me question if what happened to me was all in my head, I had buried everything so deep. I realised that it was the truth, it had happened to me, and I finally cried out loud." #TheIndianSexperience #31daysofIndianSexperiences #inktober #Induviduality #crowdsourced #artist #art #India #stories #inktober2018 #inktoberday5 #indian #illustrator #womenwhodraw #mixedmedia #handmade #drawing #decoupage  #painting #dailydrawing #sharingisgrowing #storyteller #artistsoninstagram #dailyart
However, the artist says that sometimes, these confessions can be difficult to deal with especially if one has no training on dealing with victims of trauma, abuse or violence. This was also one of the reasons why Indu had ended her Tinder project, artworks from which are currently on display at a German museum. "My work hangs with Picasso and Edvard Munch," a jubilant Indu said.
Read full article