An Asian YouTuber Walked into McDonald's to find Posters of ONLY Americans. So This is What He Did.
A prank done right.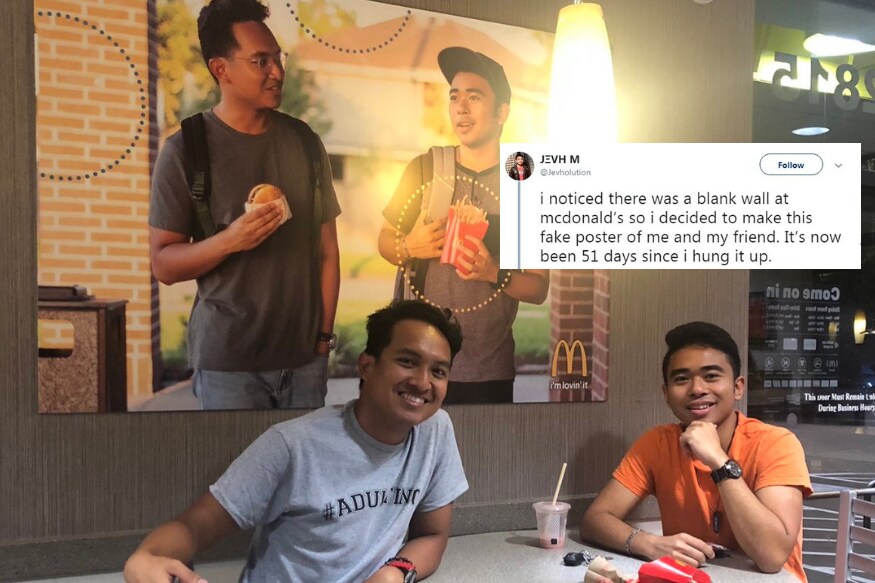 (Image: Twitter/@Jevholution)
Have you ever bothered to observe the posters hung up at many fast food restaurants and noticed the wide-tooth smiles of the people on the poster pretending to enjoy their meal like its the best thing ever?
YouTuber Jevh Maravilla, living in Houston, Texas noticed that the walls of McDonald's were decked with posters of white Americans who were flashing their bright smiles and enjoying their Happy meals. Jevh realised that there was little to no Asian representation in the media (To All The Boys I've Loved Before is NOT the only representation of Asian community that is needed in the media) and decided to create a fake poster of himself and his friend Christian and hang the poster on an empty wall in a Mcdonald's outlet.
But first, they needed to come up with a plan. They decided to take a picture of themselves enjoying a burger and french fries in a school setting, bought a Mcdonald's uniform for $7 and using some basic photoshop edited the picture to match it with the posters in the Mcdonald's store.
On the D-day, Jevh and his friends went to the Mcdonald's store and when no one was looking, they hung up the poster on the empty wall. So easy, eh?
The story does not end there. It's been over 50 days and the picture is very much still there.
i noticed there was a blank wall at mcdonald's so i decided to make this fake poster of me and my friend. It's now been 51 days since i hung it up. pic.twitter.com/5OTf5aR4vm

— JΞVH M (@Jevholution) September 3, 2018
And people, amazed at Jevh's prank, are now asking Mcdonald's to buy the rights to the poster and use it in all of their restaurants.
If McDonald's was smart, they would buy the rights to that poster and put it in every McDonald's.

It would be great multi-ethnic PR.

Plus it would have a "hipness " factor from being a viral sensation.

Good luck guys.

BRILLIANT

— (Zack) *TOBIE*JOHNNY* SONNY *DOLLY rip (@GordonHarmony) September 3, 2018
I guess it's time for @McDonalds to spread this poster across all their restaurants and pay these handsome models for their smartness #KeepThePosterUp

— Black Lives Matter (@blaclives) September 4, 2018
You know what the #McDonalds response will be to this?

1. They'll keep it up

2. Pay you

3. Start a global campaign/competition for create your McDonald's ad.' Something like "Put yourself under the arches?' The smart move for #inclusion/engagement Go.@McDonaldsCorp @McDonalds pic.twitter.com/eSQqUylcCW

— powys dewhurst (@PowysDewhurst) September 4, 2018
@McDonalds y'all should start using it for real! Now that would be a cool story,

— Shelby Lee Lowe (@ShelbyLeeLowe) September 5, 2018
McDonald's owe y'all a check honestly

— Everyone's Favorite ✨ (@LoveMiLonggTime) September 4, 2018
Call me crazy but I think @McDonalds ought to put this poster up in all of their restaurants https://t.co/FNsdqQFSSu

— Frank Nemecek (@fnemecek) September 3, 2018
Hey @McDonalds, show equal representation and add this to the marketing in all of your locations. This man did you a favor https://t.co/jcKp378ViV #KeepThePosterUp https://t.co/0hqHlDL6ZF

— lil stiff (@AndieLynn_) September 4, 2018
Wow. That looks like a legit poster, and if I were @McDonalds I'd be giving you a call to put it in more locations.

— ︽✵︽MrChris328︽✵︽ (@MrChris328) September 3, 2018
McDonalds there is a wonderful campaign in here. Get your followers to create their own posters and display the best ones. And thank @Jevholution https://t.co/Q11KyuFUAY

— Esme Arendse (@EsmeArendse) September 4, 2018
This guy should get paid. McDonalds should buy the poster. Pony up Golden Arches! https://t.co/agrAc0mw67

— Johnny Pappas (@johnnypappas) September 4, 2018
And now everyone waits for McDonald's to make their move.
Read full article
Countdown To
Elections Results
To Assembly Elections 2018 Results