GET Stock

Quotes


Indian Couple Flew 13,000 Km To 'Discipline' Their Daughter-in-law
Jasbir Kalsi, 67, and his wife Bhupinder, 61, flew 13,000kms to "counsel and discipline" their daughter-in-law for "being disobedient." (Photo credits: Hillsborough County Sheriff's Office)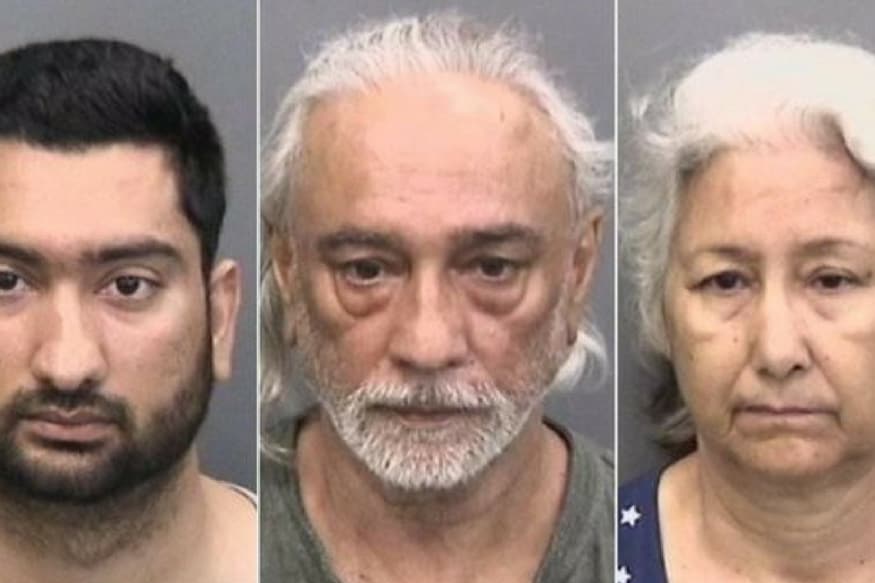 Jasbir Kalsi, 67, and his wife Bhupinder, 61, flew 13,000kms to "counsel and discipline" their daughter-in-law for "being disobedient." (Photo credits: Hillsborough County Sheriff's Office)
In a bizarre case of domestic abuse, Florida police rescued a woman from her abusive in-laws who reportedly flew all the way from Punjab, India to assist their son to "counsel and discipline" his wife.
This allegedly involved confiscating her phone, beating, and holding a knife to her throat,
RT reported
.
According to the Hillsborough County Sheriff's Office, Silky Gaind, 33, who was being abused by her in-laws and husband Devbir called her parents in India who then alerted the authorities.
Police said Gaind was being held in the Riverview home by her husband, Devbir Kalsi, 33, and his parents, Jasbir, 67, and Bhupinder Kalsi, 61, who traveled 13,000km from India to help their son "counsel and discipline his wife for being disobedient" after he asked for their assistance, the
Fox 13 reported
.
When the authorities arrived at the home on Saturday morning and knocked on the door, no one initially came to the door. A deputy continued to knock and, eventually, Silky attempted to open the door and screamed for the deputy to save her and her year-old baby,
Fox 13 added
.
Deputies rescue woman, 1-year-old child, held hostage in Riverview home https://t.co/V8MU4PQqQY via @wfla

— Larry McKinnon ⭐️ (@LarryMcHCSO) September 3, 2017
The deputy said he had to force his way in as Devbir Kalsi tried to force the door shut. Kalsi and his parents were all arrested.
At a court hearing on Sunday, Silky said that her husband had left her in fear for her life.
"I am so scared because last night he was telling me he was going to kill me if I call the police. He would kill me to death, you know? He told me it would take 10 minutes for police to come and before that he would kill me and then kill himself," she said, as reported by
Bay News 9
.
The son and dad duo may face "charges of false imprisonment, child abuse and denying access to 911," according to the
Tampa Bay Times
.
Devbir Kalsi also could face felony battery charges, and Jasbir Kalsi was accused of "aggravated battery with a deadly weapon,"
Tampa Bay Times
added.
The mother-in-law, Bhupinder Kalsi was charged with battery domestic violence and failure to report child abuse, according to
BBC
.
Also Watch
Read full article