'An Inspiration and Role Model': Fans Get Emotional After Chris Evans Hangs Captain America's Shield
Goodbye, Captain America!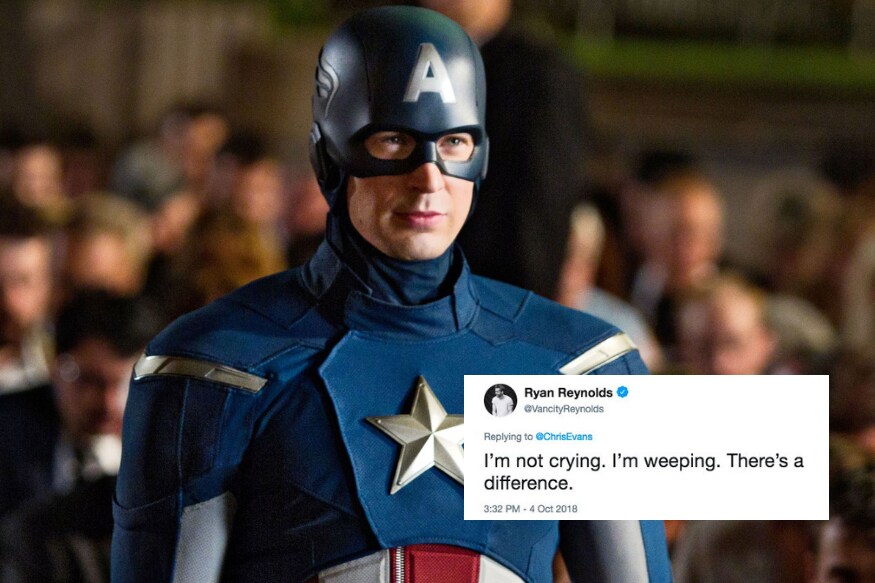 (Image: Twitter)
On Thursday, actor Chris Evans hung up Captain America's shield for good and it goes without saying that he was very emotional about leaving his superhero character behind.
Taking to Twitter, Chris wrote that
it was an honour
to play this role for over eight years and he was thankful to his fans and crew for all the memories.
Officially wrapped on Avengers 4. It was an emotional day to say the least. Playing this role over the last 8 years has been an honor. To everyone in front of the camera, behind the camera, and in the audience, thank you for the memories! Eternally grateful.

— Chris Evans (@ChrisEvans) October 4, 2018
Naturally, his fans too got teary-eyed and could not help themselves from paying tributes to Chris Evans and his superhero character.
What a run you had brother. Congrats on breathing life into such an iconic character. Keep on keepin' on https://t.co/yg38AcXNUi

— Dwayne Johnson (@TheRock) October 4, 2018
I'm not crying. I'm weeping. There's a difference.

— Ryan Reynolds (@VancityReynolds) October 4, 2018
October 4, 2018
We will miss you. pic.twitter.com/i9AwlNITbD

— Cathy (@cathyguo72) October 5, 2018
"I don't feel so good" pic.twitter.com/iWSHDUPuTf

— X-Men OBSESSED! (@xmen_daily) October 5, 2018
Thank you for showing us that whatever happens tomorrow, we must promise you one thing. We will stay as we are. Not perfect soldiers, but good men.. pic.twitter.com/yPV6Z1pL06

— Kevin Bust (@KevinLs248) October 5, 2018
October 5, 2018
I'm broken y'all pic.twitter.com/zjntVvEgcE

— ◟̽◞̽ (@smileyhappylou) October 5, 2018
My heart cannot even handle this, you definitely portrayed Captain America so great. All of the Captain America movies were amazing!!! Loved watching the growth and development of your character throughout all of the films you were in so THANK YOU for your commitment and talent! pic.twitter.com/Qzz8mtjZmI

— Somegirlwithcurls➰ (@TaniaBlahhhhxd) October 5, 2018
I knew this day would come but I didn't think it would be this soon
Words cannot describe how much your work has meant to us. We will always love you. May your future bring much success ❤❤❤ pic.twitter.com/nEI4QOXAZu

— Katie Pena (@KatiePena25) October 5, 2018
I am very emotional and sad for captain america because he will not be the part of Avengers films after Avengers 4.Captain America is my favorite superhero and Chris Evans is my favorite actor of Hollywood.

— Adarsh Tiwari (@MostMania) October 5, 2018
SO.

YOU THINK WE'RE JUST GONNA LET YOU WALK AWAY FROM PLAYING CAPTAIN AMERICA. pic.twitter.com/H7dxO9XmhH

— Eric Haywood (@EricHaywood) October 4, 2018
Thank you for making Captain America my favorite in the MCU. You're an amazing actor and forever my hero. Eternally grateful.#ThankYouChrisEvans pic.twitter.com/EpDHxgW2xv

— Yuma Takahashi (@yuma_albus) October 5, 2018
If I can get through Avengers 4 without crying my eyes out, it'll be a miracle

— Catharina (@mylifeforrent29) October 5, 2018
Bye cap we'll miss you (when captain America throws his mighty sheild!) @ChrisEvans you are a amazing and inspirational actor who play an amazing character in the mcu ' I'm with you till the end of the line pal... pic.twitter.com/EAB7kwjOjz

— Owainthegamer (@owainthegamer) October 5, 2018
I was there for the first screening of Captain America: The First Avenger!
You were just a kid from Boston. pic.twitter.com/ha9l2qL9Fg

— Matthew Sardo (@matthewsardo) October 5, 2018
The honor is ours, Captain pic.twitter.com/9ZGsWQVuAn

— fallado de fábrica (@FabricioJaime) October 5, 2018
I am literally crying right now . I hate goodbyes. It's still like a dream. I still can't believe it. just thank you for being our inspiration for the whole time. #ThankYouChrisEvans pic.twitter.com/6mGPlfBsIR

— 미꼬 uwu (@misekohun94s) October 5, 2018
Thank you for bringing Captain America to life and becoming a symbol for standing up for what's right. You are forever our captain, and I am so grateful for this journey you've taken us on. An inspiration and a role model for us all. Thank you Chris pic.twitter.com/m7qawEqIWG

— Alyssa Boisvert (@abov22) October 4, 2018
My hubby loved Captain America. And he doesn't like superhero movies. You did an amazing job. Best of luck with your future projects. (Now I'm off to wallow in my sadness) pic.twitter.com/ziNP1MEx17

— Michelle Renee (@mrsrn65) October 5, 2018
It finally hit me. Chris Evans has said goodbye to Steve rogers. Captain America's story is ending. Steverogerspleasedontgoimissyou

Thank you Chris for playing Steve Rogers with so much passion. We fell in love with you, and Steve. We will miss you, cap. pic.twitter.com/b25fHgkPk8

— spooky tabi (@sebsstars) October 4, 2018
He will always be #CaptainAmerica. pic.twitter.com/cF9rp6aMFh

— SG Posters (@SG_Posters) October 4, 2018
I am an adult with grown up problemes, but I am currently crying because @ChrisEvans portrayal of Captain America meant so much for me. Just like for these kids. He is Cap. Thank you Cap. #ThankYouChrisEvans pic.twitter.com/m79irqrG1O

— honestF (@HonestFata) October 4, 2018
Read full article
Countdown To
Elections Results
To Assembly Elections 2018 Results