An Institute in Ladakh is Using a Car as 'Alternate' Roof, Anand Mahindra is Impressed
An unique innovation is amusing the Internet for all the right reasons.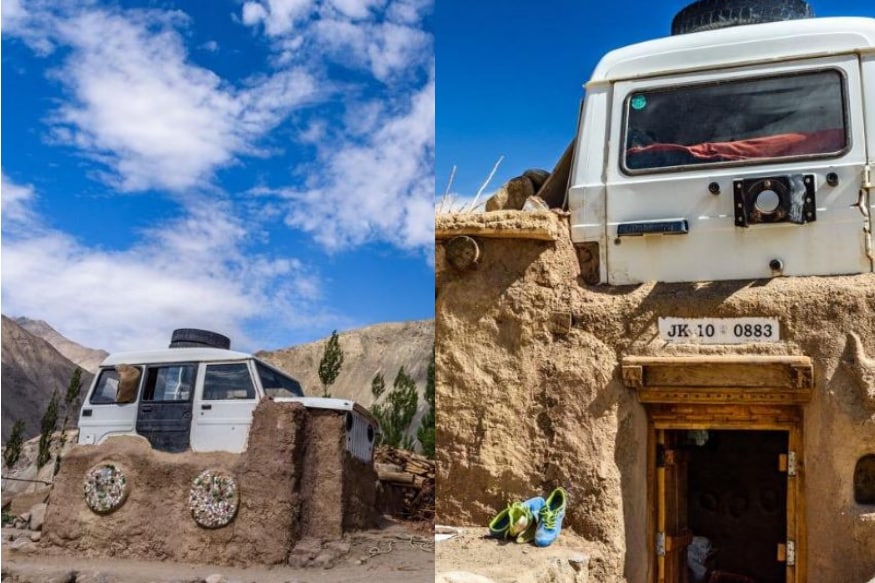 An unique innovation is amusing the Internet for all the right reasons.
While uncommon ceilings for us may entail one made out of glass, an institute in Ladakh shows us how almost anything could be turned into a ceiling.
The Himalayan Institute of Alternatives in Ladakh run by engineer Sonam Wangchuk, who gained massive popularity when Aamir Khan played his role as Phunsukk Wangdu in the movie 3 Idiots, has certainly got quite a few unique creations.
The institute, which describes itself as "an alternative university to develop solutions to the problems of mountain communities," has an addition that seems unlike most others: A car as a ceiling.
Anand Mahindra shared photos on Twitter to reveal how the institute was using a car as a roof to a house.
A friend sent these pics from Sonam Wangchuk's Himalayan Institute of Alternatives,Ladakh.Recycling a Mahindra car into a home roof.A way of life at the Institute, where nothing gets discarded.Well this will compete with our auto-shredding venture but it's far more creative! pic.twitter.com/p7UwgOvtxD

— anand mahindra (@anandmahindra) December 14, 2018
The top and metal hull of the car is used as a roof, while the rest of the structure is held up with a wall. And this unique roof certainly has amused netizens.
That's a beautifully crafted roof out of a SUV...👏👏👏

— Abhishek Chaudhary (@beardobaba) December 14, 2018
That's great innovative and creative thing.....👍👍

— Aniket Deokar (@ankitdeokar) December 15, 2018
That's awesomeness of a shelter for tourist. Different experience https://t.co/ZvQDA8Ytoa

— Shyam Singh Bhandari (@ShyamSinghBhan2) December 15, 2018
#Creativity at its best 👏👏 https://t.co/a6DpIizw3j

— Poonam Vijay Thakkar (@PoonamVT) December 15, 2018
The good thing is that he retained number plate and used it perfectly. 👌

— Monkrude° (@Monkrude) December 15, 2018
The Institute also has a lot of more amazing and unique creations. Take for example, an Ice Stupa, and housing made from re-used materials.
Get the best of News18 delivered to your inbox - subscribe to News18 Daybreak. Follow News18.com on Twitter, Instagram, Facebook, Telegram, TikTok and on YouTube, and stay in the know with what's happening in the world around you – in real time.
Read full article