An Underpass in Noida Gets a Colorful Mythical Makeover Through Art
Noida underpass gets a gorgeous makeover through art.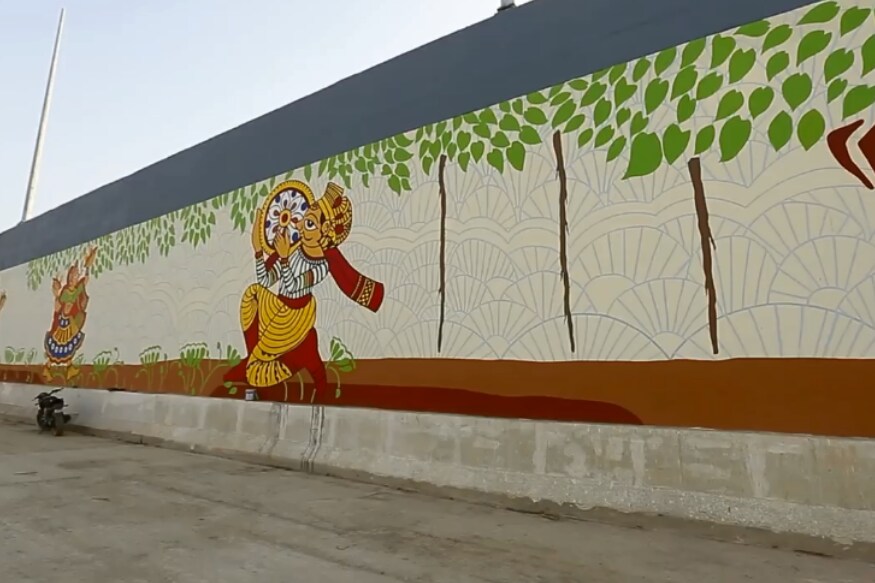 Noida underpass gets a gorgeous makeover through art.
Underpasses are usually grey and boring, but one in Noida recently got a colorful makeover on Wednesday.
Commuters who passed through it were pleasantly surprised to see it painted with vibrant mythological motifs in multiple colors.
The art installation, which was inaugurated by the Union Culture Minister Mahesh Sharma, was conceptualized by the Kiran Nadar Museum of Art, and the Noida Authority in order to promote arts in public sphere.
The underpass, located on the crossing of Noida's sectors 25A, 24, 33A and 22, is maintained by the National Thermal Power Corp (NTPC).
Sharma called the initiative a unique way to bring art to the people.
"Public art is part of our culture and tradition and we hope this initiative will be an inspiration for other arts institutions and cultural organisations in the country," he said in a statement released by KNMA.
KNMA head Kiran Nadar told IANS, "It is important for art museums to expose people to the rich tradition of Indian art. This installation was among the three potential designs shared with the Noida Authority."
"The 90-metre-long mural, running on both sides of the otherwise bland underpass, will spark public interest in art and mark people's entry point into arts appreciation." Nadar added.
The underpass, which took a little over a month to be painted, will showcase paintings of 'Kalpavriksha' an the auspicious wishing tree in Indian mythology, made by artists Laxman Singh and Kunal Jain.
The few scenes from the mural include a celebration of Ganesha festival by village folk and the story of the mythological white elephant King Airavata who carries the Hindu rain God Indra.
The Kiran Nadar Museum of Art also posted a video of the art installation and it being painted on.
Get the best of News18 delivered to your inbox - subscribe to News18 Daybreak. Follow News18.com on Twitter, Instagram, Facebook, Telegram, TikTok and on YouTube, and stay in the know with what's happening in the world around you – in real time.
Read full article