Angry Students in Bangladesh Take to Social Media to Share Horrific Instances of Violence
A students' protest on road safety has now led to a fight against oppression, against being silenced, against their freedom of speech. But with the government shutting all means of communication, the youth is pleading on social media to make their voices heard.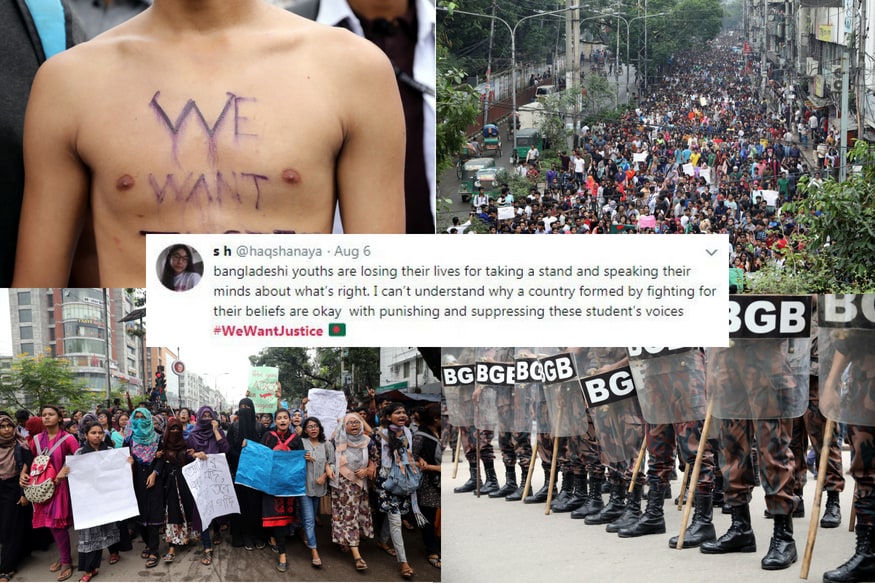 (Image: Reuters)
Bangladesh is crying tears of crimson red. Chaos, commotion, tears, despair, and blood have now enveloped the Bangaldeshi youth and their country at large.
There are reports of people missing, of rape and murder, threats and trauma, forced silences and a complete shutdown.
It all started with a demand for road safety and safer public transport system.
The Bangladeshi youth has been pleading for safer roads, a citizen's natural right. The country has been dealing with a notoriously flawed system of public transport for eons now. In fact, according to UN reports, more than 3,000 people die in road accidents in the country each year.
But the final nail in the coffin was put when two students were killed by a transport bus in Dhaka, the capital city.
The students' protest about road safety has now turned into a resistance against the government. The students are now clashing with the police, facing tear gas and lathi charge, rubber bullets and metal pipes.
Following days of protest and violence, a vehicle carrying US Ambassador Marcia Bernicat was attacked by "armed men."
— U.S. Embassy Dhaka (@usembassydhaka) August 5, 2018
These protestors are all aged between 13 and 18. The protests are now more to do with their freedom of speech.
Meanwhile, a New York-based Human Rights Watch said in a statement that ruling party men armed with sticks and machetes have swooped in on the protesters and journalists since the students took to the streets on July 29 after two students were killed.
While the government of Prime Minister Sheikh Hasina has denied the allegations that its activists were involved, reports and witnesses have given a different picture.
The government has shut down the Internet facility in the country and withholding release of text, images, audio and videos to the outside world, not wanting to any shed light on what is actually going on in Bangladesh. But when you revolt against the mighty system, you learn to resist every force that tries to put you down. And that's exactly what the protestors are using social media for.
The media's limited access to the happenings of Bangladesh is prompting thousands of protestors to plead on social networking platforms-- describing the incidents and what their government is doing to them.
CONTENT WARNING: The content below has blood and violence. Watch at your own discretion.
#WeWantJustice bangladesh needs our help. please spread the word. pic.twitter.com/VMIz37Xls0

— incorrect p quill (@wrongquill) August 6, 2018
Bangladesh is hurting. Bangladeshi youth are bleeding and are desperate for our support. Please do not reserve your compassion for those who resemble you, or for countries that interest you. #bangladeshstudentprotests #wewantjustice #riseupforbangladesh

— Nabela (@Nabela) August 6, 2018
In Bangladesh Kids Are Attacking By Cops And BCL, Awami league. (Government) Please Help Us .4 female Students have been raped by BCL#WeWantJustice pic.twitter.com/q9fZqoFMl7

— Jahid Hasan (@JahidHa59254353) August 6, 2018
This is a peaceful protest staged by students in Bangladesh demanding for a safer road yet policemen came upon orders of its govt to stop the protest by means of violence.

Deaths were recorded, some were injured, media personnel were beaten. Please help! #WeWantJustice pic.twitter.com/1WQhFwaXEL

— fifigandanghari 💞 (@AlfonsoLabrague) August 5, 2018
bangladeshi youths are losing their lives for taking a stand and speaking their minds about what's right. I can't understand why a country formed by fighting for their beliefs are okay with punishing and suppressing these student's voices #WeWantJustice 🇧🇩

— s h (@haqshanaya) August 6, 2018
LOOK AT TODAYS SITUATION OF OUR COUNTRY NOW THEY ARE ATTACKING PRIVATE UNIVERSITIES AS WELL ITS A WAKE UP CALL FOR ALL OF US WE REALLY NEED YOUR HELP!!!!!!

PLEASE USE #RebootBangladesh INSTEAD OF #WeWantJustice & #WeDemandJustice AS THOSE ARE BLOCKED FROM TRENDING pic.twitter.com/g8sJvLP1FZ

— TAEEFA 🇧🇩 ~~~ (@Reefa_Tamanna) August 6, 2018
#WeWantJustice Right now a huge armed army of BCL along with police force are attacking "East West University" campus in Aftabnagara-Rampura, Dhaka... Situation is getting worse in here... Pictures are taken at Time nearby 11:00 AM of local time... pic.twitter.com/DdCxMvX9Pc

— Saif Ahmed (@csuper897) August 6, 2018
Please Help us! Thank your for your concern for us! Pray for us! 😢 #Wewantjustice #BBC #BFF #India #Saudi #Bangladesh 🇧🇩 pic.twitter.com/wIf4rHpTJC

— HR PiKu RiAz (@hr_piku) August 6, 2018
I have witnessed the protests with my own eyes during my coach ride. these innocent students are bashed for wanting change, labelled as 'troublemakers'. We need awareness. We need them to know that they are doing the right thing-the government should be criticised #wewantjustice

— Tahmin_r (@TubeDeyes) August 5, 2018
East west university, Brac university and North South university of Dhaka , Babgladesh are under attack for supporting the student in demand for justice.

Tears shells have been thrown in classes.#WeWantJustice pic.twitter.com/ye2OXh89XR

— Sanjid Habib (@Sanjid_habib) August 6, 2018
PLEASE LET THE WORLD KNOW WHAT IS GOING ON IN BANGLADESH 🇧🇩#BBC #CNN #AlJazeera #WeWantJustice #BBC #CNN #SkyNews #CCBM #AlJazeera #Telegraph #TheSun #DailyMail #TheGuardian #NewYorkTimes #NasDailyGlobal #ProjectNightFall #AlArabia #EuroNews #NBC #RoadSafetyBangladesh pic.twitter.com/hpwQ0QFsV5

— Hannah Phan| 석진💜 (@YoonSeolji) August 6, 2018
If this is rumour, Idk what the reality is. You can clearly see the goons are throwing stones, bricks, metal pieces on the students within the gate of EWU.

Spread this news. We need help. We beg for help.#WeWantJustice #WeWantJusticeForBangladesh pic.twitter.com/UskyVYxRpp

— Marifat Haider (@ifahsam) August 6, 2018
Last night I received a confirmation from my friend living in Bangladesh about their current situation. She's asking for our help to spread the news to let their voice be heard. Please inform and be informed. #WeWantJustice pic.twitter.com/dt7wM92kdw

— JIN Daily • 🍯💫 (@oruejin) August 5, 2018
When students in Bangladesh using the hashtag #WeWantJustice took to the streets to protest traffic laws, they were worried their female classmates wouls be harassed.

So they made a human chain to protect them.#MondayMotivation pic.twitter.com/oYGcvdcbJ7

— Muhammad Lila (@MuhammadLila) August 6, 2018
The ruling illigal #Bangladeshi Govt. hiring terrorists to attack #bangladeshstudentprotest pic attached. #WeWantJustice pic.twitter.com/n0ayClzsEW

— Shahidul Islam (@shahiduli16) August 6, 2018
Students got attacked at East West University...#WeWantJustice #saferoadsmovement pic.twitter.com/iO0lVKXusH

— Bangali (@Bangali91926918) August 6, 2018
UPDATE: MEDIA blackout in Bangladesh, Facebook takes down students/victims' posts, internet speeds slowed to 1.5KBps (!!!), and violence continues 115+ students injured 3 female students missing 4 shot dead. 1 student had his eye gouged out#WeWantJustice #WeDemandJustice pic.twitter.com/R8k3oRzsGs

— Int'l Rural Peoples' Movement (@PCFSGlobal) August 6, 2018
More images of the violence in Bangladesh- Government ordering attacks on peaceful student (mostly teen) protesters. People being murdered and raped, many missing. Government restricting Internet access to censor these atrocities. Please re tweet! #rebootbangladesh pic.twitter.com/Shc6b98yj9

— Fi MacLOUD 💙💁🌈 (@tampocalypse) August 6, 2018
This is how our government and police are treating us.. And our crime is that we want justice!! Help us..#WeWantJustice #Bangladesh #SaferoadsinBangladesh #CNN#BBC#ALjazeera pic.twitter.com/7i3GYQ8JrQ

— Farha Rahman (@FarhaRahman13) August 6, 2018
Our private universities are under attack by police and Bangladesh chhatra league.. plz do something... Spread the news all over the world.. Help us we will be indebted to you guys.. #WeWantJustice pic.twitter.com/k5rSSvChcm

— রাজভী সাখাওয়াত হানিফ (@Hanif7K) August 6, 2018
Police beating the women #wewantjustice #womenrights #goverment #police #justicechai pic.twitter.com/O4AIqpI801

— Nilima (@Nilima42549797) August 6, 2018
Police fired and through tear shell gas at North South University, Bangladesh

Bcl also attacked on student#WeWantJustice #WeDemandJustice #RebootBangladesh pic.twitter.com/mp7nvF1IY5

— MD Shihab Khan (@khanshihab19) August 6, 2018
The images are gory and the cries are being silenced.
Meanwhile, police arrested a prominent human rights activist and photographer in connection with the protests. Shahidul Alam was arrested on Sunday following his "provocative comments" on the protests. He was arrested under section 57 of Bangladesh's Information Communications Technology Act, a broad law against electronic communication that "tends to deprave or corrupt" or prejudices the image of the state.
Get the best of News18 delivered to your inbox - subscribe to News18 Daybreak. Follow News18.com on Twitter, Instagram, Facebook, Telegram, TikTok and on YouTube, and stay in the know with what's happening in the world around you – in real time.
Read full article