Apple CEO Tim Cook Pranked The World With His 'Accidental DM' Before iPhone XR, XS Launch
Guess Tim Cook doesn't accidentally tweet his DM's.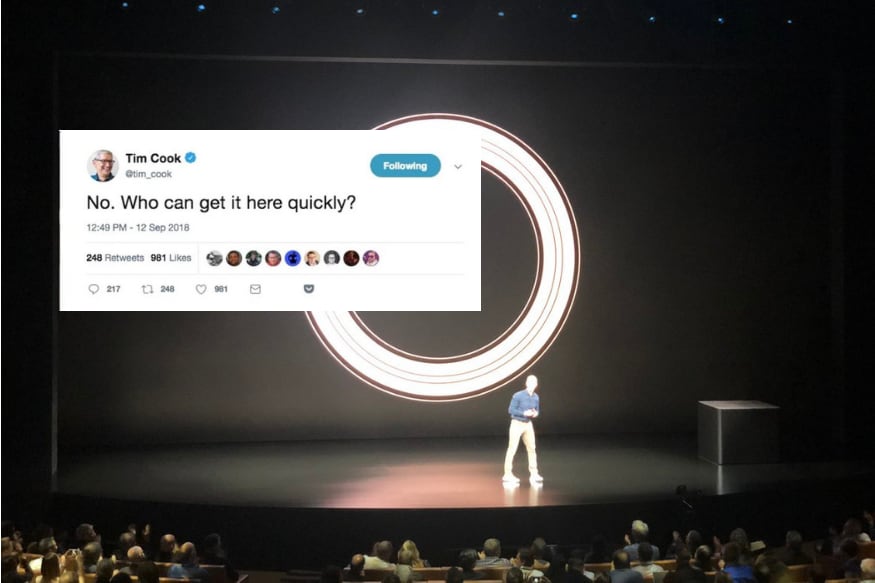 Guess Tim Cook doesn't accidentally tweet his DM's.
Technology isn't as simple as it seems sometimes. While all of us wish we were adept at our usual social media habits with the few tools we use - not all of us are there - even Apple CEO Tim Cook isn't very adept at using Twitter - or so it seems.
Tim Cook accidentally posted a tweet, which he deleted several minutes later, but multiple people had already seen the tweet by then.
Useful to remember that even the best companies are run by humans, we all scramble sometimes.

Tim Cook tweet (meant to be DM) ~8 minutes before the Apple Keynote kicks off: pic.twitter.com/NBsgBBoSNq

— Ryan Delk (@delk) September 12, 2018
Even Tim cook accidentally tweets his DMs, huh? pic.twitter.com/u2t4jFZebZ — ⚡️ Owen Williams (@ow) September 12, 2018
I wonder if they got the thing to @tim_cook; there's only four minutes left.

— Jacqui Cheng (@ejacqui) September 12, 2018
While at first glance it appears as if it indeed is a misplaced DM - where he accidentally tweeted it out instead of personally messaging it to someone, and corroborated this theory by mysteriously deleting the tweet a few minutes later - it may not have been just a simple glitch. This tweet, which appeared a few minutes before the Apple Keynote event may have been part of an elaborate prank Tim Cook just pulled on the world. At the launch of the Apple Keynote event, an opening video played which showed an Apple employee who runs the campus of the Apple to bring a box to Cook. This alludes to his tweet - asking "Who can get it here quickly?" Even though one would assume that this holds the much-awaited iPhone - it didn't. Instead, it held the clicker, which started the event. TIME has a video of this 'opening video.' And Twitter was amused when they found out that Tim Cook had pulled this elaborate prank on the world, simply moments before the much-awaited iPhone XR, XS and XS Max launch.
Apple, the dad joke company, planned this all along 😂 — ⚡️ Owen Williams (@ow) September 12, 2018
The clicker 😂😂 #AppleEvent

— Ashley Castro (@ashlee2luv) September 12, 2018
Best intro ever. #AppleEvent — Nicolas Lellouche (@LelloucheNico) September 12, 2018
That was an awesome joke and just proved how little faith we all have 😁 #AppleEvent pic.twitter.com/GFQlIm3LJl

— Carolina Milanesi (@caro_milanesi) September 12, 2018
Indeed, not only does it show how little faith we have even on one of the biggest giants for phone's ability in technology, it also shows how gullible we are to fall for pranks. Guess it's only us who accidentally tweet our DMs.
The new iPhone is the most expensive one yet and priced at $1100, or 79000 in INR.
You can follow live updates on the new launches of the iPhone Xr, iPhone Xs, Xs Max here.
Read full article