Apple Music Twitter Account Uses Android Device to Post a Tweet, Gets Busted
For real?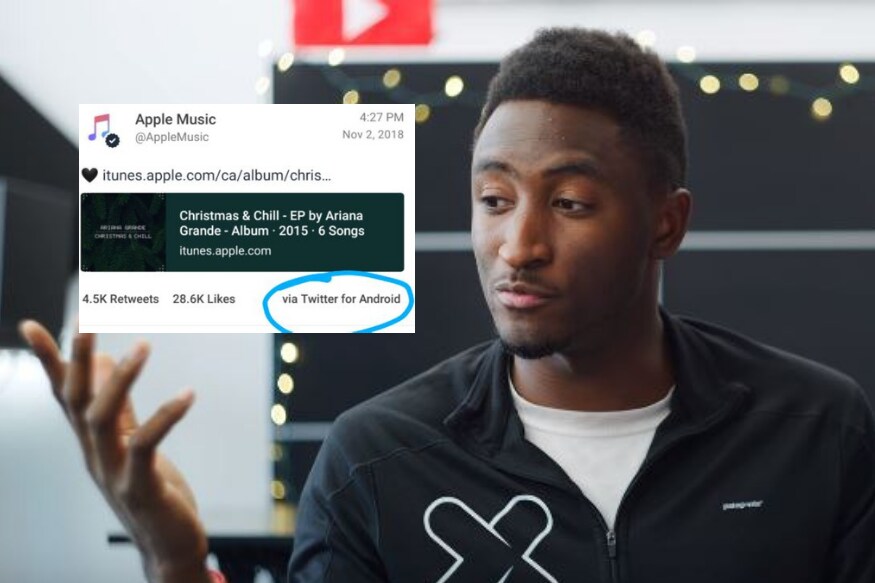 Image credits: MKBHD / Twitter
When tech reviewer Marques Brownlee isn't producing videos, he's busy calling out Twitter accounts for their embarrassing faux pas on the platform.
Back in September, Marques, professionally known as MKBHD, highlighted Bollywood actress Anushka Sharma's official Twitter profile swooning over a couple of photos allegedly shot through Google Pixel, but the Twitter app she was posting from captured the fact that she was doing so from an iPhone.
And now, Apple Music's Twitter account has caught the fancy of the tech viewer.
How?
Responding to a tweet from Ariana Grande about her Christmas & Chill album, the Apple Music account provided the American singer-songwriter with a heart emoji and a link to the EP back in November. So good so far? The tweet from official Apple account appears to be posted using Twitter for Android app while replying to Grande's tweet. Yep.
As 9to5google rightly points out that Apple Music is available for iOS devices and Android devices as well, it is still amusing to see Apple using their rival platform to get their job done.
Noticing the goof-up, MKBHD shared a screenshot on Twitter on Wednesday and wrote, "Never thought I'd see the day "
Never thought I'd see the day pic.twitter.com/hpubXoIFCX

— Marques Brownlee (@MKBHD) December 18, 2018
Twitterati were all laughs.
Apple Music for Android is the only good Android app it is just science…

— ᴺᴼᵀ Jony Ive (@JonyIveParody) December 18, 2018
December 18, 2018
Bahahahahaaaa

— Michael Fisher (@theMrMobile) December 18, 2018
That's beyond the physics of law pic.twitter.com/ZSXmsFXPPg

— nour999 (@nour999111) December 18, 2018
It finally happened! 😂 pic.twitter.com/8L2AEhCe10

— Safwan AhmedMia (@SuperSaf) December 18, 2018
Anushka Sharma isn't the only actress the tech cop has called out in the past.
Ok I don't even want to know how this keeps happening but it's hilarious pic.twitter.com/sUuHVh4exw

— Marques Brownlee (@MKBHD) September 4, 2018
Previously, Israeli actress Gal Gadot's Huawei Mate 10 Pro promotional image was posted 'via Twitter for iPhone'. The Wonder Woman star later deleted the tweet and then reposted it from an Android phone.
Gal Gadot with the Huawei ad... tweeted from an iPhone. Niceeeee pic.twitter.com/aEKJVwoyBL

— Marques Brownlee (@MKBHD) April 24, 2018
Get the best of News18 delivered to your inbox - subscribe to News18 Daybreak. Follow News18.com on Twitter, Instagram, Facebook, Telegram, TikTok and on YouTube, and stay in the know with what's happening in the world around you – in real time.
Read full article