Arjun Tendulkar's Selection in India's U-19 Team Sparks Nepotism Debate on Twitter
Tendulkar Jr is already facing the heat.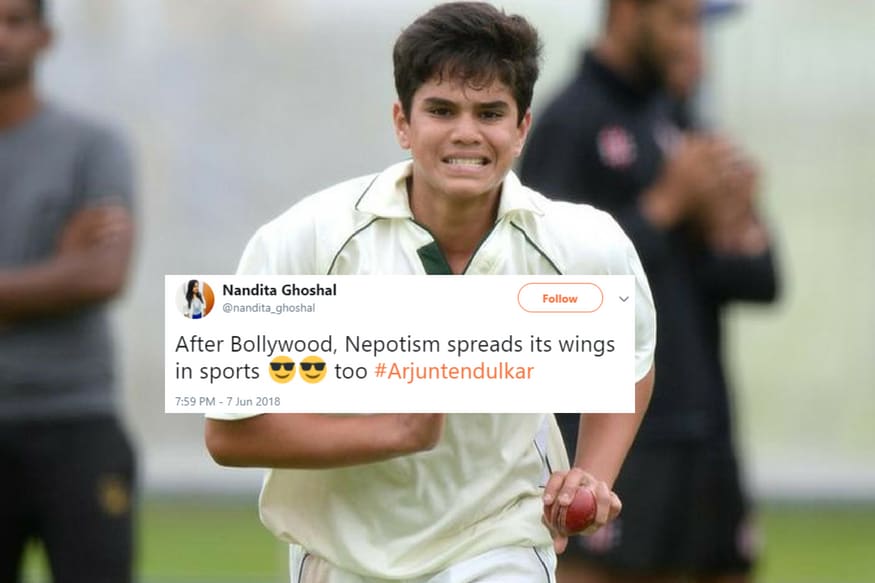 Image credits: Reuters
The son of legendary Indian batsman Sachin Tendulkar, Arjun, was recently included in the U-19 side for the two four-day games against Sri Lanka.
Standing at 6 ft 1 inch, 18-year-old Arjun is a left-arm fast bowler and a handy lower middle-order batsman.
In an interview with BBC Sport in January, Tendulkar Jr said his dream was to play for India.
"I just grew taller and got stronger and I just loved bowling fast in my childhood. So I thought I might as well be a fast bowler because there's not many in India," he said
Arjun with his tally of 18 wickets from five Cooch Behar Trophy (National U-19) games is 43rd in the list of wicket-takers for the season. He had one five-wicket haul (5/95) against MP.
BREAKING: Arjun Tendulkar, son of @sachin_rt, has been called up to Rahul Dravid's India U19 squad for their upcoming four-day games in Sri Lanka. pic.twitter.com/2zcxTnah3D

— ICC (@ICC) June 7, 2018
When a source close to the selection committee was asked how Arjun despite being 43rd in the wicket takers list made the cut, he explained: "If you look at the List, Arjun is the only genuine quick bowler who has more than 15 wickets. Most of the bowlers above him are spinners with only Ajay Dev Goud (33 wickets) being a genuine all-rounder. He is a slow medium bowler while Arjun is quick bowler."
Cricket lovers on Twitter were caught off guard by Tendulkar Jr's selection. Comparisons were drawn. From Rohan Gavaskar to Abhishek Bachchan, several names were thrown around, once again sparking a fresh debate on nepotism on the microblogging site. While others thanked the heavens that Tendulkar Jr was a fast bowler and would be scrutinised lesser.
Abhishek bacchhan , bobby deol, zayed khan, sohail khan added Arjun Tendulkar to their whatsapp group.

— डी.के. (@itsdhruvism) June 8, 2018
After Bollywood, Nepotism spreads its wings in sports 😎😎 too #Arjuntendulkar

— Nandita Ghoshal (@nandita_ghoshal) June 7, 2018
#ArjunTendulkar is an average bowler. He runs, and delivers the ball with a weird action. Thanks to his father's recommendations, he is now part of the U-19 squad- and hundreds of more talented bowlers get ignored.Remember, there was someone called Rohan Gavaskar.

— Ganeshan Iyer (@ganeshan_iyer) June 7, 2018
Waiting for Rahul Dravid asking the captain to declare the innings when #ArjunTendulkar is batting at 194*

— Gabbbar (@GabbbarSingh) June 8, 2018
Every time #ArjunTendulkar gets hit for a boundary, he can turn to the batman and say, "pata hai mera baap kaun hain?" @sachin_rt

— Prasanna Karthik R (@prasannakarthik) June 8, 2018
Of course, there were many who were optimistic about Tendulkar Jr's selection. Following the social media outrage, cricket commentator and journalist-- Harsha Bhogle came in young pacer's defense.
"It is not "Sachin's son" who is picked for India U19. It is Arjun Tendulkar, a player in his own right and we must respect that," Bhogle tweeted.
It is not "Sachin's son" who is picked for India U19. It is Arjun Tendulkar, a player in his own right and we must respect that.

— Harsha Bhogle (@bhogleharsha) June 8, 2018
Seriously why so much negativity around his selection ? If he doesn't deserve to be there , he will get dropped just like other players ( son of) famous cricketers.#ArjunTendulkar pic.twitter.com/9fP2SKGPtV

— Prashant Pareek (@prashan23S) June 7, 2018
Arjun Tendulkar is all set to play Under-19 cricket for India. Interestingly, his father, Sachin Tendulkar never played any age group cricket for India! At 16 he was already a Test player!😊

— Mohandas Menon (@mohanstatsman) June 8, 2018
Thank God Arjun Tendulkar is primarily a fast bowler. He still will be under scrutiny of course, but imagine if he were a batting talent instead.

— Naomi Datta (@nowme_datta) June 8, 2018
Guys please support #ArjunTendulkar Some uneducated fans unnecessarily trolling him . He earned his place with his hard work not his father fame . #BlindCricketFans

— Ayyadurai (@Rohit_2545) June 8, 2018
For obvious reasons, the Tendulkar senior is a happy man.
"We are happy on Arjun being selected in India U-19 team. It is an important milestone in his cricketing life. Anjali (Tendulkar) and I will always support Arjun in his choices and pray for his success," Tendulkar said.
Read full article