As India Take on Bangladesh, Here are Moments From Asia Cup That Filled Our Hearts With Joy
Asia Cup has seen some unadulterated, pure cricket.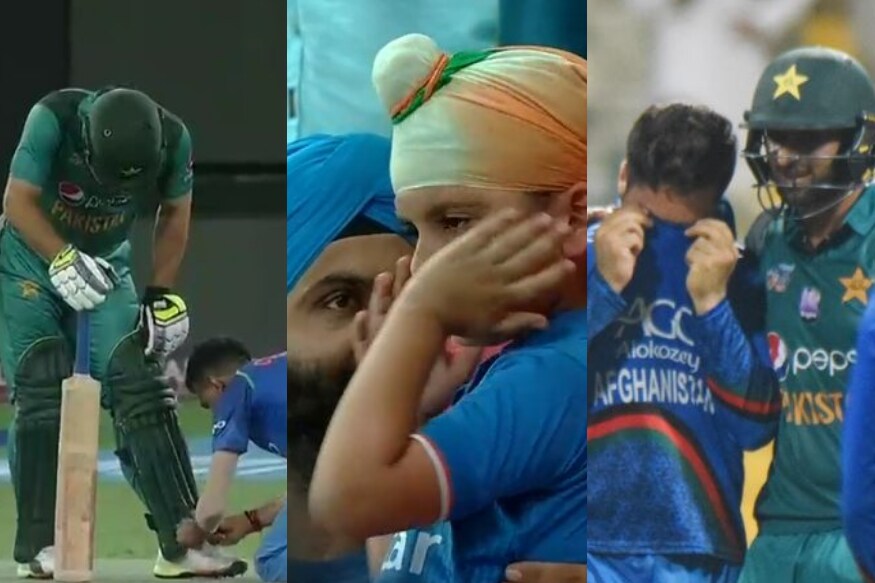 Image credits: Hotstar
It's Friday (yaay!) and it also happens to be the big finals day.
After nearly 2 weeks of non-stop, exciting cricket, India and Bangladesh will come face to face in the final clash of Asia Cup at the Dubai International Cricket Stadium.
The tournament, so far, has witnessed some great display of sportsmanship, some 'thug life' moments on the field and animated spectators tearing up in the stands when their favourite teams lost.
As we prepare to watch the last clash with our friends and family, let us go back and relive some of the heartwarming moments that have emerged out of this year's Asia Cup.
1) Pakistan man singing Jana Gana Mana at India-Pak match
Divided by borders, agenda, and meaningless outrage but united by humanity, love, and respect for each other. Pretty much sums up India-Pakistan relationship, right?
So when India-Pakistan met for the first time in the Asia Cup, cricket fans on both sides of the border were pumped up. While the Internet was filled with memes and fun jibes, a video of a
Pakistani man singing the Indian national anthem
went viral and warmed everyone's hearts.
2) Shoaib Malik consoling an Afghan player after winning a thriller
Time and again, Shoaib Malik has proved why he is such a celebrated cricketer on and off the cricket field. Malik's heartfelt gesture after Afghanistan lost the thriller against Pakistan was a sight to cherish.
Chasing a competitive 258 to win, Pakistan reached the target with just three balls to spare with the former captain Malik playing the match-winning knock.
With an unbeaten 51, many expected Malik to celebrate, instead, he decided to walk up to teary-eyed Aftab Alam to
hug and console him
, after he had given away the winning runs to Pakistan.
Needless to say, spectators had to grab on some tissues after witnessing such a spirited display by Malik.



A picture is worth a thousand words.
Afghanistan fought valiantly but couldn't win. However they've already won a lot of hearts.
So graceful from Shoaib Malik to first console Aftab Alam (who bowled the final over)
He then put his arm around the emotional Rashid Khan.#PAKvAFG pic.twitter.com/NBTgII9TIB


— Sarang Bhalerao (@bhaleraosarang) September 22, 2018

Terrific gesture by the legend @realshoaibmalik - went to hug Aftab who was very emotional & crying. The Freddie-Lee moment relived. pic.twitter.com/0eBC0ZNszf — Kalim Khan (@Kallerz37) September 21, 2018

3) Indian player tying the shoelace of a Pakistani player
No one takes India-Pakistan cricket matches lightly. But every now and then we see something special on the field that diffuses the tension between the arch-rivals.
As Pakistan ended up on the losing side, a photo of Yuzvendra Chahal providing a helping hand to his Pakistani counterpart became the photo of the day.
During the match, Usman Khan was having trouble while running on the pitch. Chahal, who was bowling the 42nd over, knelt down and tied Khan's shoelaces.
The simple yet beautiful moment
was captured on camera
and cricket fans couldn't help but applaud Chahal's gesture.



While the war like situation is all pervasive in both the countries, tender moments like this on the pitch lifts the game of cricket into a gentleman's game #INDvPAK pic.twitter.com/Q8W0L5MZWH


— Harsh Goenka (@hvgoenka) September 19, 2018
4) Pakistan's Chacha Chicago coming to the rescue of Sachin Tendulkar's biggest fan
Even before the Asia Cup started, the love for cricket and neighbours became the
talk of the town
. Considered the biggest fan of Sachin Tendulkar and a regular attendee of Indian cricket matches, Sudhir Gautam, found himself in a fix when he couldn't manage to afford the tickets and his stay for the Asia Cup in UAE.
Gautam, however, found a helping hand in his Pakistani counterpart Bashir Chacha also popular as Chacha Chicago who offered to sponsor Gautam's flight tickets and stay in the United Arab Emirates when he found out that his plans were in jeopardy.
Speaking to
Xtra Time
, Chacha said, "It's pure love. You know money will come and go with Allah's grace. I told Sudhir you just come here and I will take care of everything. I am not a rich person but my heart is as big as an ocean. If I help you, Allah will be happy." A very excited Gautam later took to his Twitter account and shared his journey.

Dubai Calling. Yes to #KnockThemOut the best idea is to have me on the ground and me waving the Flag for my #TeamIndia. #IndvPak #IndvHK #AsiaCup2018 #Dubai @StarSportsIndia Go Team India !!! pic.twitter.com/rM34jrxTGZ

— Sudhir Kumar Gautam (@Sudhir10dulkar) September 16, 2018




Cricket is Beyond Borders. So is Fandom. With Chicago Chacha, Pakistan Chacha, Shoaib Tiger of Bangladesh for #AsiaCup2018 #Friends #Sachin #Bangladesh #Pakistan pic.twitter.com/J1gaffAJoY


— Sudhir Kumar Gautam (@Sudhir10dulkar) September 17, 2018
5) Shoaib Malik's response when Indians yelled out 'jiju' 
While Malik became the centre of attention when he consoled a teary-eyed Aftab Alam, it was his
response to Indian fans
during Afghanistan's batting that left everyone smiling. Married to champion tennis player Sania Mirza, the Pakistani all-rounder is fondly called the "son-in-law" of India. So when Malik was stationed near the boundary line, Indian fans took the opportunity to reach out to him and yelled, "Jiju ek baar idhar dekh (Jiju look here once)." To everyone's delight, Malik turned back and waved at the fans.

Wtf indians😂😂 pic.twitter.com/7YkGvVRrIz — Jihadi (@HashTagFaiq) September 23, 2018

The light-hearted moment was also shared by Sania Mirza on her Instagram account.
6) Mahendra Singh Dhoni captaining India for the 200th ODI time

In a move that came as a surprise to many, former Indian captain Mahendra Singh Dhoni
walked out with the team sheet
for the toss in India's final Super Fours game of the 2018 Asia Cup against Afghanistan.
Once the news spread that Dhoni was going to lead the side, Indian fans were delighted.



MS Dhoni - 200th ODI as Captain of #TeamIndia 😎#INDvAFG pic.twitter.com/4PWQNzVgiA


— BCCI (@BCCI) September 25, 2018

Captaincy To MS Dhoni 😍❤😆 pic.twitter.com/NPBjSQ3dVV

— Abhishek Singh (@dhoni_abhishek) September 25, 2018
7) Dhoni's 'Thug Life' moment when he schooled Kuldeep Yadav over field change

Dhoni strikes again! Besides being a ball smasher, Dhoni is also considered one of the best wicket-keepers that the game has ever seen. And when he is keeping the stumps, you can expect funny taunts and instructions coming your way.
So when Chinaman Kuldeep Yadav persisted on a field change against Afghanistan, Dhoni was adamant that he would not give the spinner his choice of field.
To get things going quickly, Dhoni, in his own way, schooled Yadav and said, "Bowling karega ya bowler change kare? (Will you bowl or should we change the bowler?)"
As it turns out, his cheeky remark was
recorded on the stump mic
and gave Twitterati enough content to giggle about.



Kuldeep Yadav asking Dhoni to change fielder's location

Dhoni : "Bowling karega ya bowler change kare". 😂😂#INDvAFG #AsiaCup2018 pic.twitter.com/mlYzatzKAS


— Amit Jaiswal 🗣️ (@iamamitjaiswal) September 25, 2018
8) The crying kid at India-Afghanistan match
Cricket is all about handling the pressure. Packed stadiums, high-voltage games, big expectations, and having to make the country proud - all of this can take a toll on cricketers. But what about the spectators? They are equally involved in the game and witnessing a loss from the close proximity can be equally cruel. Such was the case when India met Afghanistan in the Super Four match on Tuesday. Rashid Khan did what he does best. Not only did he restrict India from crossing the finish line, but he also managed to remove India's last wicket - Jadeja, with a ball to spare.
The end result? A tied match. Soon all cameras panned towards a young kid, crying in the stands, as his father consoled him. The emotional moment made its presence felt on social media.

pic.twitter.com/DPRx8ju7yi

— Kabali of Cricket (@KabaliOf) September 25, 2018

Afghanistan players witnessed this and met up with the kid after the match.



One of the reason I love this Afghanistan team👏🙏🙏👏#Afghanistan #INDvAFG #AsiaCup2018 pic.twitter.com/nLgg9Y8KgK


— CricfreakZ (@cricfreakz) September 26, 2018
Harbhajan Singh wasn't far behind.

Koi na putt Rona Nahi hai final aapa jittange 🇮🇳🇮🇳😘 pic.twitter.com/fjI0DWeBoy

— Harbhajan Turbanator (@harbhajan_singh) September 25, 2018

Pacer Bhuvneshwar Kumar even called the kid to cheer him up! The father (who was seen consoling the kid) in a tweet shared that the kid was not sad anymore.



He is happy now and looking forward to watching the finals... 😊🇮🇳Really kind of @BhuviOfficial to call and cheer him up 😊 pic.twitter.com/WHqpByRNuh


— Amarpreet Singh (@itsamarpreet) September 25, 2018
Read full article
Countdown To
Elections Results
To Assembly Elections 2018 Results