Assembly Elections 2019
Exit Poll Results
'Azaadi Mubarak': Netflix, KFC, Zomato Celebrate Verdict on Section 377
With the Section 377 decriminalised, brands are celebrating the historic verdict in their own cheeky way.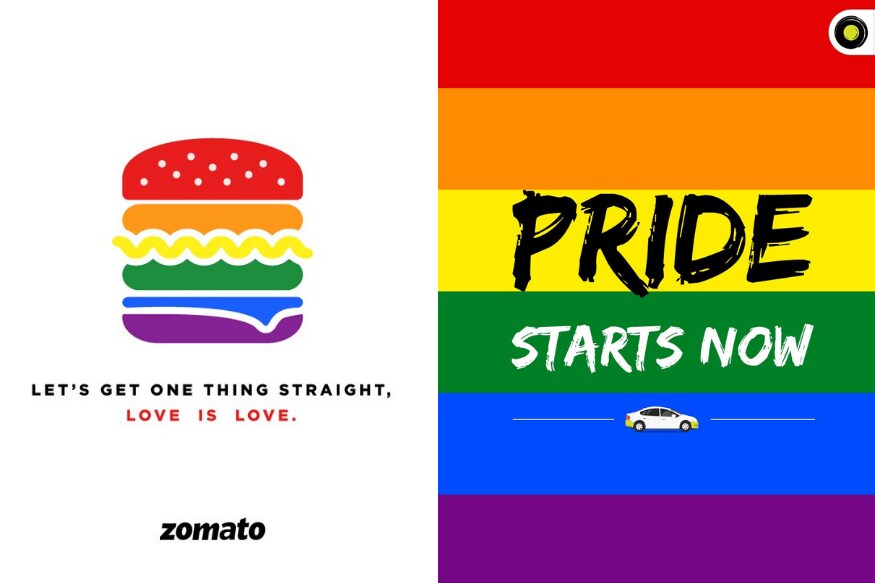 (Image: Twitter)
In perhaps one of the most landmark (and poetic) judgments pronounced, the Supreme Court on Thursday scrapped the obsolete Section 377, making rainbows, unicorns, and everything gay shine bright.
The Internet rejoiced at the happy news. And several brands joined the bandwagon, celebrating the ruling in their own tongue-in-cheek humour.



#Section377 #LoveIsLove ❤️ pic.twitter.com/BIVAGHsNoI


— Zomato India (@ZomatoIN) September 6, 2018
Today's a good day. #LoveIsLove pic.twitter.com/cIk28GMEM8 — Netflix India (@NetflixIndia) September 6, 2018



#MoveForward, ride with #PRIDE! pic.twitter.com/s2r2g93Lvd


— Uber India (@Uber_India) September 6, 2018
Azadi Mubarak ho #Section377 pic.twitter.com/JXEI3BImOU — Red FM (@RedFMIndia) September 6, 2018



Here's to celebrating the cancelled order that has delivered dignity, equality, individualism and freedom. #Section377 #LoveIsLove #NayeIndiaKeSaath pic.twitter.com/6XqX0V7NlZ


— Flipkart (@Flipkart) September 6, 2018
Here's to an everlasting trip! #Section377 #LoveIsLove pic.twitter.com/DD9ftD4JK3 — Ola (@Olacabs) September 6, 2018



Cheers to the good in the world! :)#Bewakoof #Section377 #377Verdict #LoveIsLove #LGBT #India pic.twitter.com/BnbnaXjMod


— Bewakoof.com (@bewakoof) September 6, 2018
This one's for #PrideIndia! #LoveWins #Section377 #LoveIsLove #ChunoApneRang pic.twitter.com/73UthAQQn7 — COLORS (@ColorsTV) September 6, 2018



Towards an inclusive world! #NayiSoch #Imaginemore pic.twitter.com/568iuTQOvr


— Star TV Network (@starindia) September 6, 2018
#Section377Verdict pic.twitter.com/vKTmeevcNd — Zee TV (@ZeeTV) September 6, 2018



#Pride #Section377 #LoveIsLove ❤ pic.twitter.com/o7i6YRZbB7


— KFC India (@KFC_India) September 6, 2018
India just witnessed a sweet victory for love! #Section377 ️‍ pic.twitter.com/34UoGxV9A7 — Swiggy (@swiggy_in) September 6, 2018



Now delivering with #Pride #LoveIsLove #Section377 #377Verdict #UberEatsIndia #UberEats pic.twitter.com/da2jEGzVdF


— Uber Eats India (@UberEats_IND) September 6, 2018
Love Wins! ❤ #Section377 #377Verdict #PrideIndia #LoveIsLove pic.twitter.com/bbFEKnp9sg — L'Oréal India (@loreal_india) September 6, 2018



Love triumphs. #section377 #loveislove #section377verdict #LGBT #377verdict pic.twitter.com/Awk2Wxh5Kd


— L'Oréal Paris India (@LOrealParisIn) September 6, 2018
#LoveIsLove pic.twitter.com/No0ESv61C3 — Dharma Productions (@DharmaMovies) September 6, 2018



No excuses, no regrets.#LoveIsLove #377 pic.twitter.com/qsox7XfYXk


— Cafe Coffee Day (@CafeCoffeeDay) September 6, 2018
#pride pic.twitter.com/OTH2VbzuWJ — BurgerKingIndia (@burgerkingindia) September 6, 2018



Let's celebrate the landmark day when the draconian #Section377 became history.#LoveIsLove #377Verdict #LGBTQ #LGBT pic.twitter.com/kkyJHej6Kt


— BookMyShow (@bookmyshow) September 6, 2018





View this post on Instagram






Great things happen when you choose to #NeverSettle #377verdict pic.twitter.com/ihWEJTQJY6


— OnePlus India (@OnePlus_IN) September 6, 2018
#LoveIsLove pic.twitter.com/NVh0l3ZJmd — Redmi India (@RedmiIndia) September 6, 2018



A progressive India takes off.#loveislove #377 #LGBTQ #FreedomToLove #FreedomToFly pic.twitter.com/teR9p2GDhM


— SpiceJet (@flyspicejet) September 6, 2018
Free love is always 6E! Every cloud has it's rainbow #loveislove pic.twitter.com/IbWo6k5Cqq — IndiGo (@IndiGo6E) September 6, 2018



United By Love!#GoodTimes #Sec377 #LoveIsLove pic.twitter.com/vVrKUNGYEv


— Kingfisher (@kingfisherworld) September 6, 2018
A historic day. Everybody has the right to love without fear. Super proud. #Section377 #LoveIsLove #LoveWins #LGBTI pic.twitter.com/yQRlyQkxQz — Domino's Pizza India (@dominos_india) September 6, 2018



#loveislove #lovewins #prideineverycup pic.twitter.com/bOTJKu5jV3


— Starbucks India (@StarbucksIndia) September 6, 2018
MakePlay, MakeLove! ‍#Section377 #Colours #Pride pic.twitter.com/J6PiFQtCqE — Bira 91 (@bira91) September 6, 2018



Celebrate love ❤️ #LoveIsLove #LoveWins #Section377Verdict #Section377 pic.twitter.com/EuExv6TJhm


— RadioMirchi (@RadioMirchi) September 6, 2018






Here's to everyone being equally able to look forward to a life of joy and colour. Cheers to equality for all. #Section377 #377scrapped #Section377Verdict #EqualRights #LGBTQ #Freedom #Pride pic.twitter.com/fPpA07VCsb


— Titan Eyeplus (@titaneyeplus) September 6, 2018






#PlayWithPride and celebrate the feeling with Gaana. pic.twitter.com/xHxyQrLQR3


— Gaana (@gaana) September 6, 2018
Love knows no boundaries, Go for Love. #FlySmart #LoveIsLove pic.twitter.com/OVwQuDX7aJ — GoAir (@goairlinesindia) September 6, 2018


View this post on Instagram
It was about time they squared the circle. #Section377 #377Verdict #RideWithPride pic.twitter.com/2PKCZSv89B — CEAT TYRES (@CEATtyres) September 6, 2018



Hidesign has always protected and celebrated all sexes, races and sexual orientations. Let's celebrate this historical day! Kudos to celebratingequality and individualism. #LoveWins #Section377Verdict #loveislove pic.twitter.com/SshS5ogkfO


— Hidesign (@HidesignHQ) September 6, 2018
It's Set, Love Gets to Go! #LoveIsLove #Section377 pic.twitter.com/EQuybpe3Tz — goibibo (@goibibo) September 6, 2018



ONLY celebrates LOVE‍ #pride #section377 #LGBTQ #lovewins #OnlyIndia pic.twitter.com/FYVcgy4DUJ


— Only India (@OnlyIndia) September 6, 2018
You choose your pair. #LoveIsLove #Section377 pic.twitter.com/wJltBQLVO7 — Tanishq (@TanishqJewelry) September 6, 2018



Turns out, life can be all sunshine and rainbows. #Section377 #LoveIsLove #LoveWins pic.twitter.com/8GgdgzVejp


— Voot (@justvoot) September 6, 2018






#Section377 verdict: Putting the moral police out of jobs!#LoveIsLove #Sec377 #LGBT #LoveWins pic.twitter.com/SdR1s041sO


— Monster India (@monster_india) September 6, 2018
Love is Love pic.twitter.com/lHAhnSKP3i — Lay's India (@Lays_India) September 6, 2018



From the court to the closet, the verdict's out! #MoveOnWithPride #LoveIsLove #Section377 pic.twitter.com/X9YoHREYwK


— Fastrack (@Fastrack) September 6, 2018





View this post on Instagram
Read full article
Countdown To
Elections Results
To Assembly Elections 2018 Results