Babul Supriyo Trivialises Stalking, Says 'Boys Chase Girls' In Reel And Real Life
"A guy chases a girl – he's drunk! Deplorable. But why charge him with 'abduction' etc without investigation?"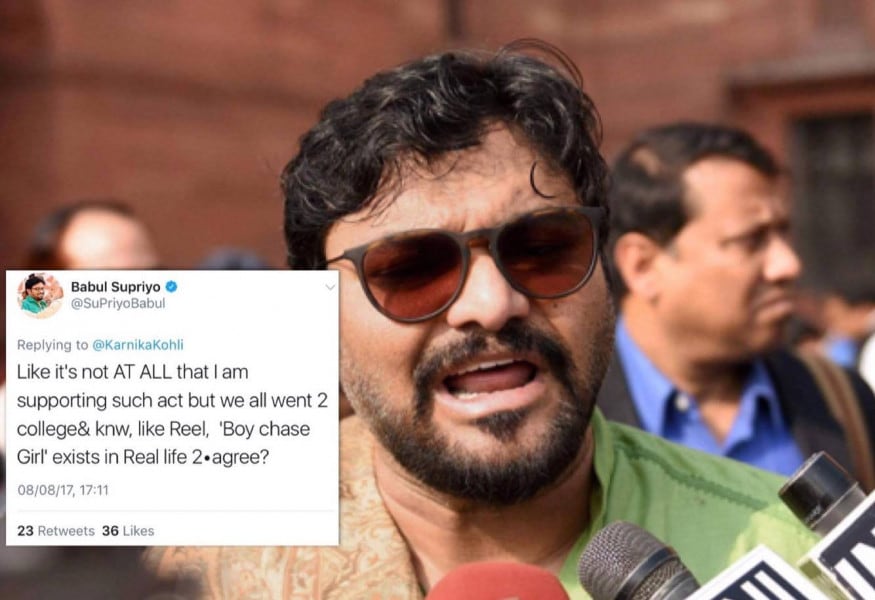 "A guy chases a girl – he's drunk! Deplorable. But why charge him with 'abduction' etc without investigation?"
The 29-year-old Varnika Kundu daughter of a top bureaucrat alleged that she was followed by Haryana BJP chief Subhash Barala's son Vikas Barala and his friend Ashish Kumar last Friday. Barala's SUV pulled up close to her car several times in a bid to block her way from other routes.
#BREAKING -- #ChandigarhStalking: CCTV footage shows accused chasing the girl; action against Vikas Barala soon: Sources #JusticeForVarnika pic.twitter.com/hUH3AcMCfv

— News18 (@CNNnews18) August 8, 2017
When the case caught the attention of the masses, it stirred up the discussion about women safety in India.
The authorities and the people in power sadly resorted to victim shaming and have made some bizarre statements since then.
"The girl should not have gone out at 12 in the night. Why was she driving so late in the night? The atmosphere is not right. We need to take care of ourselves," said BJP state vice president Ramveer Bhatti, talking to CNN-News18.
The women then took to the microblogging site Twitter to fight the constant judgement that they have to face by sharing not so "sanskari" late-night selfies with the hashtag #AintNoCinderella.The hashtag resonated with many and soon went viral.
A tweet from Bharatiya Janata Party Maharashtra spokesperson Shaina NC's verified Twitter account drew widespread criticism on the microblogging site Twitter. "So called victim Beti with Vikas Barala", tweeted Shaina, while calling the Chandigarh stalking case as true as the news about Jasleen Kaur and Rohtak Sisters.
The tweet that @ShainaNC deleted. Don't delete and run away Shaina, as a party spokesperson pls explain pic.twitter.com/Ocf5fycwuN — Nidhi Razdan (@Nidhi) August 7, 2017
The photo was tweeted with an intention that Varnika Kundu knew Vikas Barala and could be framing him. The controversial tweet was later deleted. Shaina claimed that her account was "hacked" by some "mischievous folks."
Just gt access back to my account; some mischievous folks had hacked the account.

Please ignore any activity on my account of past few hours

— ShainaNC (@ShainaNC) August 7, 2017
On Tuesday, Union minister Babul Supriyo raked up a controversy by questioning why the son of the Bharatiya Janata Party's Haryana unit chief was charged with abduction in the Chandigarh stalking case.
"A guy chases a girl – he's drunk! Deplorable. But why charge him with 'abduction' etc without investigation?" he tweeted.
1/many:Guys, think rationallyA guy chases a girl- he's drunk!DeplorableBut why charge him with 'Abduction' etc without investigation?

— Babul Supriyo (@SuPriyoBabul) August 8, 2017
Supriyo further questioned why the Haryana BJP president was being dragged into the case. "Just because a neta's son's mischief makes better headlines?" he said. "Desh ki beti ko insaaf chahiye?"
2/many:Why drag his father in2 it? Just cuz a Neta's son's mischief make better headlines?"Desh ki Beti ko insaaf chahiye?" etc etc! Why?

— Babul Supriyo (@SuPriyoBabul) August 8, 2017
3/many:If investigations reveal the guy guilty of nonbailable offences, law exists&it wil prevail but taint the men in uniforms prematurely?

— Babul Supriyo (@SuPriyoBabul) August 8, 2017
4/many:why r'nt the sm JusticeSeekers raising voices for the youngster hacked 2 death in Kerala or the 61yr old woman raped&killed in WB 2?

— Babul Supriyo (@SuPriyoBabul) August 8, 2017
When asked by The Wire's social media editor, Karnika Kohli, whether he thought Barala was merely trying to play hide and seek with the woman, Supriyo accused Kohli for having a "dirty mind."
.@SuPriyoBabul, you nephew started tweeting from your account again. pic.twitter.com/wdOqZYSElS

— Karnika Kohli (@KarnikaKohli) August 8, 2017
Supriyo replied:
That's ur dirty mind going on a over-drive sister!think rationally, DO U really wish 2 encourage this 'Trial by Media' in our Country? https://t.co/U2HVGxeZ5r

— Babul Supriyo (@SuPriyoBabul) August 8, 2017
And went on with his whataboutery.
Nehi nehi•Karnika madam ke paas 'Kar ne ka' kuchh nehi hai• she is a purist who only watches 'Boy chase Girl' in Bollywood Movies

— Babul Supriyo (@SuPriyoBabul) August 8, 2017
After Supriyo's whataboutery, when Kohli questioned him if he supported the stalking, he casually normalised the stalking to "boy chasing girl" because it happens all the time, na?
Sir, are you trying to say that since it happens in movies to real life mein chalta hai? https://t.co/Igqh1xQBXE

— Karnika Kohli (@KarnikaKohli) August 8, 2017
He wrote, "We all went 2 college & knw, like Reel, 'Boy chase Girl' exists in Real life 2. agree?
Oh btw, he deleted the tweet later.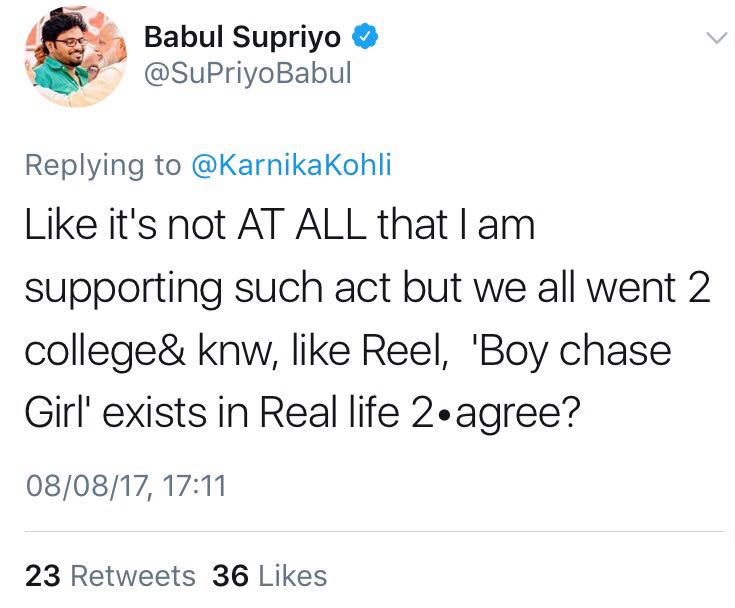 Supriyo naturally received flak for his misogynist and regressive tweets.
Near-future tweet: "My Twitter account has been hacked" —Babul Supriyo

— Karthik (@beastoftraal) August 8, 2017
Does Babul Supriyo know what he's saying? Is he high on something? Is his singing career over that he has free time to make such statements?

— Vivek Tejuja (@vivekisms) August 8, 2017
For 3 tweets calling him out for trivializing stalking, Union Minister Babul Supriyo blocks me, as he must have blocked others for the same pic.twitter.com/80UEvjB4gO

— Kavita Krishnan (@kavita_krishnan) August 8, 2017
Yesterday, Shaina NC. Today, Babul Supriyo. Eagerly waiting for tomorrow's surprise from BJP.

— Avinash Iyer (@IyerAvin) August 8, 2017
Babul Supriyo : Seriously ???? Disgraceful and juvenile reaction . Such is his mentality!

— Shobhaa De (@DeShobhaa) August 9, 2017
¯_(ツ)_/¯
Just to confirm that my account is NOT hacked and I am okay with Trolls as long as they use civil language or else my team shall Block U

— Babul Supriyo (@SuPriyoBabul) August 8, 2017
Get the best of News18 delivered to your inbox - subscribe to News18 Daybreak. Follow News18.com on Twitter, Instagram, Facebook, TikTok and on YouTube, and stay in the know with what's happening in the world around you – in real time.
Subscribe to Moneycontrol Pro and gain access to curated markets data, trading recommendations, equity analysis, investment ideas, insights from market gurus and much more. Get Moneycontrol PRO for 1 year at price of 3 months. Use code FREEDOM.
Read full article