GET Stock

Quotes


BCCI Postponed India-NZ Kotla ODI Due To Karva Chauth And Twitter Had A Field Day
Unprecedented decision.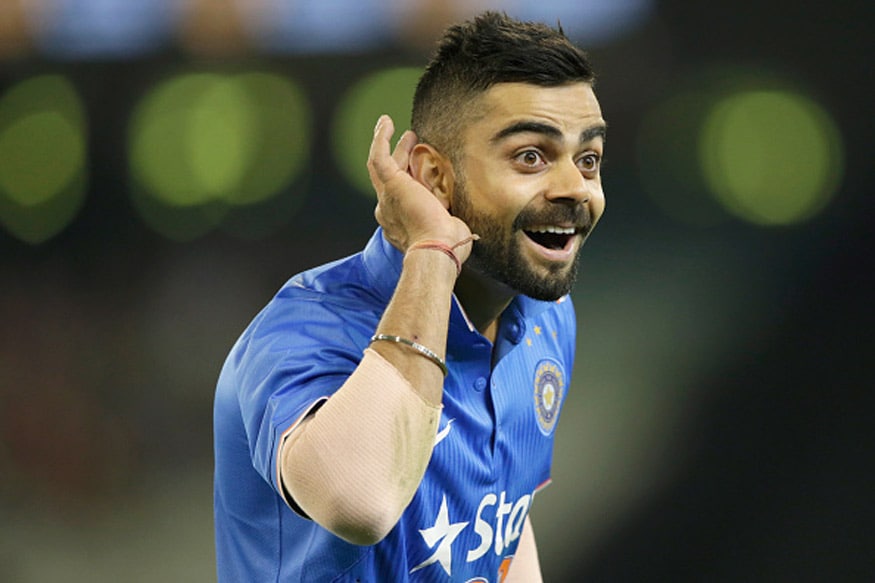 Virat Kohli (Picture Credit: Getty Images)
The BCCI on Tuesday decided to shift the third ODI between India and New Zealand from October 19th to 20th due to Karva Chauth festival.
Senior BCCI and DDCA vice president CK Khanna confirmed the development that BCCI has agreed to their request. In fact, DDCA had written a letter to BCCI Secretary Ajay Shirke intimating the board about the practical difficulties of organising the match on the day of a festival prevalent in North India. The ticket sales would have taken a hit.
And taking a decision on the request, BCCI finally announced that it had decided to postpone the Feroz Shah Kotla ODI by a day.
Karva Chauth is a festival celebrated in North India wherein married women fast from day-break till they see the moon at night and break the fast when their husbands offer them their first morsel of food for the day. It is believed that this gesture of married women keep their husbands safe from all odds.
Since the festival is celebrated in most families living in Delhi with a lot of fanfare, the DDCA, dreading the consequences, requested the BCCI to shift the ODI by a day to which the latter agreed.
And as soon as the news was announced social media users could not hold back and exploded with witty comments, pointing out that Karva Chauth did what the drought in Maharashtra couldn't -- shift a match.
Here are some reactions by social media users for you to catch up on some laughing.
Twitter users were in complete disbelief that Karva Chauth could be the reason behind BCCI's decision to shift the ODI.
Seriously??? Karva Chauth is more popular than Cricket in Delhi?? https://t.co/KqsCgbg6ud

— Ekita (@LostByWaves) September 8, 2016
An entire freaking ODI shifted by a day due to Karva Chauth. Wow.

— Devarchit (@Devarchit) September 8, 2016
Gappistan Radio, a Twitter user, poked fun at how heart-broken Virat Kohli fans, meaning girls who would have thought of fasting for him would be to hear the news.
Kotla ODI postponed due to Karva Chauth?
Kitni ladkiyaan Virat Kohli ko dekh kar vrat todne ka soch rahi thi....

— Gappistan Radio (@GappistanRadio) September 8, 2016
The decision was good for the men in Indian cricket team, thought some users.
Kotla ODI postponed due to Karva Chauth, can't really blame them with so many recently married players in the Indian playing 11.

— Sand-d Singh (@Sand_In_Deed) September 8, 2016
BCCI postpones Kotla ODI by a day due to 'Karva Chauth',nice move given most Indian men don't keep a 'fast' that day, bowling will suffer

— Sand-d Singh (@Sand_In_Deed) September 8, 2016
Thank God BCCI accepted My & Sir Jadeja's Request & Postponed Kotla ODI due to Karva Chauth.

Now We Can Fast Easily🙌

— Sir Rohit Sharma (@SirRohitSharma_) September 8, 2016
This user's sarcastic comment pointed out that the fact BCCI couldn't shift a match from Maharashtra when the state was facing drought situations but because of Karva Chauth it had readily agreed to do so.
Karva Chauth did it easily what Maharashtra's worst drought in a century almost failed to do. Shift cricket matches somewhere else.

— Amrut Thobbi (@amrutti) September 8, 2016
Women power always rocks!
That's the power of Indian women! BCCI postpones Kotla ODI by a day due to 'Karva Chauth'!

— Chinmay Jawalekar🏏 (@CricfreakTweets) September 8, 2016
NZ are scheduled to play three Tests and five ODIs in India. The first Test begins on September 22 in Kanpur and the first ODI is on October 16 in Dharamsala. Kotla will also host a warm-up fixture for New Zealand when the visitors take on Board President's XI from September 16-18.
(With PTI inputs)
Also Watch
Read full article