GET Stock

Quotes


Beginners, Orange Is The New Black: 6 Most Interesting LGBTQ Shows To Watch This Weekend
Here's the best of LGBTQ content you can stream this weekend.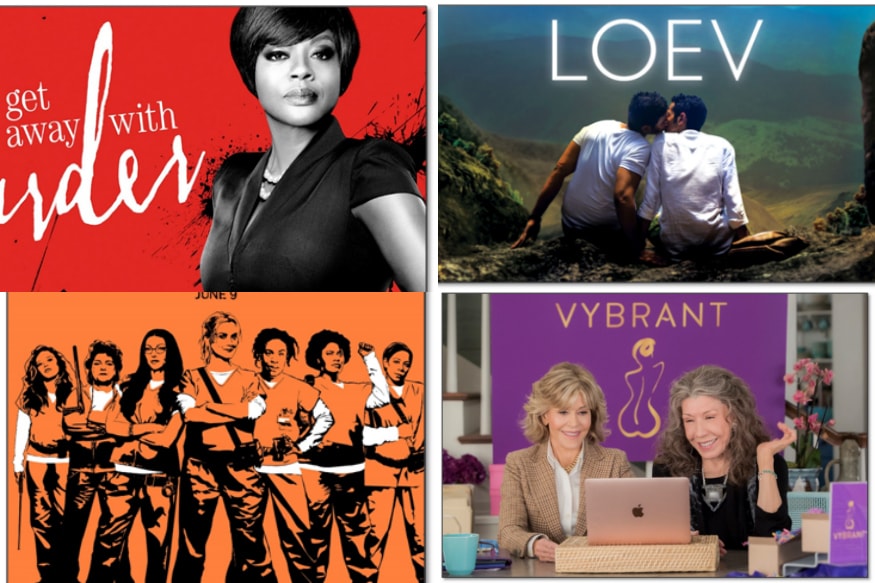 Image: Official posters of the shows
Every year millions of people around the world celebrate Pride Month in ways unique to themselves. For some, it may be about gathering up the courage to step out of the stifling closet while for some, it is an opportunity to embrace and meet like-minded people. Lesbian, gay, bisexual, transgender or queer, Pride Month is a perfect outlet for people to celebrate individuality.
Here's some of the progressive content, that applauds the LGBTQ community, that you might want to watch this weekend.
Orange Is The New Black
– The edgy storyline aside,
Orange Is the New Black
is one of the rare shows which portrays the LGBTQ community in a liberal manner. With characters such as Piper, Alex, Big Boo, Nicky, Poussey, and Suzanne, OITNB makes an effort to highlight the turmoils faced by this marginalized community in a dark yet comic manner.
Schitt's Creek
– Touted as one of the funniest comedies, one of the distinctive factors of this show is that it goes beyond the usual lesbian/gay relationship, and has a pansexual lead character. With the pansexual community's representation in the media being next to non-existent, David Rose is a beautifully written character. And as David elaborates to Stevie, it is the wine and not the label that matters.
Beginners
– Christopher Plummet resides in the heart of every movie lover as the beloved Captain George von Trapp. In
Beginners
, he will capture your heart as Hal who comes out to his son post losing his wife. It is perhaps the perspective shown in the movie that makes
Beginners
a rare gem. Rather than sticking with one side of the conversation,
Beginners
shows you Hal's delight at being free and exploring life as a gay man. At the same time, there is Oliver, Hal's son, who through his father's experience learns the most important lesson – to enjoy life one day at a time.
How To Get Away With Murder
– Headstrong lawyer and her pack of smart students. Check. Murder and drama. Check. Gay and lesbian characters – do we really have to narrow it down to these two categories every time? Like pansexual, bisexual is another section of the LGBTQ community that is often overlooked. To add to the (still) existent stigma around homosexuality, mainstream media somehow never get around acknowledging the existence of bisexuals. Yet
How to Get Away with Murder
has never shied away from pairing Annalise with Nate and Eve, in a smooth way.
Grace & Frankie
– This is a show which effortlessly showcases how every time an LGBTQ subject is addressed, it doesn't have necessarily to be either steamy or dramatic or edgy. Truth be told, the polished Grace, and the hippie Frankie have never particularly liked each other. Things take a turn when their husbands decide to acknowledge their true sexuality, and get married; thrusting Grace and Frankie into each other's orbit. Over and above the show's gentle handling of the sensitive subject, the storyline isn't just empathetic towards the LGBTQ community but it also recognizes that humans (read women) at any age are sexual beings.
Loev
- As a nation, we are quite progressive in terms of science, education, arts, and entertainment, yet from tender age gender roles are made clear in India - boys roar and girls cry. A mention of love, in general, raises eyebrows but homosexuality brings the blinders on instantly along with sermons about unnatural behaviour. At the heart of it,
Loev
is a daring yet honest attempt at addressing the subject of same-sex relationships. Sahil and Jai's journey goes on to highlight what we often fail to realise, that the emotion of love knows no boundaries.
Also Watch
Read full article