OPINION | Being Amitabh Bachchan: The 'Angry Young Man' Who Won't Talk About Sexual Assault Unless It's for a Film
Bachchan's voice is not only one of the most recognized and revered voices in our country but it is also very influential. If he talks about an issue -- be it the film fraternity or the audience -- everyone listens.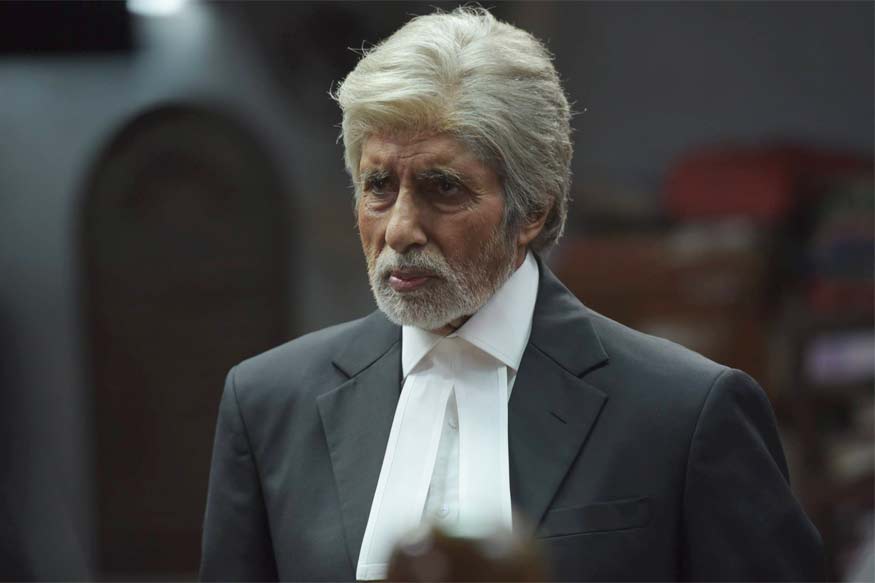 Amitabh Bachchan in a still from Shoojit Sircar's Pink.
"We must take sides. Neutrality helps the oppressor, never the victim. Silence encourages the tormentor, never the tormented."
I was reminded of these wise words by Elie Wiesel today as I watched (on repeat) a video of Amitabh Bachchan dodging a question about Tanushree Dutta's sexual harassment allegations against Nana Patekar.
The video shows Bachchan and Aamir Khan being asked to comment on Dutta's allegations during the trailer launch of 'Thugs of Hindostan'. Before Khan can formulate a reply, Bachchan with a deadpan expression holds up his mic and says, "Na toh mera naam Tanushree hai, nahi Nana Patekar, Kaise uttar du aapke sawal ka" (My name is neither Tanushree nor Nana Patekar, how do I reply to your question?).
Hearing Bachchan's comment the media present in the audience cheers and claps, following which, Khan finally goes on to address the question. "Well, without knowing the veracity of something or details of something, I don't think I can comment on it," said Aamir Khan. "It's not right for me to comment on it for me, either way. But, I would like to say whenever something like this does happen, it's a really sad thing. Now, whether this has happened is for the people to investigate, I don't think I can comment on that," he added.
There are many things about this interaction that baffle me. For instance, why did the reporter direct the question 'especially' to Khan and Bachchan? Why didn't he think of asking Katrina Kaif, and Fatima Sana Shaikh (who were also present there) the same question? Are they not women who work in the same industry as Tanushree Dutta did and therefore better equipped to reply to that question? In fact, if my memory serves right, Kaif had also shared screen space with Nana Patekar, then why not, ask her? Also, why did the media cheer on hearing Bachchan's reply? Was it a great reply? I surely don't think it was.
However, Bachchan's reply did not shock or surprise me one bit. In fact, to be honest, it's exactly the sort of replies we have come to expect Mr. Bachchan to give. After all, he was the one who -- when asked to comment on the Kathua rape case -- said, "Even discussing this issue feels disgusting, don't bring up this issue. It is terrible to even talk about it."
The tall, handsome actor of the 70's, who represented the aam-aadmi back in the days, Bachchan was once known for his angry young man image. He fought crime and injustice onscreen and even today, as Aazad of 'Thugs of Hindostan', he continues to do so.
However, he is far removed from his onscreen characters. The actor -- who played the role of a lawyer who fought the legal system for a woman's right to consent in the film 'Pink' -- refused to comment when Priyanka Chopra was trolled for the length of the skirt she chose to wear while visiting Prime Minister Narendra Modi. Bachchan simply evaded taking a stance saying, " I am neither the PM nor Priyanka Chopra. How can I answer?"
In fact, if you think of it, Bachchan has become a bundle of contradictions when it comes to women or gender-related issues. While on one hand, the actor religiously avoids taking a stance for women, on the other, he chooses to be the brand ambassador of Beti Bachao-Beti Padhao movement.
While he doesn't want to comment when Priyanka Chopra is being defined by the length of her skirt, he sure has pearls of wisdom for his granddaughters on being a woman. In an open letter penned by him to his granddaughters, Bachchan wrote, "...because you are women people will force their thinking, their boundaries on you. They will tell you how to dress, how to behave, who you can meet and where you can go. Don't live in the shadows of people's judgment. Make your own choices in the light of your own wisdom. "
While obviously, it isn't Amitabh Bachchan's job to comment on every recent event in the country, (and sometimes reporters do ask some inane questions about others' business) choosing to stick to his 'no comment on others' business' policy especially when it comes to women issues is problematic.
When someone like Amitabh Bachchan chooses to not talk about the alleged sexual harassment faced by a woman (Dutta) in his own industry, it sends out a signal to those thousands of new struggling actresses, as well those few hardworking outsiders who have just started making their way in the industry, that if something like this happens to them, no one will come out in support.
Their voices won't matter (as Dutta's didn't when she first spoke out in 2008), and the voices that people listen to -- like that of Bachchan, and Khan-- will dismiss this stories as either as a 'he-said-she-said' thing, where there is no way of knowing who is telling the truth (as Khan did), or even worse, won't dignify their claims with an appropriate reply, as Bachchan did.
In an industry so entrenched in patriarchy, every other woman must have their own story of harassment, sexual misconduct, and casting couch and yet very few have spoken out about them so far. When Daisy Irani recalled the years of abuse she faced as a child artist or when a BBC documentary chronicled the kind of sexual exploitation that happens in the film industry, there was a good opportunity for Bollywood to start a conversation about sexual harassment and misconduct. However, it did not happen.
With Dutta's revelations, we again have that scope -- to talk about sexual harassment of women in Bollywood, and not only about what Tanushree alleges that she had faced in the hands of Nana Patekar and it is important that voices like that of Bachchan spoke up.
Bachchan's voice is not only the most recognized and revered voices in our country but it is also very influential. If he talks about an issue -- be it film fraternity or the audience -- everyone listens. But, more important, the silence of people like Bachchan, Khan or for that matter any big Bollywood star is not neutral. It implicitly sides with the status quo, it says, that strong power men will harass women and continue to get away, as they always have.
No, you are not Tanushree Dutta or Nana Patekar, but you are Mr Amitabh Bacchan. And that's reason enough for you to speak up.
Get the best of News18 delivered to your inbox - subscribe to News18 Daybreak. Follow News18.com on Twitter, Instagram, Facebook, Telegram, TikTok and on YouTube, and stay in the know with what's happening in the world around you – in real time.
| Edited by: Simantini Dey
Read full article