Believe it or Not: Donald Trump and Kim Jong Were Bookies' Favourites for Nobel Peace Prize
The bets were supposedly in favour of the North Korea leader Kim Jong-un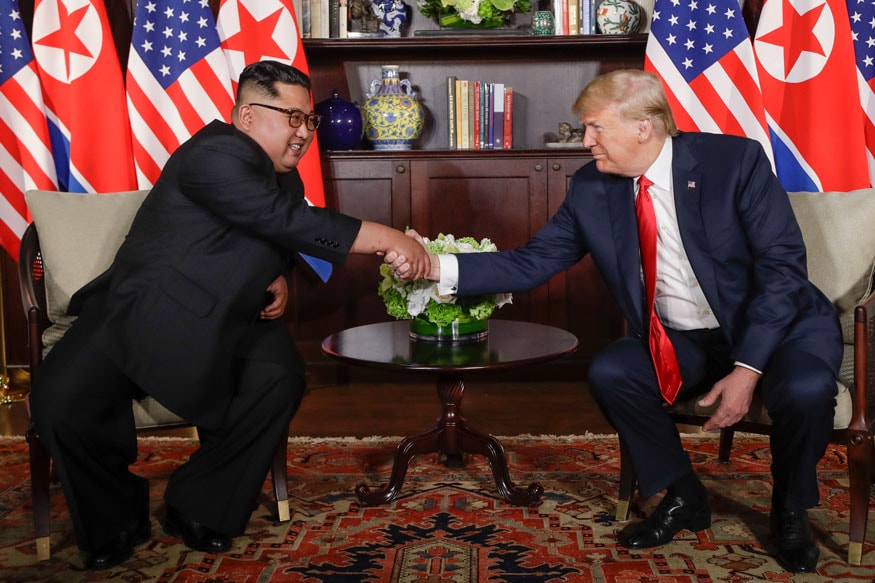 U. S. President Donald Trump shakes hands with North Korea leader Kim Jong Un during their first meeting at the Capella resort on Sentosa Island in Singapore. (Image: AP)
Congolese doctor Denis Mukwege and Yazidi campaigner Nadia Murad have won the 2018 Nobel Peace Prize. But here's a fun fact, did you know that US president Donald Trump and leader of North Korea Kim Jong-un were in the running to win the prestigious prize, according to bookies at least.
Turns out that the bets were heavy in favour of both the trigger-happy, nuke-loving leaders, whose combined contribution to world peace is questionable, at best. The discovery has surprised a lot of people who were left wondering how it was possible.
While it is beyond any rationale as to why Donald Trump, whose immigration policies, and insensitive, often sexist comments are a source of much international debate, would ever be nominated for a Nobel Peace Prize, the bets were supposedly in favour of Kim Jong-un. Analysts felt this was due to the three historic summits he held with South Korean President Moon Jae-in, leading to dramatically lowered tensions between the two countries. According to The Guardian, Kim was a popular favourite among bookies in London.
Although, Trump did hold a summit with Kim earlier this year, he immediately followed it up with wanting to unleash "fire and fury" on North Korea. Regardless of his comments, 18 Republican lawmakers wrote to the Nobel committee nominating the president for the Nobel Peace Prize for his work in ending the Korean war and bring peace in the region. Yeah, right!
In this video, Trump even 'confesses' that everyone thinks he should win the Nobel Prize.
According to The Independent, Kim Jong-un had attracted over 73 percent of total bets on Bookmakers.TV a popular betting website, whereas Trump only had 25 percent of bets in favour of him.
And although neither of the two leaders won the Nobel Peace Prize, people are shocked that they were ever in the running.
Why the hell were Donald Trump and Kim Jung Un up for the Nobel Peace Prize?!?! 😂😂😂😂 WTF?!?!

— #CuffLord (@WheatFree32) October 5, 2018
BREAKING! Donald Trump snubbed for Nobel Peace Prize despite achievements in not nuking anyone

— NewsThump (@newsthump) October 5, 2018
Nobel Peace Prize goes to Denis Mukwege and Nadia Murad. That's a beautiful poke in the eye for @realDonaldTrump pic.twitter.com/uoYGgYYu0f

— Carolyn Stafford (@CarolynS47) October 5, 2018
For WHAT?!? #NobelPeacePrize stands for something. Or is supposed to. All Trump has done since he came to power is destabilise & antagonise. The vaunted N.Korea agreement is a 2 page document of nothing leading to nothing. Just like everything Trump doeshttps://t.co/TbZQxVEz3q

— Giacomo G Casanova (@CasanovasTool) October 5, 2018
See you did not get the Nobel Peace Prize for 2018, you would have had better luck if there was one for Lying the most times in a year..... pic.twitter.com/aCig1Sw0a8

— ProudBrit (@ProudBrit3) October 5, 2018
#breaking Donald Trump, Kim Jong Un & Moon Jae-in did NOT win the 2018 Nobel Peace Prize. Denis Mukwege & Nadia Murad share the prize for their efforts to end the use of sexual violence as a weapon of war and armed conflict.

— Will Ripley (@willripleyCNN) October 5, 2018
Donald Trump & Kim Jong-un are in the running for the Nobel Peace Prize pic.twitter.com/t5etRUuw0E

— Toby Earle Toby Earle Toby Earle Toby Earle Toby E (@TobyonTV) October 4, 2018
Hey @realDonaldTrump, this is the closest you ( and your MAGA slogan) will come to a Nobel Peace Prize pic.twitter.com/458TkfX9N9

— sofie jacobsen (@staysofie) October 4, 2018
Nobel peace prize: Donald Trump and Kim Jong-un among bookies' favourites https://t.co/cwSutXTyit

*YES, YOU READ RIGHT...THIS IS NUTS.

— maph inc. (@tuckettweets) October 5, 2018
Get the best of News18 delivered to your inbox - subscribe to News18 Daybreak. Follow News18.com on Twitter, Instagram, Facebook, TikTok and on YouTube, and stay in the know with what's happening in the world around you – in real time.
Subscribe to Moneycontrol Pro and gain access to curated markets data, trading recommendations, equity analysis, investment ideas, insights from market gurus and much more. Get Moneycontrol PRO for 1 year at price of 3 months. Use code FREEDOM.
Read full article