Bengaluru Service Offering 'Pure Brahmin Meals' Home Delivered Sparks Outrage
Casteism in a lunch box.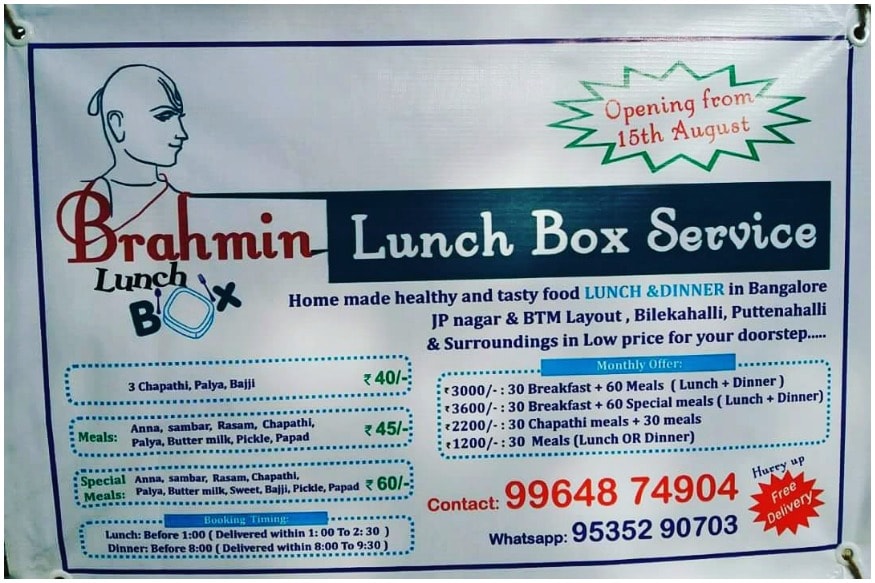 Casteism in a lunch box.
With Independence Day just around the corner, a Bengaluru-based catering establishment has started publicizing a new service that's set to launch on August 15 - a pure Brahmin lunch box service.
On Tuesday, lawyer and activist Dr. B Karthik Navayana posted an image of a banner advertising 'pure Brahmin lunch box service' on micro-blogging site Twitter.



Yes yes. Agreed. There is no caste in India 😎 pic.twitter.com/EREUhZkv7q


— Dr. B. Karthik Navayan (@Navayan) August 7, 2018
The advertisement states that it will deliver freshly-made 'Pure Brahmin' food expressly to the doorsteps of interested customers in several areas of Bengaluru including JP Nagar & BTM Layout, Puttenahalli, Bilekahalli and surrounding areas.
The menu consists of vegetarian meals at Rs 40, Rs 45 and Rs 60.
This service is not the first or the only one of its kind available in the market today. 
Akshaya S Homemade Food Delivery Services is also a very popular food delivery service in Chennai that serves 'Brahmin food'. In fact, many entrepreneurs have also launched versions of these services abroad. California based Mylapore Express boasts of providing pure 'Tam-Brahm' food across the Bay area.

They've taken it along everywhere. pic.twitter.com/pA8jm1cBak

— Paul Devadoss (@paulrajd) August 8, 2018

Such services are also available on food delivery apps such as Swiggy and Zomato. 'Brahmin Home Food' that delivers in Indiranagar, Bengaluru, is an example.
Bengaluru itself has a host of catering services and small-scale restaurants that deliver home-cooked meals according to cuisine. Pure Jain meals have been around for years.
Some on social media supported the launch of the service, claiming if it was okay to have Jain food and Halal meals, then it was surely okay to have Brahmin meals too.
But most agreed that the advertisement, as well as the service, reeked of casteism.



This bothered me so much! I live on the other coast and am praying this doesn't happen here.


— Radhika (@rads) August 8, 2018

Deli it seems pic.twitter.com/XPvTgsHqt0

— Amba (@MumbaiCentral) August 8, 2018




Sir fir to vegetables Wala farmer bhi Brahmin hona chahiye.....parcel box banane Wala bhi Brahmin aur delivery boy bhi Brahmin hi hona chahiye!!!!!


— TheWhiteWalker (@Tauseef12356591) August 8, 2018
Many questioned the claim of the advertisement - What does a 'pure Brahmin meal' mean? Was it just vegetarian food or food cooked by Brahmins?

caste is everywhere. Every one exploited or took advantage in their own way.

— Surya (@suryakantgd) August 8, 2018

The outrage against 'casteist' food has been raised by several Dalit rights activists who have claimed that exclusive food has been a traditional way to exclude Dalits from mainstream food preferences. Cuisines that belong to so-called 'lower-castes' have been systematically kept out of mainstream Indian culinary culture.
However, the food narrative seems to be changing. Entrepreneur Chandrabhan Prasad has recently launched Dalitfoods.com, a website dedicated to selling items common to Dalit cuisine. Documentaries such as 'Stir. Fry. And Simmer' have also tried to discuss the invisible politics of food and bring it out in the open.
Read full article
Countdown To
Elections Results
To Assembly Elections 2018 Results