Bigotry Can Be Brutal: I Was Jeered, Bullied and Humiliated By My Boss For Being Gay
'I was bullied to such an extent that I even considered going back into the closet.'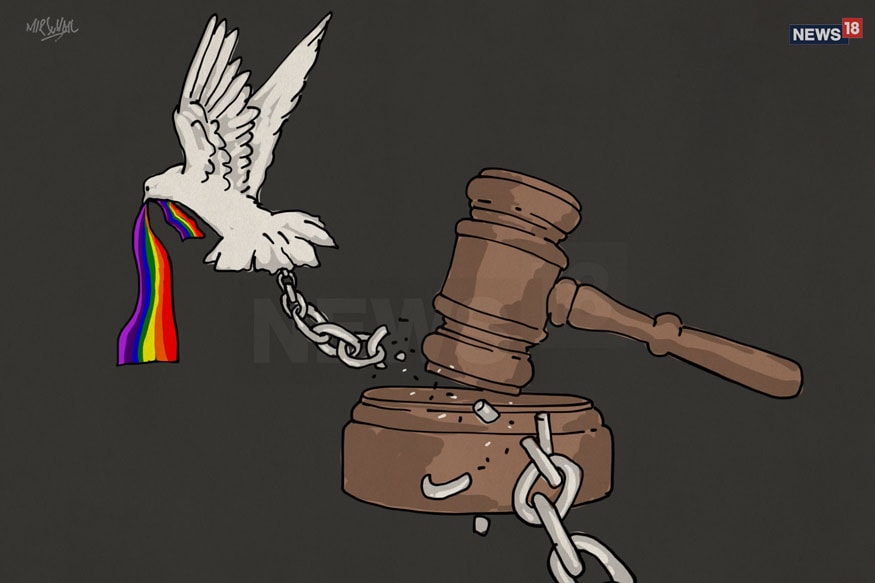 (Illustration by Mir Suhail/News18)
I was jeered, bullied, humiliated and branded incompetent by my boss and her coterie of people. Why? Because I am gay.
Many in India and across the world face discrimination every day based on religion, race, caste, sexual orientation, gender, etc. I am certain that most people reading this would also have been victims of bigotry in one form or another. I faced prejudice in one of the organisations I worked at, with odious incidents peppered over more than three years. I was also ordered to discriminate against people based on their religion.
Bigotry can be brutal. It can shatter the sufferers' confidence and scar them for life. It did have a crushing impact on me as well. Being open about my sexuality made matters worse – I was bullied to such an extent that I even considered going back into the closet. However, the situation changed on September 6, when the Supreme Court, in a historic verdict, struck down a portion of the colonial-era Section 377 of the Indian Penal Code (IPC) that made gay sex a criminal act.
I had to quit the organisation in 2016 as the humiliation and jeering became unbearable. Everything I did, workwise, started getting criticised on account of my being homosexual.
I then promised myself that I would write to my boss as soon as we, as homosexuals, got some kind of legal validation. I knew about the review petition submitted in the Supreme Court and the Chief Justice of India had set up a five-judge bench for it. I wrote an email to my boss the day I gathered myself after the landmark decision. I posted on Twitter screenshots of the email that I had sent to her, after waiting a day for her response. Much to my surprise, the tweet went viral and by the end of the second day, we saw the company owner tweeting about how the case will be investigated thoroughly. It was probed and a decision was taken by the organisation to sack the woman from her position. I stood vindicated. Justice was served.
But why did I have to wait for so long? Because, firstly, I was a criminal in the eyes of the justice system before September 6, 2018. Secondly, India still doesn't have a broad anti-discrimination law.
The current law doesn't provide any functional provision against discrimination. In 2015, when Zeeshan Khan, an MBA, applied for a job at Hari Krishna Exports Pvt Ltd, a representative responded to his application on an email stating that they only hire non-Muslims. This snowballed into a larger debate on Article 14 of the Indian Constitution that says, "The State shall not deny to any person equality before the law or the equal protection of the laws within the territory of India."
Article 16 provides for equality of opportunity in matters of public employment to Indian citizens irrespective of religion, race, caste, sex, descent, place of birth, residence, etc. But Hare Krishna Pvt Ltd was a private company and, so, essentially free to discriminate on these grounds. This goes on to prove that the constitutional provisions on equality only cover the State, not private persons, or companies.
A larger anti-discrimination law is the need of the hour, which should be all-inclusive, covering caste, religion, race, gender, sexual orientation and other fields.
In 2016, Lok Sabha lawmaker Shashi Tharoor introduced a private member's bill that covered a broader perspective, termed "protected characteristics". This included ethnicity, tribe, disability, linguistic identity, HIV status, food preference, skin tone and place of birth, along with the other points listed above.
The bill should be discussed in Parliament and a law passed. Because there cannot be a better time.
Get the best of News18 delivered to your inbox - subscribe to News18 Daybreak. Follow News18.com on Twitter, Instagram, Facebook, TikTok and on YouTube, and stay in the know with what's happening in the world around you – in real time.
Subscribe to Moneycontrol Pro and gain access to curated markets data, trading recommendations, equity analysis, investment ideas, insights from market gurus and much more. Get Moneycontrol PRO for 1 year at price of 3 months. Use code FREEDOM.
Read full article