GET Stock

Quotes


BJP Candidate Celebrates Win in Karnataka ULB Polls in Total Sourav Ganguly Style
Bringing in celebrations the Sourav dada way.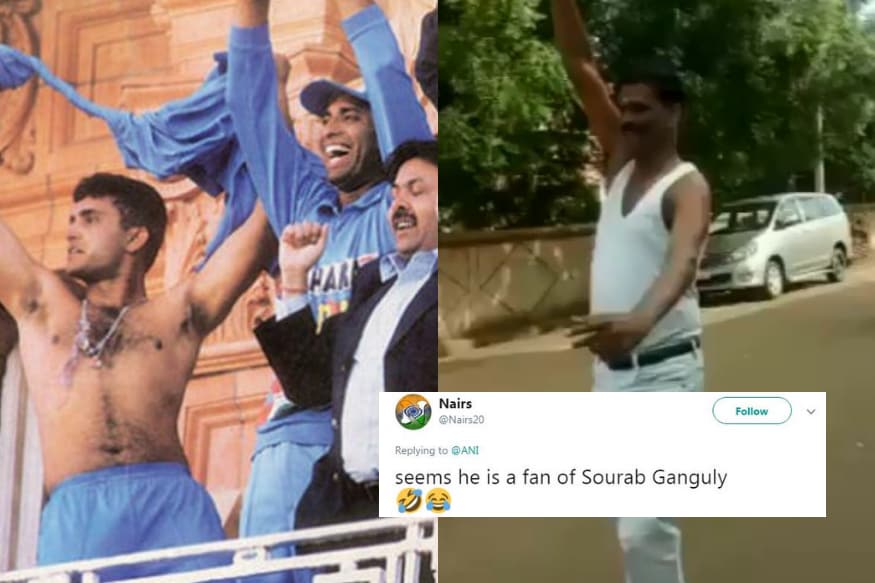 (Image: ANI)
In one of the greatest moments in cricket history when India defeated England in the Natwest final, legendary cricketer Sourav Ganguly famously took off his jersey and waved it in the air in retaliation to cricketer Andrew Flintoff celebrating by taking off his jersey in a match against India in Mumbai.
Veerappa Siragannavar, a BJP candidate, is perhaps a big Ganguly fan. The BJP leader revived the memories of the 2002 cricket final when he took off his shirt to celebrate his victory in the Karnataka Urban Local Body (ULB) polls on Monday.



#WATCH: Veerappa Siragannavar, BJP candidate from ward No. 19 of Bagalkote municipal council, celebrates his victory in the urban local body polls by removing his shirt. #Karnataka pic.twitter.com/hUl7PnCG6W


— ANI (@ANI) September 3, 2018
The results for the Urban Local Body (ULBs) elections were declared in Karnataka on Monday with the Congress leading in 982 wards, the BJP in 927 and the JD(S) in 375. A total of 2,664 wards had gone to polls in 105 ULBs. Veerappa, who won ward no. 19 in Bagalkote municipal council, took off his shirt and paraded in the streets – a la Sourav Ganguly. It did not take long for Twitter to start comparing Veerappa's victory celebrations with the famous cricketer.

seems he is a fan of Sourab Ganguly
pic.twitter.com/0RuGXdTs2t

— Nairs (@Nairs20) September 3, 2018




Dada @SGanguly99 everytime some one pulls of the tshirt it remind me you....


— Pritesh Shah (@prit_inc) September 3, 2018

Though i m not supporting this celebration but it's certainly much better then firing gunshots.

— pallab panigrahi (@pallabbablu) September 3, 2018




Lol Ganguly celebration


— harshit hegde (@hegde_harshit) September 3, 2018

S ganguly part 2. Well done

— Shiv K Dubey (@ShivKDubey4) September 3, 2018




Competitor to @SGanguly99


— ˈlɑ̀ːɡɔm (@Lagom_love) September 3, 2018

Sourav Ganguly of Politics!!

— धर्मो रक्षति रक्षितः (@AmbrMB) September 3, 2018




Saurav dada style


— OneWayHighway (@SantyTalk) September 3, 2018
| Edited by: Parth Sharma
Read full article