GET Stock

Quotes


Powered by



BJP Spokesperson Trolled After He Struggles To Recite Vande Mataram
At a debate on Zee Salaam, BJP's spokesperson Navin Kumar Singh was challenged to sing Vande Mataram to prove his patriotism.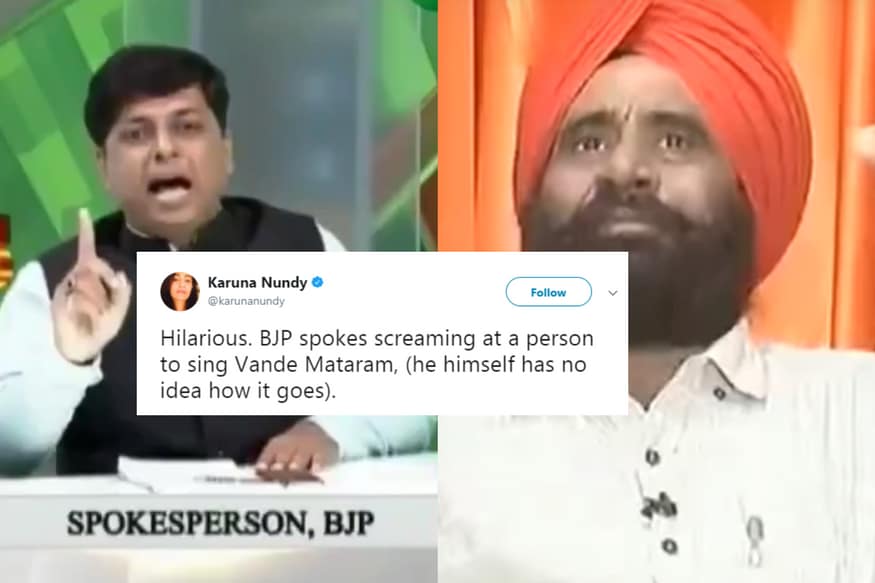 Photo credits: Zee Salaam , India Today | YouTube screenshots
As Bharatiya Janata Party is pushing to make the singing of
Vande Mataram
- the famous poem from Bankim Chandra Chattopadhyay's
Anandamath
- compulsory at various platforms, from schools to legislatures, its leaders and spokesperson aren't doing much to help the cause.
In a recent viral clip, at a debate on
Zee Salaam
, BJP's spokesperson Navin Kumar Singh was challenged to sing
Vande Mataram
to prove his patriotism by All India Muslim Personal Law Board (AIMPLB) member Mufti Ejaz Arshad Qasmi.
In the video, Singh, who appears unfamiliar with the lyrics of the song, is seen mangling the words while apparently reading the song off his mobile phone.
This is what Singh ends up singing.
(Note: It was hard to decipher his words!)
Vande Mataram
Sujalam Sufalam
Malayaja Sheetalam
Sansayaam
Malyaam
Subhrat Jotsam
Pulkityaam
Vande Mataram
Pulkistan
Sumita
Dumal Tsunami (?)
Suhasin
Sumantra Bulshumaani
Vande Mataram
Here's the video:

#BJP spokesperson makes a fool of himself trying to sing #VandeMataram. Don't blame me if you laugh too hard and get hurt. 😂 pic.twitter.com/psH2dqMo1P

— Subin Dennis (@subindennis) October 30, 2017
Soon, the video caught the eye of the social media storm and it went viral in no time.

BJP spokesperson giving demonstration of his Party's Patriotism on Live TV!

PS -Notice how he scrambles for his phone to pull up lyrics. 😊 pic.twitter.com/8RqpQxyloO

— Saral Patel (@SaralPatel007) October 28, 2017
Hilarious. BJP spokes screaming at a person to sing Vande Mataram, (he himself has no idea how it goes). https://t.co/gSLbcnlzNP

— Karuna Nundy (@karunanundy) October 29, 2017
Greatest video on the internet. Swear, I'm still howling with laughter and my throat's gone hoarse 😂😂 #VandeMataram pic.twitter.com/JSJi8nlIkt

— Taz (@xtahzy) October 30, 2017
Nationalist party BJP's spoxman failed patriotism test, couldn't sing 'Vande Mataram' even while reading from his mobile 😂😂😂 pic.twitter.com/ysQzytGUtw

— Irony Of India (@IronyOfIndia_) October 31, 2017
Patriotism offered by nationalist BJP
Can't even read Vande Mataram & asking others to sing it
One word for you BJPigs, #GetWellSoon pic.twitter.com/3fJIPuTIFk

— Sarcasm™ (@SarcasticRofl) October 28, 2017
SHARE MAX

BJP Spokesperson EXPOSED on National Television. He CANT sing "Vande Mataram"

RT maxpic.twitter.com/ijCwePAQYv

— AAP Ka Mehta (@DaaruBaazMehta) October 28, 2017
Official PeeingHuman went ahead and added subtitles to the video.

utf-8">
However, this isn't the first time a BJP member has struggled to recite the National Song during the "prove your nationalism - Vande Mataram debate."

During a
Newsroom
debate with
India Today
, anchor Rahul Kanwal stopped the debate midway and asked the UP Minister of State for Minority Welfare, Baldev Singh Aulakh several times to sing four lines of the song. Aulakh somehow makes up one reason after another and deflects from the question.
Big Story: UP Minister Baldev Singh Aulakh couldn't sing 'Vande Mataram' himself!
Watch #NEWSROOM with @RahulKanwalpic.twitter.com/dpFi7Ut2tk

— ASHUTOSH MISHRA (@ashu3page) August 11, 2017
Last week, junking the PIL to treat
Vande Mataram
on par with
Jana Gana Mana
, the HC bench said, "Though we agree with the petitioner that 'Vande Mataram' be recognised by the respondent as equal to 'Jana Gana Mana'. We are of the view that we are unable to grant the relief sought in the petition."
The court's order came on a plea of Delhi resident Gautam R Morarka, who had urged the bench that directions be given to the Centre in this regard so that proper dignity and respect can be maintained when
Vande Mataram
is played or sung.
Also Watch
Read full article