GET Stock

Quotes


Black Mirror Makers Tweet About US Elections, Confirms It Is Not an Episode From the Series
This is reality.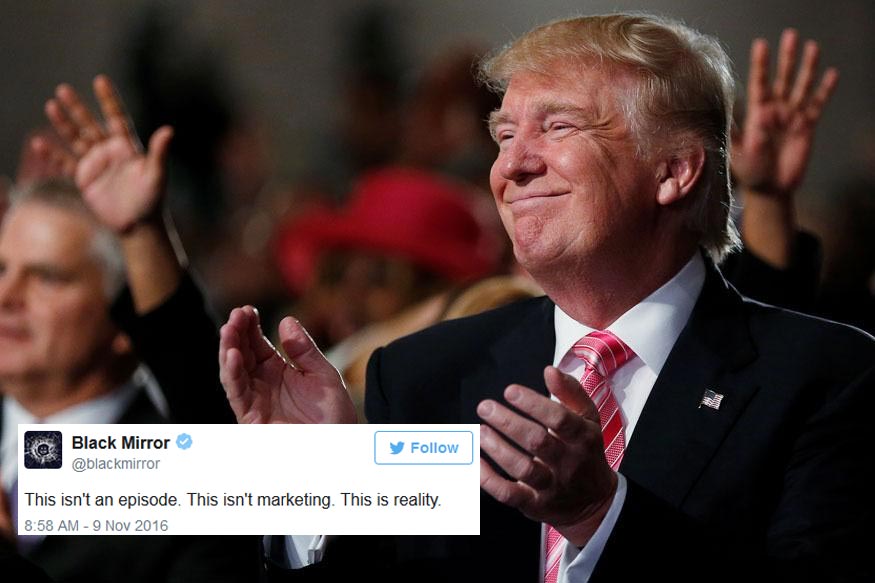 This is reality.
While the counting was going on and Donald Trump was inching towards the finishing line, most people across the world equated the US Presidential Election results to a horrid episode of Black Mirror- a paranoic science fiction series that has gained popularity this past year. The show had, infact had in one of its episodes, an uncanny similarity to the Trump campaign. Most people on Twitter cited the episode where a blue cartoon bear becomes a populist political candidate.
WHY IS AMERICA TRYING TO BE THE MOST TERRIFYING EPISODE OF BLACK MIRROR RIGHT NOW?? CAN I CHANGE THE CHANNEL? I DONT WANT TO WATCH THIS SHOW

— Rob Fee (@robfee) November 9, 2016
Black Mirror used to be a TV Show till last night. #America

— Nikhil Taneja (@tanejamainhoon) November 9, 2016
Black Mirror, House of Cards, Game of Thrones! Nope, none of these! The show that was warning us of times to come- Orange is the new Black!

— Gaurav Kapur (@gauravkapur) November 9, 2016
This Black Mirror episode is SO realistic. #ElectionNight

— Gregory Brown (@Whalewatchmeplz) November 9, 2016
what is happening why is every broadcast tv channel showing the same episode of black mirror

— Dan Hon (@hondanhon) November 9, 2016
WAIT A MINUTE TRUMP WON ALABAMA?!? WHAT IS THIS BLACK MIRROR?!?!

— Chris D'Elia (@chrisdelia) November 9, 2016
To put speculations to rest, the official Twitter handle of Black Mirror tweeted this.
This isn't an episode. This isn't marketing. This is reality.

— Black Mirror (@blackmirror) November 9, 2016
A sly publicity there. But this is, in fact, reality. Donald Trump is the new President of United States Of America.
Also Watch

News18 Reel Movie Awards: Ratna Pathak Shah Bags Best Actor (Female) Award
Read full article