Bongo Cat Meme Has Taken Over the Internet and it Will Give You a Crash Course in Music
Bless you, Internet.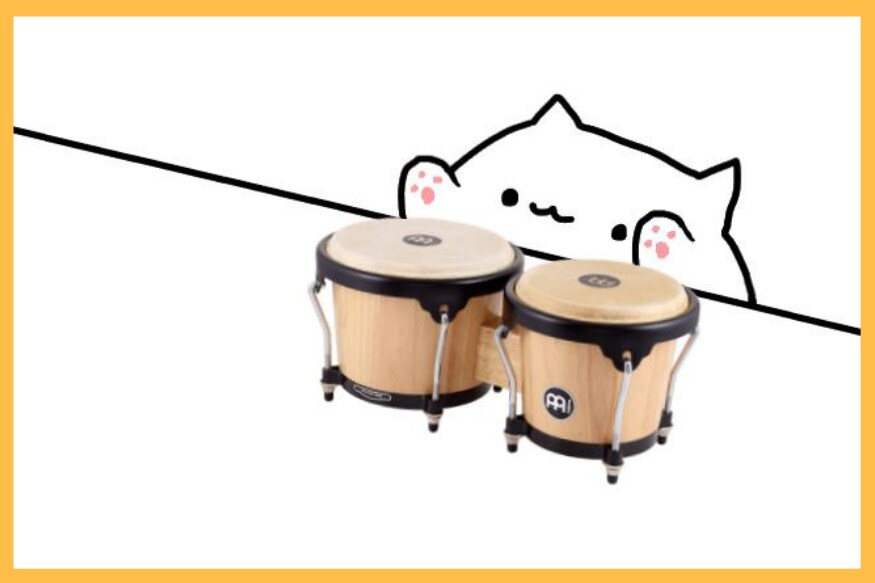 Image credits: @StrayRogue / @DitzyFlama | Twitter
Memes can get pretty random.
But what if we told you, an animated version of a cat playing any and every musical instrument in its reach, has gotten the Internet intrigued? Yes, memes are THAT random.
'Bongo Cat' - as the social media now calls it, first surfaced on Twitter when @StrayRogue posted a gif of a cat doodle tapping on a table, way back in May.
smack smack pic.twitter.com/uDGoLbP4JC

— CarnageRogue (@StrayRogue) May 6, 2018
Soon, the Internet got creative and @DitzyFlama added bongos to the gif.
— DitzyFlama (@DitzyFlama) May 7, 2018
And a meme was born. Over the months, the Bongo Cat has learned to play musical instruments using its pink paws ranging from violins to guitars to keyboards to drums to anything you keep in front of the white blob.
It really is hard to explain the meme in words, so here's a compilation for you to enjoy.
My contribution to #BongoCat pic.twitter.com/MQWmz6wfGp

— Nimelya (@Nimelya) September 11, 2018
I did it. I made a Bongo Cat meme. #BongoCat #Halo pic.twitter.com/pxnkT5jU21

— Fox_ScotYT (@FoxScotYT) September 19, 2018
— DitzyFlama (@DitzyFlama) September 15, 2018
Another #BongoCat (tribute to one of the best Zelda's songs) pic.twitter.com/gmOnRgoyVr

— Nimelya (@Nimelya) September 13, 2018
Someone on Instagram requested the Cup Song, so here we go again.#BongoCat @StrayRogue @DitzyFlama pic.twitter.com/pkBuxeVaSF

— SAM C: (@sam_concklin) September 20, 2018
here's my contribution to #Bongocat pic.twitter.com/Kbk9XvaLGK

— Mindy @ 💤 (@mindysoung) September 18, 2018
*screams* pic.twitter.com/mwu1RelOX3

— 💊 Doctor Miawoo (@MiagoArts) September 16, 2018
time well spent..#BongoCat pic.twitter.com/xnhzPC92oB

— doodlelotl (@Doodlelot) September 20, 2018
Was having the saddest day so made this to cheer me up and it worked. rt for good luck #bongocat pic.twitter.com/2I1ADJfTZx

— Nathan Ellingsworth (@nathandelune) September 13, 2018
#BongoCat but they're the Phantom Thieves

TWITTER REUPLOAD!!!! pic.twitter.com/sANIX44fLF

— Naoya Toudou (@Naoya_the_First) September 13, 2018
2001: A Space Bongo #BongoCat pic.twitter.com/F9b8gpLZj5

— dark (@dark_decay) September 12, 2018
Bongo Cat Goes Retro #pixelart #pixels #BongoCat pic.twitter.com/saNtUCN1ek

— Inx (@InxanityOCE) September 13, 2018
Just gonna post some more #BongoCat pic.twitter.com/c80gojTJJ5

— Ceren (@OneBelgian) September 14, 2018
@DitzyFlama, who gave us the OG Bongo Cat, resurfaced in September to bless us with this version.
— DitzyFlama (@DitzyFlama) September 9, 2018
Facebook wasn't far behind in getting creative.
Every meme compilation feels incomplete without the desis joining the party. So here you go.
If you are creative (and have a lot of time on your hands), you can make the Bongo Cat play any tune of your liking. Bring the inner AR Rahman out in you here: bongo.cat
Get the best of News18 delivered to your inbox - subscribe to News18 Daybreak. Follow News18.com on Twitter, Instagram, Facebook, Telegram, TikTok and on YouTube, and stay in the know with what's happening in the world around you – in real time.
Read full article