Bored in Lockdown, UK Nursing Home Residents Recreate the Magic of Iconic Album Covers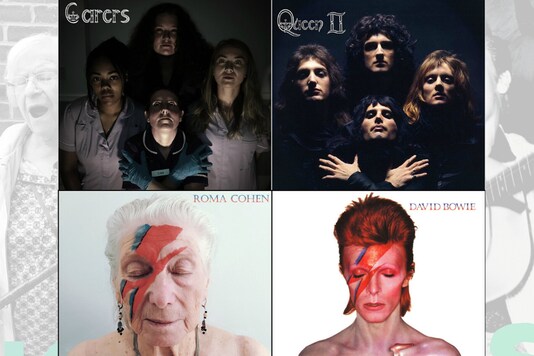 Photos tweeted by @robertspeker.
The residents at an old-age home in London took up the initiative to recreate the magic of iconic album covers.
Last Updated: July 15, 2020, 16:08 IST
FOLLOW US ON:
Every video comes with a photoshoot of the singer, perhaps to be used for the album cover. While most of these pictures get lost in the crowd of thousands, a few of them leave a sharp image in our mind, becoming a forever classic.
The residents at an old-age home in London took up the initiative to recreate the magic of these iconic album covers.
The residents at the Sydmar Lodge Care Home in Edgware, England, did this activity during the lockdown phase.
As they have been bored staying back at the care house with no visitors for four months, they decided to indulge in the activity.
The idea came from Robert Speker, the activities manager at the home, who wanted to keep the spirits of all the residents high.
Speker shared the iconic recreated album, along with the original pictures of the celebs, on this Twitter handle.
"Sydmar Lodge Care Home residents and carers have been recreating classic album covers. The home has now been in lockdown for 4 months," he captioned.
In the pictures, one can see the re-creation of Adele's cover from 21, Taylor Swift's 1989, Bruce Springsteen's Born in the U.S.A and Queen II.
The series went viral in no time, attracting more than one lakh likes and 42 thousand comments and retweets.
In the tweet's thread, Speker shared more images, making the tweeple fall in love instantly with his new creation.
People couldn't stop praising Speker for the awesome series, turning the residents into the celebs' cover.
A few netizens also suggested him to raise funds through this, to which he replied that the old age home might create a calendar soon.
Next Story