Brazilian Goalkeeper Alisson Becker Popping a Giant Inflatable Ball Has Turned into Relatable Life Memes
'Balloon is my self-esteem and Alisson is my mom.'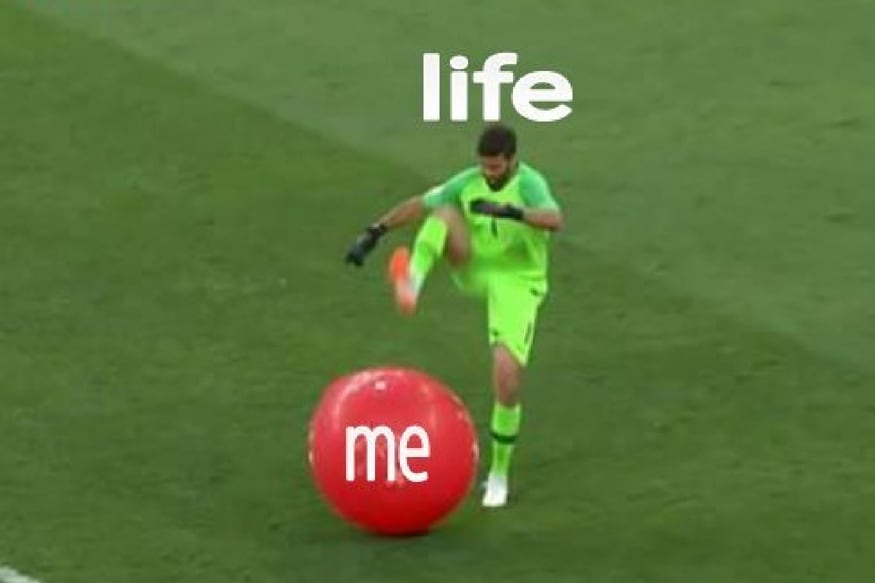 Image credits: @Brazilstat
The FIFA World Cup has been paisa vasool already.
On Sunday, Mexicans jumping in jubilation shook the ground hard enough to set off earthquake detectors and throngs danced in the streets after their team scored a surprise victory over World Cup defending champion Germany.
Not too far away from the limelight was the thrilling group stage match between Brazil and Switzerland.
Switzerland fought back and showed great determination to keep Brazil out and clinch a crucial draw in Rostov. With Neymar's below par all game, and Brazil losing their way in the second half, Swiss team emerged from halftime with a great heart to clinch a favourable result.
While Federer approved the determination showed by his team, it was Brazilian goalkeeper Alisson Becker aka Alisson who stole the show when a giant red inflatable ball found its way to the pitch.
Good day 🇨🇭

— Roger Federer (@rogerfederer) June 17, 2018
What did he do next? Ruthlessly pop it. The oddly satisfying video of Alisson stomping on the ball towards the end of the game was the wholesome content Internet was waiting for and the good people of Twitter decided to turn the ball pop into relatable life memes.
Alisson is life. The ball is my dreams. pic.twitter.com/yWra2xAMPp

— André Noruega (@AndreOstgaard) June 17, 2018
Balloon is my self esteem and Alisson is my mom pic.twitter.com/Z7XeB0khBV

— Duna Sherdo (@DunaSherdo) June 17, 2018
According to Dream Team, the inflatable ball was actually a tactic to test if Alisson would make the same mistake Reina did back in 2009. Alisson, however, passed with flying colours. Instead of doing a Reina and trying to save the balloon instead of the football, Alisson walked forward and calmly popped the beach ball.
Red ball= Me

Alisson= Life #BRAxSUI pic.twitter.com/5HRohtWwzD

— 👑 ŚÀÑĐÏŁĘ 👑🇿🇦🐐 (@Stanza_SA) June 17, 2018
When Liverpool try to sign Alisson. pic.twitter.com/NlQR8fykvH

— Taintless Red (@TaintlessRed) June 17, 2018
Alisson confirmed? pic.twitter.com/8BgcePsLtp

— Dean Coombes (@DeanCoombes) June 17, 2018
Alisson stamping out Liverpool's transfer interest like...#BRASUI #WorldCup pic.twitter.com/iLfp4z9Xvw

— FOX SPORTS Football (@FOXFootballLive) June 17, 2018
Alisson memes are going viral 😂 pic.twitter.com/XkQsO5JpJL

— Seleção Brasileira (@BrazilStat) June 17, 2018
— 🇵🇦 PanamAlex Quinn 🇵🇦 (@alxqnn) June 17, 2018
Alisson vs the baloon! #BRA #WorldCup pic.twitter.com/E2afYasbUW

— 8bit-Football.com (@8bitfootball) June 17, 2018
alisson is the new canarinho pistola pic.twitter.com/dCpD2k6nCh

— flávia 🇧🇷 (@faultsmg) June 17, 2018
You can catch the match highlights here.
Get the best of News18 delivered to your inbox - subscribe to News18 Daybreak. Follow News18.com on Twitter, Instagram, Facebook, Telegram, TikTok and on YouTube, and stay in the know with what's happening in the world around you – in real time.
Read full article