Gal Gadot Praises 5-Year-Old Boy Whose Mother Feared He Will Get Hate for Buying 'Wonder Woman' School Bag
Gal Gadot praises 5-year-old school boy who bought a Wonder Woman backpack and crown for his first day to school.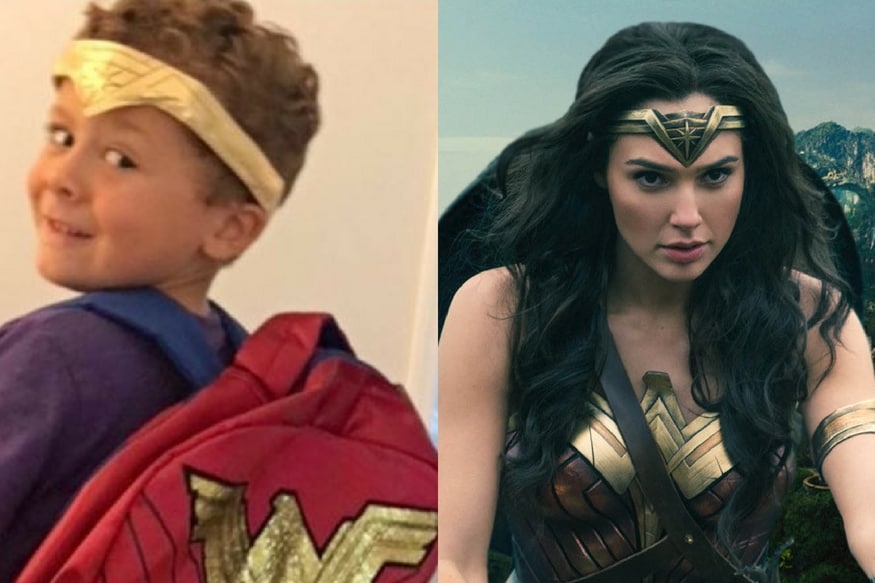 (Image courtesy: Twitter)
Consciously or subconsciously, the toxic notions of toxic masculinity affect all of us, even if we may not realise it immediately. The rules of masculinity are adhered to with unfortunate sincerity and the worst part is that we're absolutely ok with it.
Recently in an article published on Romper, a mother of a five-year-old boy, Issac, talked about taking her son for back-to-school shopping. At the backpack section, the mother asked Issac to pick any bag that he wanted. He dashed ahead and grabbed a Wonder Woman backpack which also came with a crown worn by the bad-ass superhero.
The mother, who had her own doubts (read: victim of the patriarchy), asked her son if he was sure about it. And he most certainly was. YAY to that.
Then the boy wore the crown and role-played as Wonder Woman and Batman with his three-year-old brother for the rest of the day.
The story was later shared by none other than Wonder Woman, Gal Gadot, herself, who said, "I hope Issac wore the crown and his WW backpack proudly to school."
Just read this article about breaking gender stereotypes by Katie Alicea. Such an important topic and something I believe in so strongly. I hope Issac wore the crown and his WW backpack proudly to school. 🙅🏻‍♀️#WonderBoy pic.twitter.com/sCbfprbG5y

— Gal Gadot (@GalGadot) August 7, 2018
The writer of the article and Issac's mother, Katie Alecia, said that she wasn't bothered that her son bought a Wonder Woman bag but that he would be made fun of at a new school. Parents, of course, only want to protect their children and while Alecia's worries weren't misplaced, Twitter came out in full support of the boy, hoping that he had an amazing day at school while wearing his Wonder Woman bag and crown.
Wonder Woman is for everyone, even boys 😍 pic.twitter.com/GOMri5ZRak

— Rosie Bonilla (@RosieLloyd76) August 7, 2018
Hell, that kid is cool for wearing something he loves with such passion. I am so thankful to live in a time where we can support the interests of kids that break stereotypes. #Wonderboy! pic.twitter.com/CTj3X3Q1rn

— Isaiah Allen (@IsaiahA90488281) August 7, 2018
if he chose to dress like someone who stands for equality for all, strength of character, and unconditional love. more power to him. he is the future,and it is bright.👍

— Brian (@KingBrianlll) August 7, 2018
There shouldn't be restrictions to what we love and believe in @GalGadot. That boy has great taste. 🙅🏻‍♀️💪🏼😊❤️#breakinggenderstereotypes pic.twitter.com/1czfmt92DT

— James Nanawa (@jounin00) August 7, 2018
I'm so proud ♥️ If a girl goes to school with a bag of Superman or Batman it's '' normal '' cause supergirls and Batgirls are like Bond girls! But if a boy goes with a wonderwoman's bag he is an alien! This kid is a really Hero and a big Human being ♥️

— ♣️♥️✨JustMaRi 💫♦️♠️ (@JustMaRi2) August 7, 2018
My 4 year old daughter says I'm as strong as Wonder Woman, a peer at work asked me if that offended me, I was like "dude, have you seen her? She lifts tanks, for God's sake!"

— Family Man (@Riffke) August 7, 2018
You go man! I wish more kids were like him. WW isn't a girl thing. I freaking love Wonder Woman, even before the movie came out I was a huge fan. This kid has confidence and a great choice for a role model.

— Jack Dolinger (@DolingerJack) August 7, 2018
Alecia rightfully concludes by saying that while there may be some difference between boys and girls, there is no need to create differences between their interests, clothing preferences, favorite colours, hobbies, careers, and which toys they would like to play with.
Get the best of News18 delivered to your inbox - subscribe to News18 Daybreak. Follow News18.com on Twitter, Instagram, Facebook, Telegram, TikTok and on YouTube, and stay in the know with what's happening in the world around you – in real time.
Read full article