Breastfeeding Mom's Response When She Was Told to 'Cover Up' Has Left the Internet in Splits
The Internet is chuckling at this mom's sense of humour.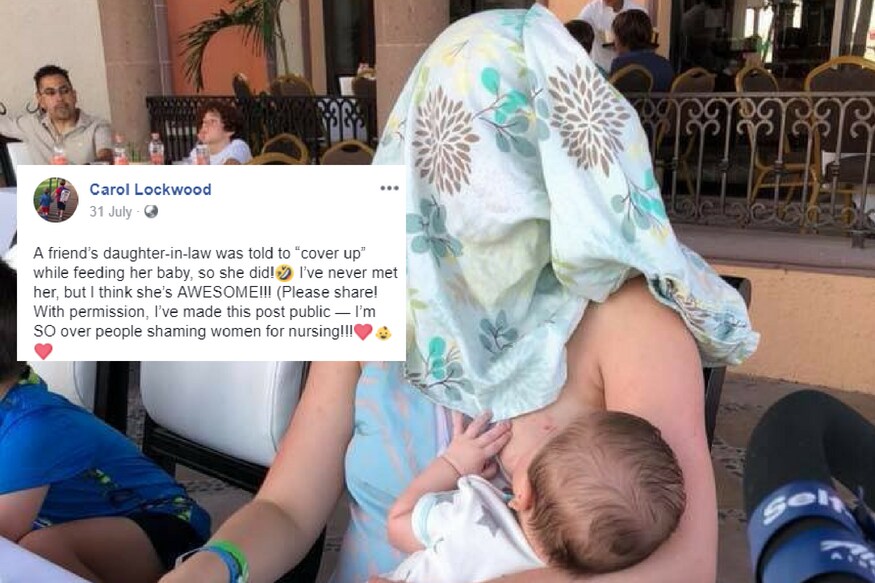 Image credits: Carol Lockwood / Facebook
Breastfeeding may be the most natural of human acts but having your baby fed in public is still considered a taboo across the globe.
Regular breastfeeding may save millions of babies every year, but this isn't stopping the public, especially men, from asking women to 'cover up' every time they 'cringe' at the sight of a mother feeding her infant.
But when Melanie Dudley, a Texas resident, and a mother to a 4-month-baby, was asked to cover herself up by a man, her response made the Internet chuckle.
Last week, Carole Lockwood shared Dudley's hilarious response on her Facebook and the post soon went viral with 216K shares and more than 120K likes.
The post features Lockwood's friend's daughter-in-law Melanie Dudley and the reason why she shared the photo was that she was done with people shaming women for nursing.
Narrating the incident to Yahoo Lifestyle, 34-year-old Dudley said her response was spontaneous.
"I was on vacation in Cabo San Lucas with my entire family and a man asked me to cover myself. I'm usually discreet, but we were seated in the back of the restaurant."
"Breastfeeding is hard enough. This is another layer we don't need to deal with," she further added.
Although the post has received mixed responses, several users came out in Dudley's support.
"I would love to know how any of you that are freaking out over a mother feeding her child react when you see someone in a string bikini at the beach. Or a woman with a sheer blouse on. Nobody gives two shit about half naked women until there's a kid on the end of her boob. I can't barely watch a TV show anymore without T&A. But moms breastfeeding is offensive? GIve me a break," wrote one user.
"I get warm and fuzzy when I see a mum feeding her baby. It looks so right just like nature intended and to see that bond and trust growing between baby and mum is something to celebrate. Feeding your baby not only gives it food and everything it needs to survive but it gives it love, attention, a time to be safe, to be cuddled and soothed. Babies are fed on demand and it's not always convenient but a good mum puts her baby's needs before hers. It's strange that we accept an aboriginal mum feeding her child but when it's in the general population some people have a problem," wrote another.
Get the best of News18 delivered to your inbox - subscribe to News18 Daybreak. Follow News18.com on Twitter, Instagram, Facebook, Telegram, TikTok and on YouTube, and stay in the know with what's happening in the world around you – in real time.
Read full article