British PM Theresa May's Super Awkward Dance Has Turned her Into Internet's Latest Meme
To her credit, at least she had a good time.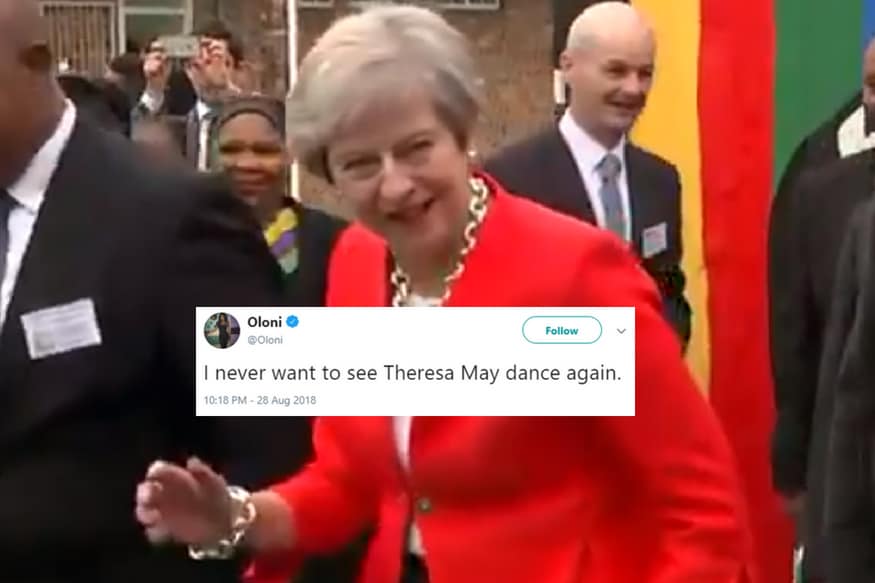 Image credits: @fizzymd / Twitter
Okay, British Prime Minister Theresa May just cannot dance.
When the Department of International Relations and Cooperation in South Africa tweeted a video clip of the British PM dancing, it obviously overshadowed her trip to South Africa that aims to deepen trade and economic ties.
During her tour, the UK leader visited the ID Mkhize High School in Cape Town where she was greeted by enthusiastic schoolchildren and later jammed with them in a dance session.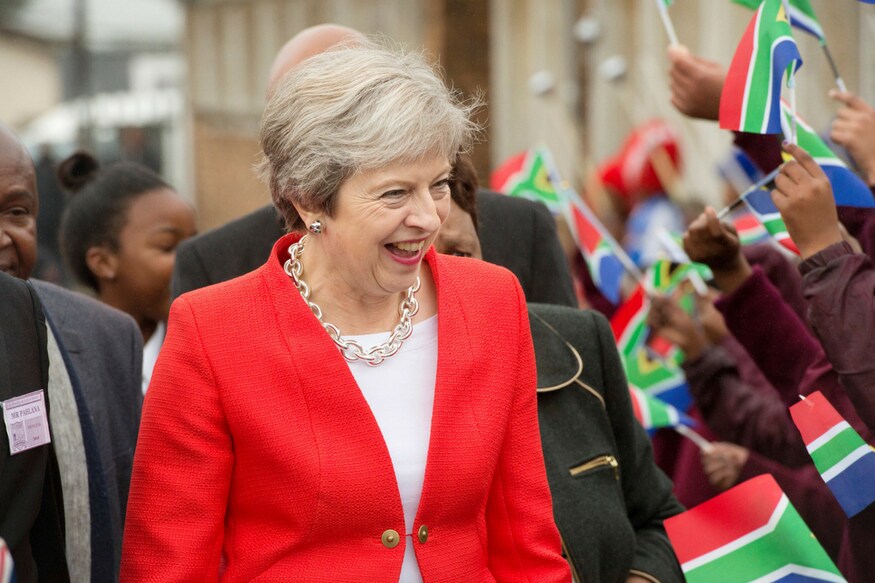 (Image credits: Reuters)
So far so good? May then got into her dancing shoes, swaying from one side to another, grabbing everyone's attention.
Calling it 'Maybot,' Twitterati mocked May for her 'robotic' and 'awkward' dance moves.
Theresa May dances like she's had her freedom of movement surgically removedpic.twitter.com/PaiSEtcRE9

— James Felton (@JimMFelton) August 28, 2018
I never knew that seeing Theresa May dance would be so uncomfortable to watch pic.twitter.com/TQmymi6W8q

— Ali San (@TheSanPlanet) August 28, 2018
Watching Theresa May dance is one of the cringiest things I've ever seen in my life! pic.twitter.com/3bESRnXZPf

— Alex (@AlexKyri_) August 29, 2018
Maybe we should get @theresa_may on @bbcstrictly with @Joe_Sugg #Strictly pic.twitter.com/uoNH2uY9d7

— Charlie Terry (@charlierterry) August 28, 2018
We have a malfunctioning Maybot for recall @Conservatives pic.twitter.com/A88LONoKsU

— Rachael Swindon #JC9 (@Rachael_Swindon) August 28, 2018
Dubstep Theresa May pic.twitter.com/Lvug14TP4F

— Olaf Falafel (@OFalafel) August 28, 2018
This is what happens when I have too much time in an afternoon - Theresa May dancing to Fatman Scoop pic.twitter.com/VnLnGx9yVC

— Ian Brannan (@ianbrannan) August 28, 2018
Theresa May dancing, stop the planet, I want to get off pic.twitter.com/v2bVHRUXFF

— Loco Goose (@CrazyGoose) August 28, 2018
theresa may dancing to laura lees apology pic.twitter.com/BVdiTyKx93

— theresa may dancing (@MayDancing) August 28, 2018
Umm.
I never want to see Theresa May dance again.

— Oloni (@Oloni) August 28, 2018
The Internet doing what it does best.
Theresa May Dancing#TheresaMay #TheresaMayDancing #Maybot pic.twitter.com/OtWZLDqX20

— Lee Daniels (@LeeDanielsART) August 28, 2018
Someone even posted 'The Theresa May Dance' tutorial just in case you wanted to learn those moves.
How To Do The Theresa May Dance #TheresaMaydancing pic.twitter.com/WmB61QTqdm

— Jack Gleadow (@JackGleadow) August 28, 2018
To her credit, May had a good time loosening up, giving the nature of her trip. "Can I thank all those young people who were involved in the performances outside who welcomed me," May was quoted as saying by ITV News.
In a speech in Cape Town, May said she wanted Britain to become the biggest investor in Africa out of the Group of Seven nations, overtaking the United States, by using the aid budget to help British companies invest on the continent.
May, who was accompanied by a delegation of British business executives, also said Britain would work with African states to tackle insecurity and migration by creating jobs.
May is visiting South Africa, Nigeria, and Kenya during the trip.
(With Reuters inputs)
Get the best of News18 delivered to your inbox - subscribe to News18 Daybreak. Follow News18.com on Twitter, Instagram, Facebook, Telegram, TikTok and on YouTube, and stay in the know with what's happening in the world around you – in real time.
Read full article