Bryan Adams Witnessed Something Unusual During His Performance in Gurgaon. Can You Spot it?
The Canadian rockstar had a ball during his Indian tour.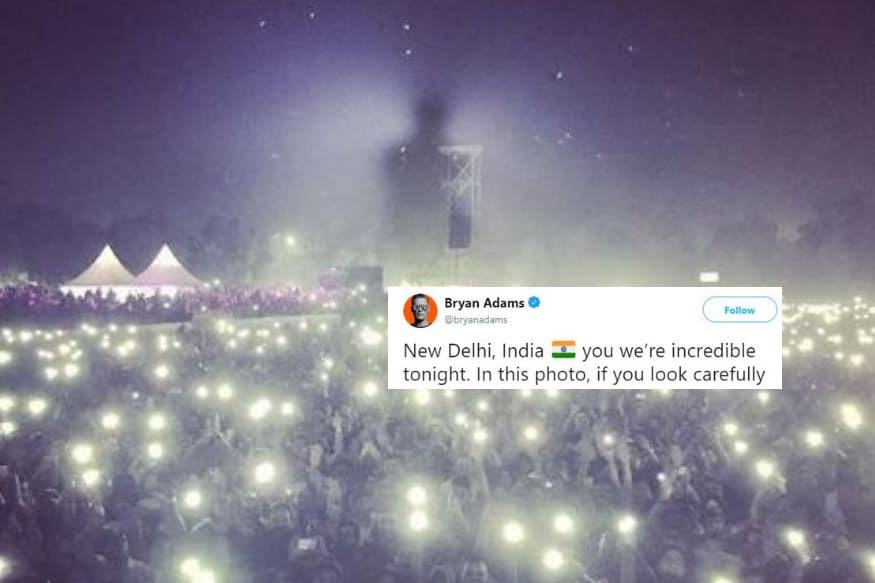 Photo credits: Bryan Adams / Instagram
In 2011, Canadian rock star Bryan Adams' much-awaited concert in Okhla was canceled after Delhi Police did not give the 'no objection' certificate (NOC) citing security reasons.
7 years later, the Delhiites finally got to witness their star perform live right in front of them in the national capital region.
After performing his classics to a mesmerized Mumbai crowd, the 58-year-old took to the stage in Gurgaon's Leisure Valley Park on Sunday.
The Grammy-winning singer-songwriter enthralled the audience with his power-packed performance and took them back in time. Yes, Summer of 69, the classic balled was on his playlist.
Adams took to his Instagram page to share his excitement. But there was something else he had to share with his fans that he had never witnessed at a concert.
"In this photo, if you look carefully you can see my shadow silhouetted in the dust and smoke of the venue over the audience. I've never seen that before. Magical India. Namaste."
Dust and smoke. Well, is anyone surprised here?
Clearly, even the singer now knows about the pollution in Delhi NCR region.
Several Indian fans who were in the attendance shared pics on social media.
Amazing,awesome incredible night pic.twitter.com/gZCbY3eBPr

— Dhiraj sharma (@Rocktillidie) October 14, 2018
You were amazing tonight. What a night to remember pic.twitter.com/XxFTnuZvX4

— Ash Vir (@AshishVirmani) October 14, 2018
— Dhiraj sharma (@Rocktillidie) October 15, 2018
You are The The Best💟💟 pic.twitter.com/YwZwOdY8Cy

— Tarun Verma (@tarunverma2109) October 14, 2018
Earlier, the Canadian singer also casually hung out with the music maestro A.R. Rahman.
During his Ultimate Tour, Adams performed in Ahmedabad, Hyderabad and Mumbai.
This was Bryan Adams' fifth visit to India.
Read full article