News18
»
News
»
Buzz
»
Campaign to Remove 'Stupid Rat' From Scorsese's 'The Departed' Has Plagued the Internet
4-MIN READ
Campaign to Remove 'Stupid Rat' From Scorsese's 'The Departed' Has Plagued the Internet
A fan has found a glaring problem in the last scene of Martin Scorsese's classic 'The Departed' and he is determined to fix it.
Last Updated: February 21, 2019, 10:33 IST
FOLLOW US ON:
Pick up any Martin Scorsese flick and you're in for a ride. However, a movie fan has found a glaring problem in the last scene of Scorsese's classic The Departed and he is determined to fix it.
The 2006 American crime thriller, which was a remake of the 2002's Infernal Affairs, won the celebrated director four Oscars including Best Picture and Best Director.
So far so good? Apparently not, says freelance director Adam Sacks.
As Sacks puts it, the movie follows:
A Boston gang member and a Massachusetts police officer who both go undercover to undermine the other's organization, and things get complicated when both groups realize they have a rat in their midst.
Metaphors are appreciated best when they are subtle but Scorsese's decision to end the movie with a "painfully on-the-nose metaphor" of an actual rat crawling across the screen didn't go down too well with the freelance director.
Soon enough, a kickstarter project was launched on Tuesday by Sacks to digitally remove the rodent for good from The Departed.
"It's always bothered me that a movie as good as The Departed has such a cheesy ending, and I recently realized it could be fixed by digitally erasing the rat from the last shot," explained Sacks in his unique project.
How will he achieve it?
Sacks lists step-by-step as to why he needs $4000 dollars to do the job.
"Digital effects are not cheap, which is why I'm here on Kickstarter trying to raise $4,000 dollars. $4,000 dollars may sound like a lot of money, so let me break down the costs for each of the nine steps in this process."
From buying Blu ray disc to a Blu ray player, he informs that it is important to support the filmmakers so he has decided to go the legal route and break no laws in his noble endeavour.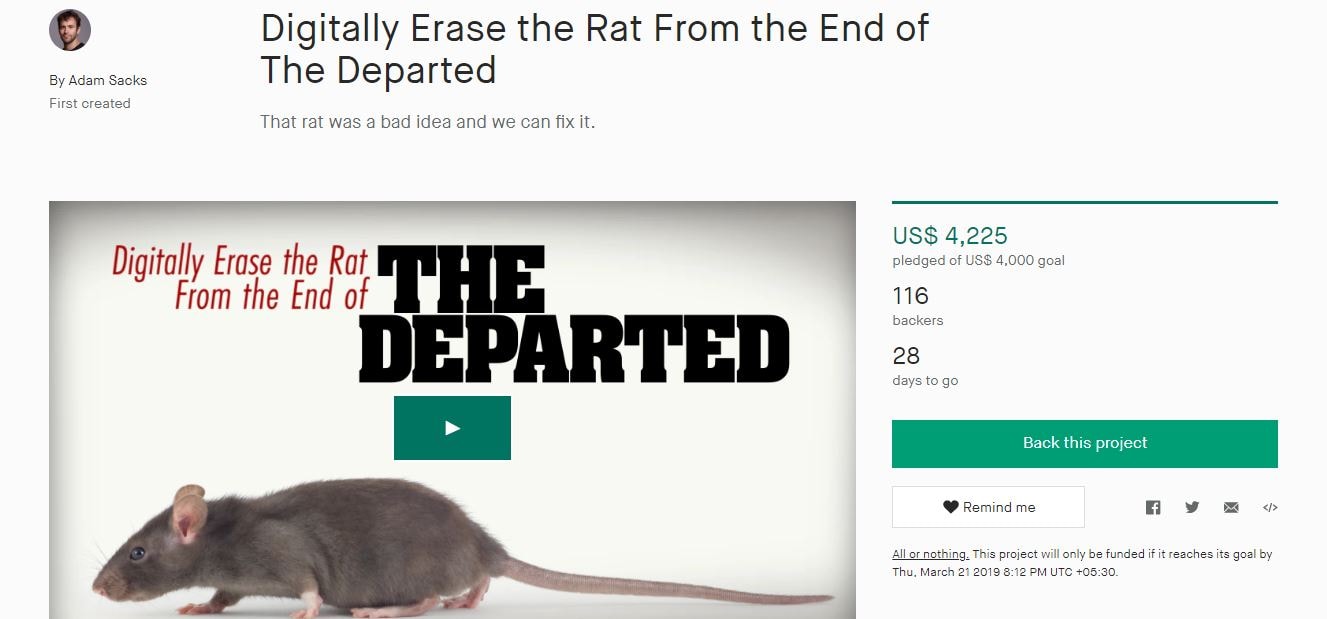 Some movie buffs and critics weren't in agreement with Sacks' take.
Sure some backed him and even found the project funny and innovative.
Guess what? It was a happy ending for Sacks after the Internet came to his rescue and his project's goal was achieved under a couple of days.
Here's the scene that has "plagued" the Internet:
Next Story