GET Stock

Quotes


Can You Solve This Maths Puzzle That Sonam Kapoor Could Not?
The star got it wrong. And, got trolled on Twitter.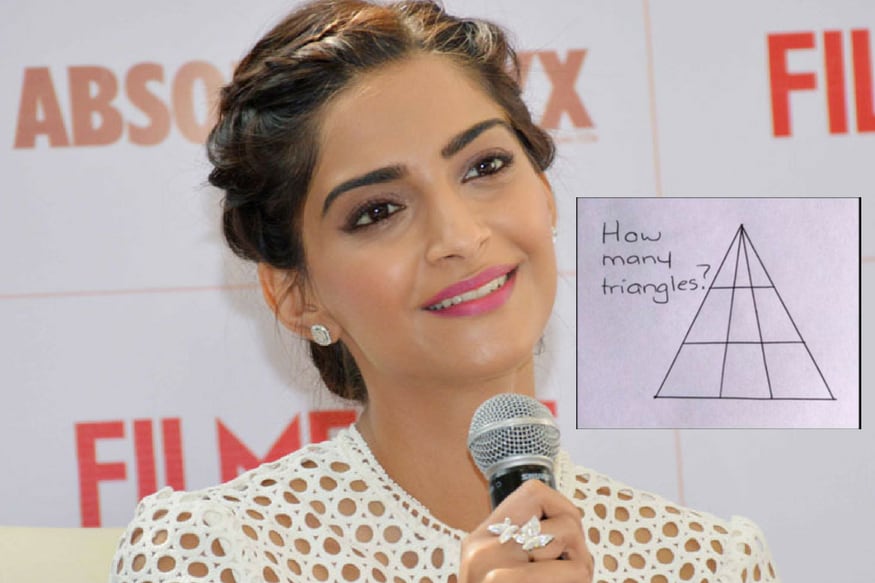 File image of Sonam Kapoor.
Neerja
star Sonam Kapoor is no stranger to the trolling world. From body shaming to nepotism, the army of Internet trolls have often descended upon the Bollywood star.
On Monday, when Filmfare magazine editor and journalist Jitesh Pillaai shared a puzzle-- asking his followers to count the triangles, Sonam quickly shared what she thought was the correct answer.
Little did she know, Twitter's mathematicians had already solved the puzzle.



Say? pic.twitter.com/lrhXrWw5EP


— J (@jiteshpillaai) April 9, 2018
The star has answered.

7 https://t.co/QV8isDJQQp

— Sonam Kapoor (@sonamakapoor) April 9, 2018

The Internet attack starts in 3...2...1




Agar baaki ke 11 dekh liye hote to aap Infosys me baith ke coding kar rahi hoti. Great choice of profession


— Gabbbar (@GabbbarSingh) April 9, 2018

pic.twitter.com/W2Ig0gnb73

— Vijay Singh (@HuIk_Smash) April 9, 2018



— Un-bhadralok bangali (@goonereol) April 9, 2018

She must be taking her mathematics classes from @priyankac19

— Vijay Singh (@HuIk_Smash) April 9, 2018



— Manish 🇮🇳 (@Man_isssh) April 9, 2018

pic.twitter.com/tmV772zSAP

— (@dimaagkoshot) April 9, 2018




When God was distributing brains, someone was busy shopping for make up and designer clothing. https://t.co/tNe4JhNo9J


— Pakchikpak Raja Babu (@HaramiParindey) April 9, 2018

Correct ans is 18. Go n take tuition from Prodigal Science pic.twitter.com/vt8zb1Okfv

— Rahul Bhagwat (@rahulbhagwat28) April 9, 2018

And in case you were wondering what the answer is, this guy has got you covered.



— Raj Aryan (@RajArya37673900) April 9, 2018
To her credit, Sonam did not take the trolling to her heart.

Hahahahaha as soon as I tweeted it I knew I was wrong and still don't know the answer lol

— Sonam Kapoor (@sonamakapoor) April 9, 2018




Terrible at math


— Sonam Kapoor (@sonamakapoor) April 9, 2018
Read full article