Canada Becomes the Second Country to Legalise Cannabis
Uday Chopra, you listening?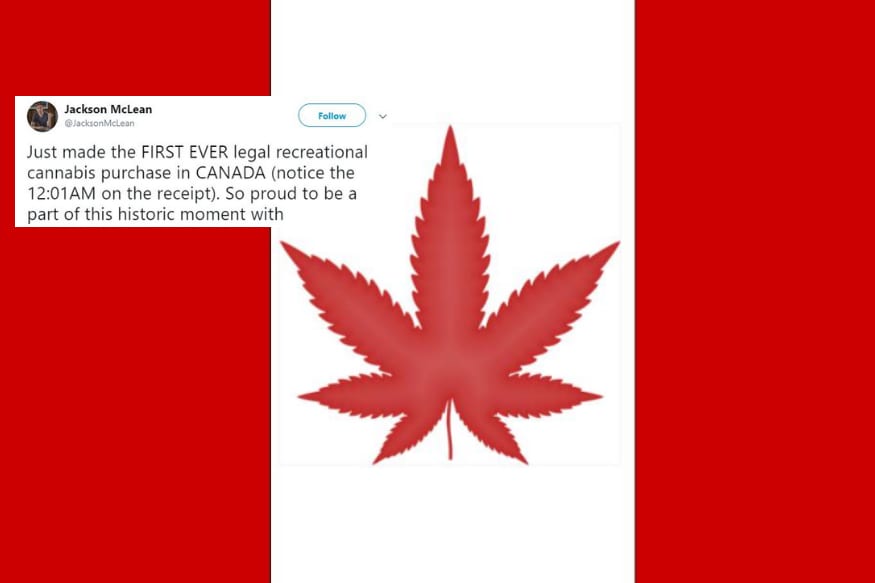 Image credits: Jwisely / Twitter
Earlier this year, Prime Minister Justin Trudeau had said cannabis will become legal in mid-October. Come October and it has finally become a reality.
While medical marijuana is already legal in Canada, the drug is being legalized under the Cannabis Act, which is set to take effect from October 17.
In fact, the sale of the legal drug has already started in the country with the province of Newfoundland opening its shops first as the clock hit the 12 am mark.
But why legalise marijuana? Speaking to reporters in June, Trudeau said leaglisation of the drug will help "keep the money out of the pockets of organised crime."
"Obviously the current approach – the current prohibition of marijuana – has not worked to protect our kids, to keep the money out of the pockets of organised crime and that's why we're bringing in a new legalised framework around marijuana," Trudeau was quoted by The Guardian.
With this move, Canada has now become the second and the largest country in the world to legalise cannabis, after Uruguay.
According to the New York Times, no bar or restaurants will sell the drug and it will be legally sold only in government stores in some provinces while some provinces will have it privately sold. It's worth noting that legal marijuana will be low on THC (tetrahydrocannabinol).
In case you're curious, the law does not allow the cannabis-infused edibles.
Social media was high on the news.
Oh-Can-na-bis! Recreational Marijuana becomes legal tomorrow in Canada.https://t.co/BBcUmzWnlN @freep pic.twitter.com/JlWSSaFuQe

— John Wisely (@Jwisely) October 16, 2018
Tomorrow, marijuana will be completely legal nationwide in Canada. #TuesdayThoughts pic.twitter.com/a97UAQMP7Z

— Keith Lee (@associatesmind) October 16, 2018
Tomorrow, 34 million Canadians wake up to nationwide legal recreational cannabis. #WakeAndBake Canada! And congratulations to the winner of the war on drugs: this time its drugs. pic.twitter.com/YjAEOad7Qf

— Alan Weedspan (@AlanWeedspan) October 16, 2018
Happy Legal Weed Eve, Canada.

— Tom Angell 🌳📰 (@tomangell) October 16, 2018
Me lookin at my friends in Canada with legal weed while it's still illegal af here pic.twitter.com/uXpOkf8sOj

— nonexistent (@farrag_saif) October 14, 2018
Marijuana will be legal across Canada in 6 days, so #Uber emails me: pic.twitter.com/MlZxJnNpba

— JamesHole (@james_strieb) October 11, 2018
And the shopping has begun.
Just made the FIRST EVER legal recreational cannabis purchase in CANADA (notice the 12:01AM on the receipt). So proud to be a part of this historic moment with @TheHealthyVibe #legalcannabis pic.twitter.com/9D5tutmDM2

— Jackson McLean (@JacksonMcLean) October 17, 2018
The first legal #cannabis sale in Canada! Ian Power and Nikki Rose made the purchase at @TweedInc in St. John's. Bruce Linton, CEO of @CanopyGrowth was behind the register.@CBCNL pic.twitter.com/KXE1Iok1NZ

— Zach Goudie (@zachgoudie) October 17, 2018
Get the best of News18 delivered to your inbox - subscribe to News18 Daybreak. Follow News18.com on Twitter, Instagram, Facebook, Telegram, TikTok and on YouTube, and stay in the know with what's happening in the world around you – in real time.
Read full article