#ChappalChorPakistan Trends After Kulbhushan Jadhav's Meet With Wife
India has accused Pakistan of violating mutual understandings on Kulbhushan Jadhav's meeting with his family.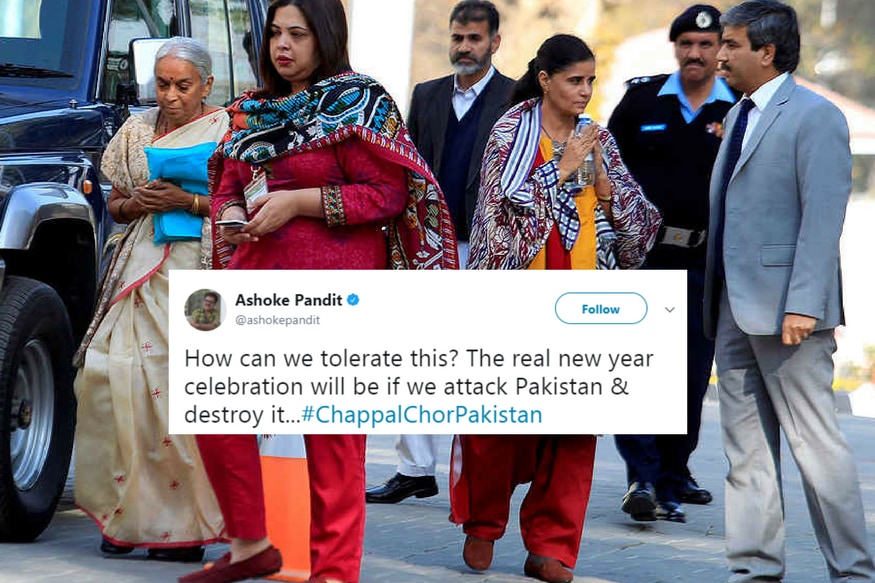 Former Indian navy officer Kulbhushan Jadhav's mother Avanti (L) and wife, Chetankul, (3rd R) arrive to meet him at Ministry of Foreign Affairs in Islamabad, Pakistan. (Reuters)
The Pakistan government on Tuesday claimed that Indian national Kulbhushan Jadhav's wife was made to remove her shoes during their meeting on December 25 as "there was something" in them.
Not only this,
Jadhav's mother and wife were made to remove
"mangal sutra", bangles, and bindi before they could meet him, the External Affairs Ministry said in a statement.
"For some inexplicable reason, despite her repeated requests, the shoes of the wife of Shri Jadhav were not returned to her after the meeting. We would caution against any mischievous intent in this regard," the statement read.



Under pretext of security precautions, cultural and religious sensibilities of family members were disregarded. This included removal of mangal sutra, bangles and bindi, as well as a change in attire that was not warranted by security: Raveesh Kumar, MEA on #KulbhushanJadhav pic.twitter.com/K0v4Rh0EnG


— ANI (@ANI) December 26, 2017
Responding to India's charge, Pakistan's Foreign Office has now claimed that the shoes were removed for "security reasons". "There was something in the shoe," Pakistan's Foreign Office spokesman Dr Muhammad Faisal was 
quoted as saying by Dawn News
. The spokesman said Jadhav's wife had been provided replacement shoes and all her jewellery was returned to her.
Unhappy with this, outraged users went to war on microblogging site Twitter and trended #ChappalChorPakistan.

How can we tolerate this? The real new year celebration will be if we attack Pakistan & destroy it...#ChappalChorPakistan https://t.co/H3kyC3rZlz
— Ashoke Pandit (@ashokepandit) December 26, 2017




#Breaking: After the meeting of #KulbhushanJadhav with his wife & mother, #Porkistan refused to return his wife's shoes!!!

We know u're a poor nation so take these shoes & return the shoes of our patriot's wife!#ChappalChorPakistan#ShameOnPakistan#IndiaStrikesBack pic.twitter.com/XfC9Y8LC6I


— Cerebrus (@Cerebrus_) December 26, 2017

So shameful that Pakistan has stolen slippers also. #ShameOnPakistan #ChappalChorPakistan — Mili Rajpootani (@milisilichilli) December 26, 2017

Deewaar par 'Pakistan' likha hai

Oopar chappal chor neeche 500 inaam likha hai #ChappalChorPakistan

— Amrita Bhinder (@amritabhinder) December 26, 2017



Why this beggar nation Pakistan kept shoes of #KulbhushanJadhav 's wife ? Any jihadi jadu-Tona planned? #ChappalChorPakistan https://t.co/HqB2LhYMPj


— Freelance bhakt (@ExSecular) December 27, 2017

It was crappy dirt stuck on her shoe when she stepped in your beggar country #ChappalChorPakistan https://t.co/siTWDHo7cP
— Gita S. Kapoor (@GitaSKapoor) December 26, 2017




#ChappalChorPakistan has always been fascinated with vastly superior and stylish Indian products. Some poor Paki cop may have stolen the chappals for his wife back home!


— RD (@DharRenuka) December 26, 2017
In a Banana Republuc where chappals are used as missiles, the ISI probably confiscated these out of habit!! #ChappalChorPakistan

— RD (@DharRenuka) December 26, 2017

Madam @SushmaSwaraj , I request you to send an extra pair of chappals with all those pakistani patients to whom you have granted medical Visa. वरना हमे फेंक के भिजवाने पड़ेंगे। #ChappalChorPakistan
— Zinti (@zinti_) December 26, 2017




@pid_gov we know that your economy is in bad condition but we seriously did not expected that you will resort to stealing chappals#ChappalChorPakistan https://t.co/os7zEBJtAG


— Amit ️ #रुद्राक्षधारक (@The_AmitSpeaks) December 27, 2017
Aren't you ashamed of #ChappalChorPakistan .You stole bangles, bindi, Mangalsutra,earrings even shoes of diplomatically called ladies. You are internationally exposed & the whole world is watching your despicable deeds !

— Bane Singh (@bsdauphin) December 26, 2017
Read full article
Countdown To
Elections Results
To Assembly Elections 2018 Results