We've all been asked "What does your name mean?" at some point in our lives. Being in India - with a multitude of cultures and languages - this is something we've all gotten used to having to explain.
However, in the west, this poses a more complex problem. Owing to the difference in language, many Westerns find it difficult to pronounce Indian names. This leads to invasive (often racist question, comments and jokes - "Why is your name that?" - "How do you remember it?" - "Why can't you get a normal name like Mike or Joe?". The struggle is real.
And it became more evident after a man posed a question on a popular advice column
"Dear Abby"
in the
Chicago Sun Times,
- he was in a dilemma about naming his kids, "Indian" names.
Dear Abby
is an American advice column, founded in 1956 by Pauline Phillips under the pen name "Abigail Van Buren" and is carried on today by her daughter, Jeanne Phillips, who now owns the legal rights to the pen name. The column is syndicated in about 1,400 newspapers in the U.S. with a combined circulation of more than 110 million.
The question the man posed, is as follows.
DEAR ABBY
,
My wife and I have decided to start a family, and the topic of names arose. My wife, who was born and raised in India, is insisting on Indian names for our children.
The problem is they are often difficult to pronounce and spell. I'm not opposed to Indian middle names, but think traditional "Western" names may be more suitable, since we will live in the United States.
How can I make my wife understand that having "unusual" names makes certain aspects of kids' lives more difficult? — MAKING LIFE EASY
If you thought just the question was problematic, where he equates 'Indian' names with 'unusual,' and Indian names are 'difficult to pronounce, and spell,' the response to the question was perhaps, even more problematic.
DEAR MAKING:
Your wife's concept of giving the children Indian names is lovely. However, practically speaking, I agree with you.

Popular names in one country can cause problems for a child living in another one. Not only can foreign names be difficult to pronounce and spell, but they can also cause a child to be teased unmercifully.
Sometimes the name can be a problematic word in the English language. And one that sounds beautiful in a foreign language can be grating in English.
I hope your wife will rethink this. Why saddle a kid with a name he or she will have to explain or correct with friends, teachers and fellow employees from childhood into adulthood?
Considering America is a country which is a vast majority of people who migrated from Europe, the fact that she called Indian names "foreign" names are not only debatable, but also mildly insulting.
She further adds onto her point by stating how,
"Why saddle a kid with a name he or she will have to explain or correct with friends, teachers and fellow employees from childhood into adulthood?"
implying that having an Indian name would burden the child.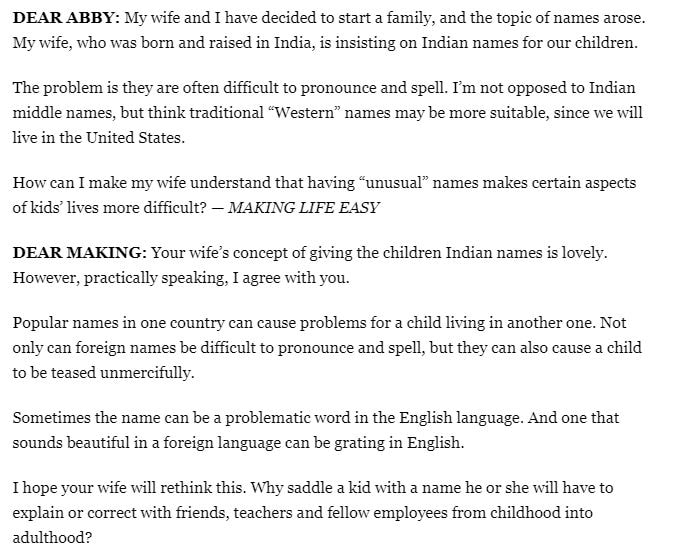 Screenshot of the original article, from
The Chicago Sun Times.
While Abby's solution to the problem was just naming kids 'Western' names, Indian disapora on Facebook aren't exactly pleased. Along with pointing out the irony of it all, they refute how wouldn't change their names for anything, despite being 'Un-Western.'




It isn't simply 'Indian' names which are hard to pronounce. This recent tweet shows that.



professor called him Arnold Shivajinagar and i cant unhear it


— crunchy (@iamhorcrux) September 17, 2018
In an interview, Uzo Aduba had once addressed this issue of having "un-western" names.
As Indian disapora point out, it is not a question of "how difficult it is to pronounce a name," but whether you choose to make the effort to pronounce the name correctly.