Chicken Shortage Shuts KFC Outlets Across UK And People Are Losing It
KFC said that more than 700 of its 900 UK-wide chicken shops had been forced to close since the weekend, while others were offering a downsized menu or shorter opening hours.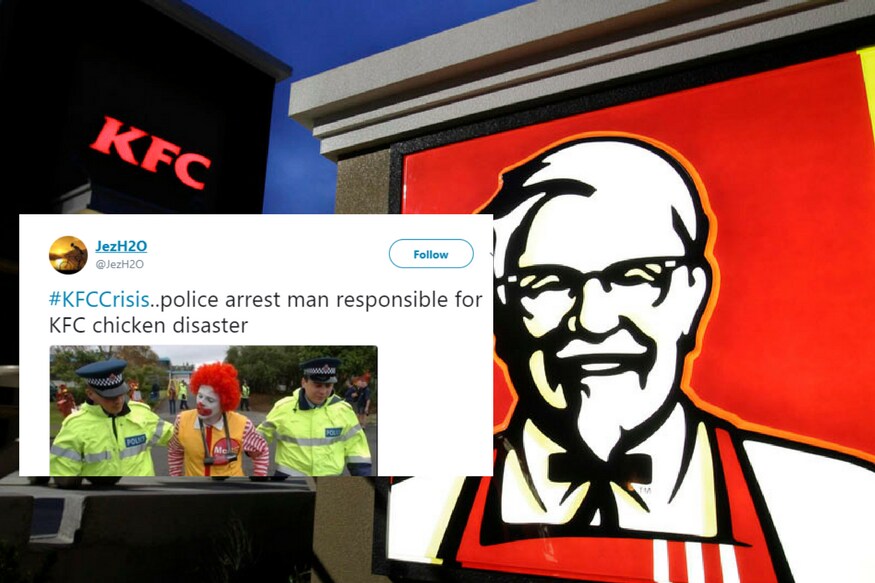 File photo shows a KFC restaurant. (AP Photo)
Chicken lovers were in a flutter on Monday after most of the 900 KFC outlets in the U.K. and Ireland were forced to close because of a shortage of... wait for it... chicken. Yep.
The company apologised to customers, blaming "teething problems" with its new delivery partner, DHL.
KFC first apologized for the problems on Saturday. In an update Monday, it listed almost 300 stores as open but did not say when the rest might join them.
It said those branches that remained open were operating a limited menu or shortened hours.
"We know that this might have inconvenienced some of you over the last few days, and disappointed you when you wanted your fried chicken fix — we're really sorry about that," the company said in a statement.
The Colonel is working on it. pic.twitter.com/VvvnDLvlyq

— KFC UK & Ireland (@KFC_UKI) February 17, 2018
The Colonel has an update…

More info - https://t.co/mLELSs6TaY pic.twitter.com/WEOz6jExHC

— KFC UK & Ireland (@KFC_UKI) February 19, 2018
Soon, chicken-hungry netizens gathered on Twitter to mourn, while some believed that the end of the world was on the cards. #KFCCrisis became the hot trending hashtag of the day.
Disaster. Took the Grandkids out to dinner at KFC only to see that it's shut down. Some chicken shortage. Took them to McDonald's but it's not the same. Crying in the bathroom. Can't show weakness in front of them. #KFCCrisis

— Ron Sanderson (@R_Sanderson1952) February 19, 2018
The god joined in.
I am fully aware there is a #KFCCrisis in the UK... stop sending prayers! I'm trying to fix America and then I will get to you.

JC x

— Jesus Christ (@ResurrectedDude) February 19, 2018
Frrrrreeeeedom!!! #KFCCrisis pic.twitter.com/p9ZqMlrOgp

— The_Gwarve (@Andythegwarve) February 19, 2018
The #KFCCrisis chicken shortage is the kind of thing that could accidentally bring down a government

— Jane Merrick (@janemerrick23) February 19, 2018
This #KFCCrisis is like Xmas for vegans to come out from under their holier than thou rock

— Leem (@giji777) February 19, 2018
Everyone at KFC right now #KFCcrisis pic.twitter.com/Ar1Po0ggFP

— Gladstone (@TreasuryMog) February 19, 2018
When there's no fried chicken and you have to eat your kid instead.#KFCCrisis pic.twitter.com/tsDYMAhrMn

— New Town Flâneur (@NewTownFlaneur) February 19, 2018
It's getting serious now - the boss has turned up #KFCCrisis pic.twitter.com/9OSNu85LmE

— #Marcher (@MarcherLord1) February 19, 2018
#KFCCrisis 'it's okay.....I'm back!!' pic.twitter.com/8kJ4UCiYGM

— ᗯ૯ცცע (@theonlyWEBBY) February 19, 2018
Never mind Brexit. #KFCCrisis is the most important issue in the country at the moment. The Colonel would be spinning in his grave (like a rotisserie chicken)

— Tony Shepherd (@tonysheps) February 19, 2018
We found the culprit!
#KFCCrisis..police arrest man responsible for KFC chicken disaster pic.twitter.com/yf4Se1HhHf

— JezH2O (@JezH2O) February 19, 2018
And the cops have an important announcement to make.
Please do not contact us about the #KFCCrisis - it is not a police matter if your favourite eatery is not serving the menu that you desire.

— Tower Hamlets MPS (@MPSTowerHam) February 20, 2018
(With inputs from AP)
Read full article
Countdown To
Elections Results
To Assembly Elections 2018 Results