Christmas Came Early For a 2-Year-Old Boy With Cancer in Ohio Neighbourhood
It's a Christmas miracle.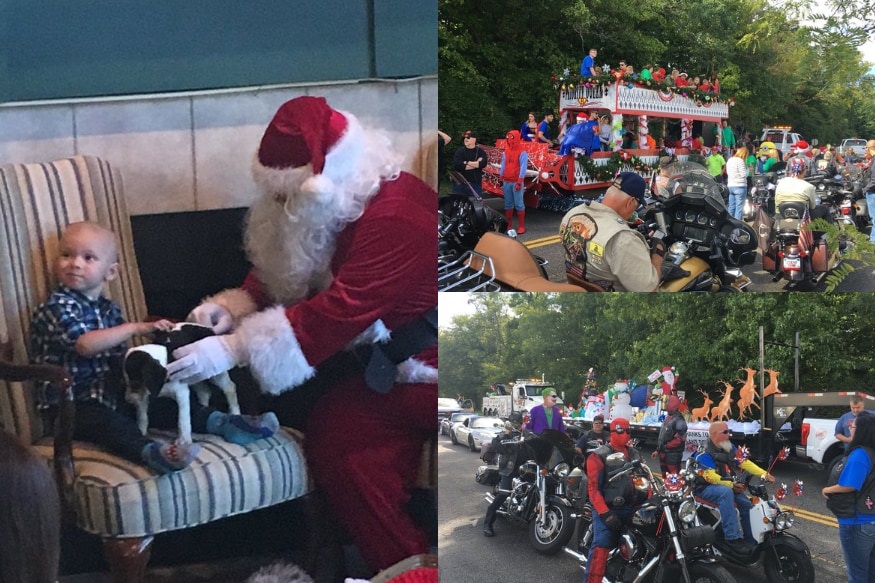 (Image: Twitter)
Christmas came three months early when Santa Claus in a fire truck, Spiderman and Hulk on bikes, wreaths and Christmas carols were spotted in a neighbourhood in Ohio - all for a two-year-old Brody.
According to a report by The New York Times, almost six weeks ago, Brody's parents were informed that their son had only two months to live.
Brody's family, realising that the boy would not live to see another Christmas, decided to bring the festivities in September, with full support from their neighbours.
Brody's illness was discovered after he complained in May about being dizzy. What was supposed to be an ear infection turned out to be a brain tumour - four embryonal tumours with multilayered rosettes.
According to Brody's father, his ailment is extremely rare and does not respond to medication.
The boy's family decided to celebrate Christmas in September, but realising that they needed more decorations, decided to start a Facebook page called Team Brody to ask their neighbours for help.
To their surprise, everyone wanted to contribute and celebrate Christmas with Brody, so much so that a Christmas parade was organised in Brody's neighbourhood, complete with a Christmas tree, lights, plenty of decorations and even Santa Claus himself.
Santa and a puppy! The greatest day for Brody. #TEAMBRODY @Local12 pic.twitter.com/0aSYTjtZX0

— Brad Underwood (@BUnderwoodWKRC) September 15, 2018
Two year old cancer patient gets his Christmas parade early. Hundreds gather in Northgate Mall to start parade at 4:00 #TeamBrody pic.twitter.com/LYRXLjuA1g

— Ann Thompson (@annthompsonwvxu) September 23, 2018
The Christmas parade is coming together in Colerain Twsp for #TeamBrody Staging at Northgate Mall, step off at 4:00 pic.twitter.com/E6DEkUABbc

— Ann Thompson (@annthompsonwvxu) September 23, 2018
We are minutes away from Brody's superhero Christmas parade in Colerain Township. @Local12 pic.twitter.com/qo75GISgXH

— Brad Underwood (@BUnderwoodWKRC) September 23, 2018
Community joined Brody Allen, 2-year-old with brain cancer, for his Christmas parade Sunday afternoon. A family-friendly party is underway with Rozzi's fireworks tonight. Public is invited. See details: https://t.co/Otu9KDEEuz pic.twitter.com/M1ZFAepZTs

— WCPO (@WCPO) September 23, 2018
A small snippet of the #ChristmasinSeptember parade for #TeamBrody in Colerain Twp. Hundreds of people have lined Springdale Road to celebrate an early Christmas for 2yo Brody who has terminal brain cancer. @DanGriffinWLWT has the story tonight @WLWT pic.twitter.com/QUby5c8TOa

— Emily Wood (@EmilyWoodWLWT) September 23, 2018
#NOW #VIDEO: Christmas parade continues down Springdale Road. #wlwt @wlwt pic.twitter.com/Ushczsf1cT

— Dan Griffin WLWT (@DanGriffinWLWT) September 23, 2018
Christmas parade for #TeamBrody is about to start! Springdale Road will be shut down for the next hour to celebrate #ChristmasinSeptember for 2yo Brody Allen! Ellie Grace is excited for her first parade and Christmas! @WLWT pic.twitter.com/3QGYiR4G2v

— Emily Wood (@EmilyWoodWLWT) September 23, 2018
The amount of people here for Brody's Christmas parade is amazing.https://t.co/opg4XEPXo5❤️❤️❤️@FOX19 pic.twitter.com/Z9AqGZtY1r

— Lauren Artino (@FOX19Lauren) September 23, 2018
People dressed as super hero's are lining up for the Christmas Parade for Brody in Colerain. @Enquirer pic.twitter.com/1pHEdiszo4

— Albert Cesare (@AlbertCesare) September 23, 2018
Just check out this crowd gathering for #TeamBrody on this street. Friends and strangers alike are filling the street to carol for the 2-year-old who has brain cancer. pic.twitter.com/p3goqVdvjx

— Ken Brown (@Fox19KenBrown) September 20, 2018
We put our creativity to work for an authentic audience by making Christmas cards to send to a sick little boy in Ohio #teambrody @oakridgeowls @OakridgeMS1 #longdistancecompassion #onesmallthing pic.twitter.com/44OcZYddrS

— Claire Reddig (@ReddigWrites) September 18, 2018
Today @ColerainFire has a NEW CHIEF! Glad to welcome #TeamBrody to our ranks. and to have his name ride along with our crews on the rigs. pic.twitter.com/6OlCw2GdOw

— Colerain Twp. Fire (@Colerain_Fire) September 23, 2018
#NOW #VIDEO: Here he is!! #TeamBrody #wlwt @wlwt pic.twitter.com/sx3NabxBZd

— Dan Griffin WLWT (@DanGriffinWLWT) September 23, 2018
Here's a quick clip of Brody's house tonight! A first hand look of the happiness everyone has pro ided for Brody! Thought you guys might enjoy! #TeamBrody #MerryChristmasBrody pic.twitter.com/xAM5hbA8dC

— Paige Dunn (@xpaigemichelle) September 18, 2018
What a way for the Colerain community to support such a precious child! God bless you, Brody!#TeamBrody! pic.twitter.com/4zoyK3WRj0

— lisa lapp-draginoff (@DraginoffLapp) September 23, 2018
Get the best of News18 delivered to your inbox - subscribe to News18 Daybreak. Follow News18.com on Twitter, Instagram, Facebook, Telegram, TikTok and on YouTube, and stay in the know with what's happening in the world around you – in real time.
Read full article